The Classic Adelaide Rally kicks off next Wednesday with Mercedes-Benz entering the grueling event for its thirteenth consecutive year.
This year Mercedes-Benz will have four cars competing in the "Thoroughbred Touring" category.
Leading the charge is Vern Schuppan who will be driving a new 285kW AMG Sports Mercedes-Benz E500 coupe. Schuppan comes from Adelaide and competes in the Classic each year, he also previously won the Le Mans 24 hour endurance race.
Five time world MotoGP winner Mick Doohan will be driving the E63 AMG (which isn't released until December). The E63 AMG has a hand built 386kW 6.3-litre V8 engine, AMG Speedshift clutch-operated MCT 7-speed sports transmission, 360mm internally ventilated/perforated brakes and three-stage Electronic Stability Programme ESP. It's a Mercedes-Benz tradition of launching a new AMG sports car at the Classic Adelaide.
Last year's C63 AMG will be driven by Glen Cameron, nicknamed the "compact sledgehammer" by last years drivers. The 6.3-litre C63 AMG was a crowd favorite last year and is expected to raise a few cheers this year.
The fourth Mercedes-Benz driven by Peter Gazzard will be a suprise, it will be a vehicle that has never competed in the Classic Adelaide. This is the fourth year Gazzard has driven with Mercedes-Benz and the car he will be driving will certainly test his driving ability.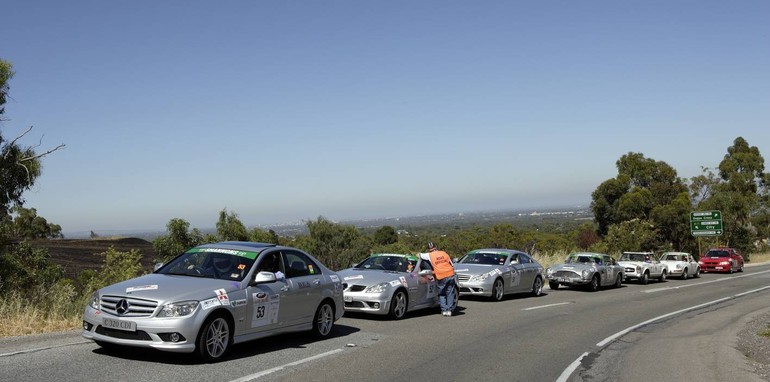 "With the all-new E 63 AMG for Mick and Vern behind the wheel of the AMG-enhanced E 500 coupé spectators can expect dramatic launches, jumps and precision driving, the types of action that have been hallmarks of their previous Classic Adelaide appearances," said Senior Manager for Corporate Communications at Mercedes-Benz Australia/Pacific, Mr David McCarthy.

"Both Mick and Vern have always been big crowd pleasers and as this is our thirteenth consecutive Classic Adelaide we expect more of the same!

"After driving for almost a week in the recent Global Green Challenge I am sure Vern will welcome the opportunity to actually compete in an exciting motor sport event.

"We continue our tradition of having a customer in our driving team and this year we welcome transport operator Glen Cameron, who will be driving the exciting C63 AMG.

"And finally, for a bit of intrigue, we have a special type of vehicle that has never before competed in Classic Adelaide. South Australian Mercedes-Benz dealer Peter Gazzard will pilot what we expect will be both a crowd pleaser and a crowd teaser. In previous events Gazzard has caught and passed more than a few wide-eyed drivers of fancied European marques and we expect the same this year."
by Adam Marshall