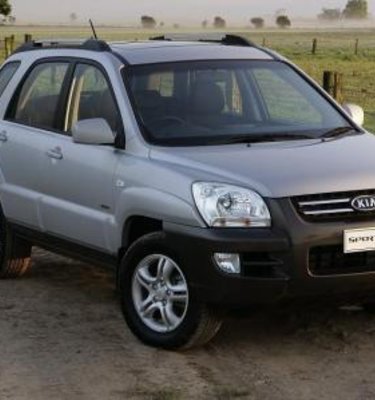 2007 Kia Sportage 4WD Road Test
2007 Kia Sportage 4WD Road Test
CarAdvice rating:
Recommended Retail Price: $30,990 (plus ORC)
Options available: Metallic Paint ($300); Leather & Sunroof ($2,800)
by Matt Brogan
Kia's slogan of The Power to Surprise usually gets a snide chuckle from car enthusiasts, myself included, which is why when I was thrown the keys to the aging Sportage my expectations weren't overly optimistic. Would a week in the driver's seat change my mind?
Prior to the release of the current shape Sportage in late 2005, Kia had some serious holes in their reputation. The old 2.0 litre model suffered badly from reliability issues, poor crash test ratings, and substandard build quality, which rightfully deterred most prospective buyers. Fortunately, in only a few short years, things have come a long way.
My test model is the Sportage 4WD, the only variant of the range currently available. The MY08 range will see a dedicated 2WD (front wheel drive) and CRDi (diesel) join the line-up later this month, but as yet details are a little sketchy.
Powered by a 2.7 litre DOHC V6 petrol, Kia utilises a three-phase variable intake system (which is Kia speak for VVT), to get some much-required revs happening. Producing a modest 129kW it's quite happy to rev, but with only 241Nm of torque on hand from a late 4,000rpm, isn't what I'd call a strong performer in a vehicle of its mass.
--If you're prepared to keep the foot down, it will move along quite nicely in urban situations, though overtaking at highway speeds is a little lack lustre. Performance, as always, will come at the expense of economy. Kia claims 11.5l/100km, but I found this to be nearer to 14.0 litres through mixed highway/city/off-road driving.
Drive comes courtesy of a four-speed auto (no manual available) and whilst not the best auto I've driven, is reasonably fluid. A fifth ratio should have been included as it does rev a tad high at 100km/h, eating in to the already average fuel economy on long trips.
The transmission will become a little indecisive when pushed, but this can be negated in most circumstances with the use of the 'tip-tronic style' shifter, a feature which is very handy once on the dirt and negotiating steep grades.
When 4WD mode is selected, the part-time system engages the rear wheels as required. It works by detecting slip input from the Traction Control and ABS systems and whilst Kia claims this idea to be sophisticated, is in reality quite rudimentary and nothing new. That said it does work well enough when used within the boundaries one should expect from a front drive soft-roader.
The Sportage's ride is acquiescent, smooth and comfortable, though I'd stop short of refined. Even off-road it soaks up all but the largest of bumps very well. This does however impact greatly on the vehicle's handling capabilities.
Whilst not too bad when driven in normal conditions, the car's dynamics do feel unnatural during sudden manoeuvres or during fast cornering, resulting in some surprising amounts of body roll and understeer which can be challenging to recover from (ESP would have been nice). There's even a warning placard on the sun visor outlining the issue. But again, when driven in the manner for which it was intended, this shouldn't prove an issue.
The steering is light but still provides an adequate level of road feel and feedback, and when used in conjunction with the throttle, will allow for reasonably compliant cornering. Tight turns and parking are fair considering the wagon's size and with excellent visibility all round and reverse park sensors standard, a trip to the shops isn't too daunting of a proposition.
Braking is, in a word, decent. There's not too much pedal fade during repeated hard stopping and the pedal has a consistent feel with an appropriate level of feedback during heavy application. The ABS has a slightly delayed threshold, which makes off-road braking both manageable and tangible.
Exterior styling, whilst it is beginning to date, is reserved, clean-cut and conventional, and hasn't yet taken the more 'quirky' approach to form seen in some of the rivals. The two-toned paintwork may be a bit retro for some younger buyers, but when you consider the 16" alloys come standard, you can take it as a compromise.
Inside, things are well proportioned, and with the approach to layout being one of simplicity, is well suited to a car that will no doubt be used for every manner the designers intended. The grade of materials used is not top notch, but the way in which they've been styled, using a mix of cloths, brushed alloy, vinyls, and plastics, compliment one another well to provide a neat contrast which is easy on the eye.
Controls are easy to use, but are not yet as smart as some of the higher priced competitors. There are no audio controls on the steering wheel, the CD player display is hard to see (unless it's night time) and the instrumentation is quite basic. But it's relative when you consider the price tag.
When it comes to versatility, the Koreans do it very well. The front seats fold flat to meet with the rears creating a lounge seat which, whilst not entirely practical, is novel should you visit the drive-in or ever find a need to have to sleep in your car. Both front and rear seats have adjustable recline, are comfortable and quite supportive. The rear seats are 60/40 split-fold, and also fold flush to the floor, creating a large, usable space for carrying bulky items.
A top hinged tailgate, with separate opening glass, provides wide, easy access to the cavernous cargo area, but is still easily reached to pull shut. The reverse parking sensors are calibrated to providing enough room at full stop to still completely open the tailgate, even if you reverse up to a wall. There's a 12V power outlet back there too in case you ever want to pack the fridge. They really have thought of everything.
Considering the car spent a week with me, and traversed all sorts of terrain, not a squeak or rattle has developed anywhere and with a RRP of $31,990 and three-year/100,000km warranty, the value is difficult to challenge. So if you're SUV shopping, and wouldn't normally consider a Kia, think again, it may surprise you.
2007 Kia Sportage 4WD Road Test