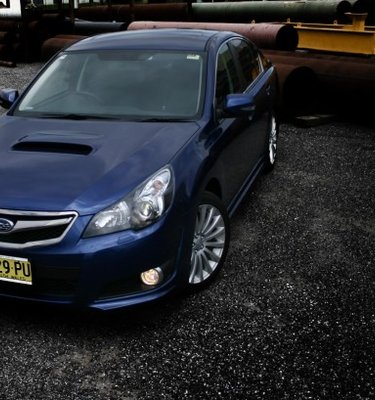 Subaru Liberty GT Review & Road Test
Conservative looks, confident performance.

CarAdvice Rating:
Jumping in to the hot seat of the upper-spec Liberty GT Premium this week we find Subaru's newest medium sedan welcomes the driver to a well-finished decor comprising faux soft-metal accents over black plastic mouldings, complimented by dark leather upholstery and a carbon fibre strip that runs horizontally across the dash and door trims.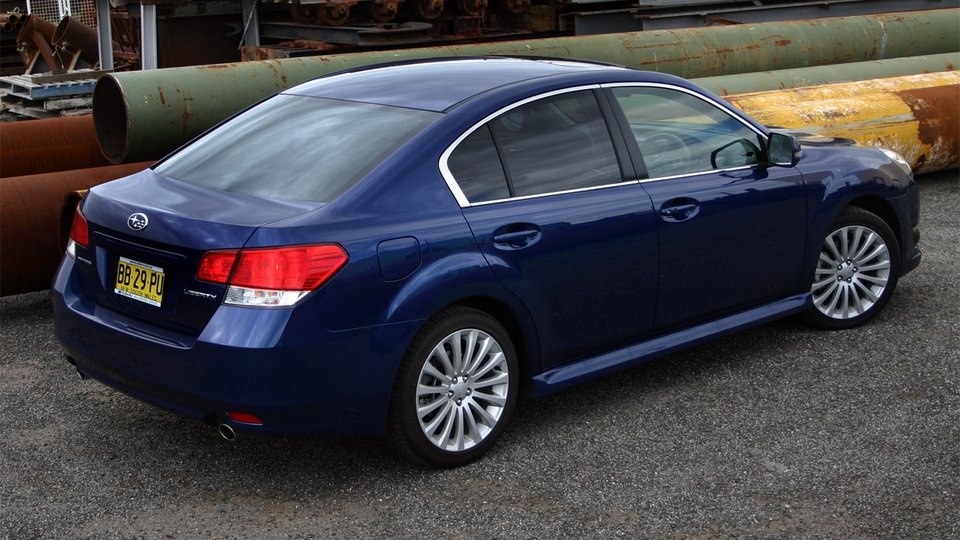 Switchgear function and placement are both sensible and user-friendly, while the electronic park brake has freed up valuable space in the centre console which now houses a large console box, drink holder compartment and three-mode (Sport, Sport Sharp and Intelligent) "Subaru Intelligent Drive" selector.

Joining the standard feature list is satellite navigation, cruise control, power windows and mirrors, keyless entry with start-button, dual-zone climate control plus a premium six-disc McIntosh audio system with (Bluetooth) wireless and RCA audio/DVD interface.

ANCAP testing saw Liberty score 34.8 from a possible 37 points during its evaluation for a five-star overall rating.
The only downside to Liberty's cabin is poor sound insulation allowing the egress of tyre noise from the 18-inch alloy's low-profile rubber. On well sealed road's the Liberty GT Premium rates a comfortable 73dB but this soon increases on coarse chip surfaces.

Under the bonnet the Liberty GT Premium is motivated by the same 2.5-litre horizontally opposed (Boxer), turbocharged four-cylinder engine as found in the previous model, but thanks to a larger intercooler and turbocharger combination, this new model sees healthy gains in power, torque and fuel economy - despite the car putting on 19 kilograms of extra weight!
Developing 195kW of power at 5600rpm (up from 184kW), the Liberty GT Premium is a capable performer whose acceleration is well complimented by the 350Nm of torque (up from 339Nm) that begins its push from just 2400rpm.
There's a slight lag when making a hasty start from rest, but it's of little consequence to the all important 0-100km/h sprint. Liberty GT Premium scored a rather impressive timed run of just 6.6 seconds.
Mated in this instance to a somewhat notchy and tightly-patterned six-speed manual transmission (also available with a five-speed automatic transmission), the Liberty GT Premium boasts a well spread set of cogs - an upshot of which is an improved combined fuel consumption figure of just 9.8L/100km (down from 10.9L/100km).
Real world driving this week over a 50:50 mix of city and highway use saw that figure sit steadily at 11.0L/100km.
Braking too is equally impressive with excellent pedal feel allowing precise modulation when so required, while Liberty GT Premium's suspension offers a fantastic blend of ride comfort and grippy handling that really allows the car to realise its "Grand Touring" potential.
In a cruel twist to the Liberty GT Premium's near-glowing review its price point is the car's only real let down, for despite being a well kitted car for the coin, competitors such as Ford's Mondeo XR5 Turbo ($44,990*) and Skoda's Octavia RS ($37,990*) really do put the pinch on Subaru when it comes to bang for your buck.
A capable all-rounder, the Subaru Liberty GT Premium is available in sedan and wagon from $52,990*and $54,990* respectively.
*Pricing is a guide as recommended to us by the manufacturer.
Ratings:
CarAdvice Overall Rating:
How does it Drive:
How does it Look:
How does it Go: