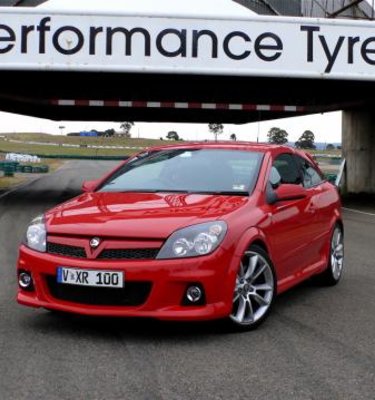 2007 HSV VXR Turbo Road Test
2007 HSV VXR Turbo Road Test
"I honestly wasn't expecting the kind of explosive performance that the VXR Turbo delivers, it's a dead set point to point weapon"
Test Model: 2007 HSV VXR Turbo with six-speed manual transmission driving through the front wheels.
CarAdvice rating:
Options Fitted
None. It's pretty well appointed but the highlights are the huge 19-inch wheels and superb leather trimmed Recaro seats.
Recommended Retail Price: $42,990
There's only one model in the VXR range and numbers are limited as they are fully imported from Vauxhall in the UK. An auto version would open this car up to many more punters in Australia and I'm told they do, or have done, an automatic version in the UK. So I'll check on that and report back.
Where it sits
The VXR is the entry-level HSV car and it does the badge proud. There is a significant jump in price (around $20K) to get into an R8 ClubSport, which is the next price-point in the HSV line-up.
There are plenty of pretend sports models out there with try-hard sports badging and non-aerodynamic body kits that do more to retard a car's performance than enhance it.
Worse still, is when carmakers use the term 'race bred' to promote cars which are more likely to be lapped by a Porsche FS Evolution bicycle.
The VXR Turbo is race bred all right. Try the hard core; take no prisoners racing that is the BTCC (British Touring Car Championship) where this car has run as part of Vauxhall's (the GM brand in the UK) VX Racing team since 2005 when the VXR was launched.
And that's not the only good news. That Gospel of handling, Lotus, was called in to tune both the suspension and steering with what was an already accomplished set up on the road going VXR.
This is a seriously quick hatch that can cook a Golf GTI and smoke Honda's S2000 and Civic Type R, straight out of the box.
Starting this angry child for the first time is nothing spectacular. In fact, Suzuki's mildly warm, Swift Sport, has a similar idle note from what I remember of that car.
But don't be fooled. Under the bonnet of the VXR lies a red-hot 2.0i 16v ECOTEC-4 turbo punching out 177kW at 5600rpm and 320Nm of the all-important torque, from a low 2400rpm.
If you don't quite get the value of these numbers. I'll make it easy for you.
Volkswagen's 2.0L Turbo Golf GTI puts out 147kW and 280Nm, which is good for a 0-100km/h sprint in 7.5 seconds in six-speed manual guise.
The VXR with run between 6.2 – 6.4 seconds, as maximum turbo boost nudges 1.2 bar or 17.5 plus psi.
It will even outgun Volkswagen's normally aspirated V6 rocket, the R32 and that's no mean feat.
By now, you'll be thinking that's a lot of mumbo for the front wheels to handle all by themselves and you'd be quite right.
When you blast off in the VXR, it's not all-smooth sailing. There's torque steer for sure, but it's not a pig like the Mazda3 MPS. You just need to use a little finesse with the throttle and things will work out fine. Just take it easy in the wet!
Acceleration from second to third is ferocious and feels almost bike like (that's like a Yammy R1) such is the surge in velocity. Third to fourth, even better, thanks to the wide torque curve. It even pulls hard in sixth. You seriously need to watch the Speedo when behind the wheel of this thing, that needle can get away from you!
You can hear the forced induction (Darth Vader style) every time you hit the clutch as you swap gear ratios with the speed and ease that this box allows.
England's "A" roads (motorways) are generally very good as are parts of our major freeways here in Australia. I did say "parts of" whereas in the UK, you can pretty much stay on fast moving tarmac from London to Scotland.
But they also have their B roads, which are as rough as most of our suburban goat tracks and the Poms do like to whinge about their B roads, as much as we whinge about ours.
What I'm leading to here is that the suspension set-up on the VXR has been designed to run on these B roads with a reasonable degree of comfort in mind.
And they haven't done a bad job, given the racecar like chassis and those extra large 19-inch alloys. Speed bumps and general potholes are absorbed via the old school McPherson Strut front suspension and a torsion-beam rear axle.
I'm no engineer, but I can't help wondering what this car might be like or rather, how much better this car might be, with a more modern multi-link suspension system on board.
There's also a small and rather insignificant "Sport" button on the centre stack, which I'm ashamed to say I overlooked during my time with the car. I'm usually first to hit these suspension stiffening devices but missed the opportunity entirely. Apart from the shock treatment, throttle travel is shortened and steering response is quicker. Just what the doctor ordered, I say.
The 19's are shod with 235/35 Continental SportContact 2 rubber, and grip – with the exception of flat chat launches – is Velcro like. Don't worry about body roll either- there isn't any.
An IDS chassis control system with Electronic Stability Control utilising traction control, ABS and Brake assist work hard to smooth out what is a serious dose of torque levelled at the front wheels at times.
You also need some decent fade-free brakes to pull this thing up effectively when sheer youthful enthusiasm gets the better of you...
Don't bother looking for fancy Brembo brake systems with multi piston callipers and that kind of kit on the VXR. There's none of that. What there is though, are bright blue single piston callipers front and back, with some dinner plate sized rotors which have no trouble hauling in this 'Fast and Furious' like machine.
Steering is via an electro-hydraulic power assisted unit, which provides superb feel and weight. It's a big call, but it feels similar to that of the EVO 1X, in that steering response is very quick and accurate.
We didn't seek permission to test this car on track but that's the only place you could effectively explore the corning limits of the VXR.
The sculptured leather Recaros are top shelf and supremely comfortable although, quite firm. You also get a proper sports steering wheel, which is grooved and looks to be hand stitched. The shifter is also a showpiece. All the important stuff seems to be here.
I can't be so kind to the largely Astra interior though. There's way too much faux metal look plastic throughout the car. It covers the entire centre stack, some door trim and bits on the steering wheel.
It's a pity Vauxhall didn't pay closer attention to the Golf GTI, which is a class or two above when it comes to the quality of materials. Shame, because the VXR deserves better.
Mind you, there are plenty of the usual luxury items; electric windows, climate control air conditioning, six stack CD player (but no MP3 jack receptor as on the E Series Holdens) steering wheel audio controls, multi function trip computer, heated front seats and cruise control
I found the instrument cluster hard to read and suggest VXR drivers would benefit enormously from a digital Speedo readout (again found on the R8 ClubSport and GTS models).
There's reasonable load space in the rear (312 litres) as the load bay is quite deep and the rear seats can split fold 60/40 or both flat for bikes and boards etc.
The full leather rear seats are more comfortable than most other performance hatches – they are well bolstered. Rear leg space is more for kids than adults though.
This car needs rear parking sensors as standard equipment, no ifs or butts. The rear window is tiny and next to useless as far as rear parking visibility goes.
Styling is definitely 'go fast' and extravert. You only need to look at the four colours on offer; Black Sapphire, Magma Red (as was our car) Star Silver and Arden Blue. They stand out.
The lowered stance with all round body kit and unique centred trapezoidal exhaust tip, do a lot to set this car off amongst the sports hatch club. The 19-inch, multi spoke spinners put it at the top of the category.
Fuel tank capacity is 52 litres, fine for a car which is shorter than a Ford Focus. The VXR likes premium unleaded, nothing wrong with that either, we use it in the family Liberty.
But here's the thing, official fuel consumption is listed at 9.2L/100 km but don't expect anywhere near that when you're on song at 5000 plus rpm, more like 14 L/100 km. I'm not complaining mind you, it's the price you pay for performance motoring. Just glad this thing weighs in at 1393kg and not a kilo more.
Safety is not forgotten either, and includes driver and passenger front and side airbags, as well as full-length curtain airbags.
There's a song called "I like fast cars that go boom" by a band called Hellbent. The HSV VXR Turbo is one of those cars"
By Anthony Crawford
2007 HSV VXR Turbo Road Test