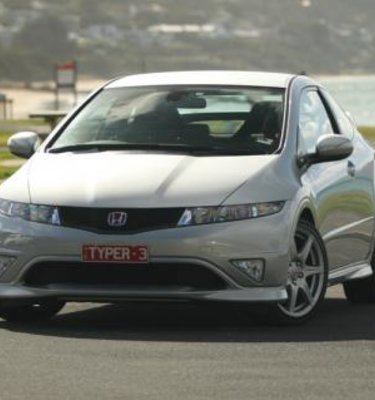 2007 Honda Civic Type R Road Test
2007 Honda Civic Type R Road Test
CarAdvice rating:
Recommended Retail Price: $39,990 (manual only, metallic paint extra)
Options Fitted: Metallic paint ($300)
- by Paul Maric
The hot hatch segment has been a buzz of activity of late and about the only manufacturer without their hand in the cookie jar was Honda. With names like Golf GTi, XR5 Turbo, SRi Turbo and Mazda3 MPS, the Honda Civic Type R had a fight on its hands before it even made it to showroom floors.
Although it's been a while since I drove my first VW Golf GTi, I can still recall that feeling of practicality and road-tearing performance – which is why I classed it as my favourite hot hatch. With that in mind, I knew that the Type R was already down on the game. Unlike the rest of its hot hatch competitors, the Type R is naturally aspirated and doesn't rely on forced induction to produce its power and torque.
One of the first things you notice with the Type R is the race-prepped interior. Wrap-around race style seats, along with a neat little steering wheel headline the Type R's onslaught. Outside the vehicle, twin triangular exhaust pipes and a bevy of never before seen styling attributes make the Type R a unique sight on the road.
The suspension is firm – very firm. For everyday use, I found it almost irritating bouncing around the cabin over the slightest pot holes. When it came to cornering though, the suspension – and car in general, was flawless.
Throw the car into a bend and the body remains compliant and flat throughout the entire bend. The car feels so planted that it could be easily mistaken for an all-wheel-drive, let alone a front steerer. As it's naturally aspirated, Honda's VTEC alters valve timing in the latter part of the rev range to bring turbo-like performance without the compromise of fuel economy.
The Type R comes with a 2.0-litre, 4-cylinder engine which produces 148kW and 193Nm of torque. Power is sent through a man-handled 6-speed manual gearbox with floor mounted accelerator pedal for easy heel-toe access.
Priced at $39,990, the Honda Civic Type R sips through just 9.3-litres/100km and dashes from 0-100km/h in just 6.6-seconds.
Standard features include: Adjustable headlight height; 18" alloy wheels; trip computer; cruise control; drive by wire electronic throttle; engine immobiliser; keyless entry; electric mirrors; heated mirrors; folding door mirrors; fog lights; dual zone climate control; power steering; leather wrapped steering wheel; rain sensing windscreen wipers; power windows; Type R Alcantara sports seats and single disc CD player with MP3 compatibility.
Safety features include: Vehicle Stability Assist (VSA); ABS brakes; dual front airbags; dual side airbags; dual curtain airbags (front and rear); Electronic Brake-force Distribution (EBD); Emergency Brake Assist (BA) and side impact protection beams.
With enough room to comfortably seat four passengers, and handling that would put many beefed up muscle cars to shame, the Civic Type R is now – in my opinion – at the number one spot on the hot hatch ladder. I don't think you could live with the Type R as a daily driver, but when it comes to outright performance and handling, there is simply no better way to get around. The Type R needs to be test driven to be believed – this new Honda is a serious weapon.
2007 Honda Civic Type R Road Test