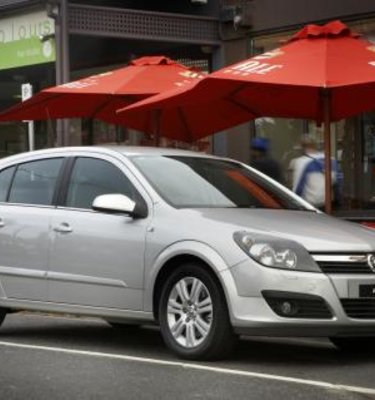 2007 Holden Astra CDTi (Diesel) Road Test
2007 Holden Astra CDTi (Diesel) Road Test
Test Models: 2007 Holden Astra CDTi (Diesel) Manual & Auto.
CarAdvice rating:
Recommended Retail Price: $29990 for the Manual - $31490 for the auto
When I handed back Holden's awesome VE SS for the keys to a mid-sized diesel hatch, my contemplation for wanting to hand it straight back could easily have been forgiven.
Upon turning the flip-key the rattler sprung to life. Loudly. I'd been given a tractor hiding inside an Astra shell. At idle this has to be one of the most rattly and noisy turbo diesels on the market.
Sarcasm aside, I hit the road determined not to like what I was about to drive, but once mobile the rattling subsided, and a curious deep note ensued. Peculiar yet pleasant, almost songful, it's somewhat like what I should imagine a sedated lion's purr to sound like.
Quickly finding the strangely positioned "Sport" button high on the dash, I promptly stuck the boot in, deciding I should see how far diesels have come for Holden since the Gemini's half-hearted attempt some twenty-five years ago.
The 1.9 litre ECOTEC oiler has some serious pull for its 88kW, thanks mostly to the 280Nm on torque on tap from just 2,000 revs. The power delivery is very linear and strong, and more surprisingly, Astra isn't reluctant to find the top of the tacho.
Power delivery does however feel a little disjointed from stand still. There's this 'gap'. It's not a big gap, but it's a gap none the less. Perhaps it's turbo lag, albeit brief, perhaps it's the silly auto box that slips in to neutral when stopped, or perhaps it's the traction control sorting out torque steer, but you do feel a definite pause before the surge begins.
The six-speed automatic is one of the best autos in the Holden line-up, and apart from the annoying jolt in and out of neutral at the lights (Holden believes this technology saves fuel), is a well-sorted affair that doesn't mind being pushed a little in manual mode. It won't allow you to try too hard, but can make for a bit of fun when the mood strikes you.
After a couple of days with the auto, I went back for the keys to the manual. Make no mistake. This is a different car. The manual gets an 110kW twin-cam variant of the same motor, and coupled to a neat shifting six-speed box, is a real treat. The clutch is well weighted, and whilst not as fluid as some of its Japanese rivals, does provide smooth and balanced pedal feel.
Though I found the auto's handling to be reasonable, good even, the manual is in a league of its own. Holden's 'Sports Chassis Pack' offered standard on the manual model (not available in auto variants), makes the whole set up feel crisper, well balanced and fun, surprisingly fun. I even caught myself grinning on a few occasions when using the manual's 320Nm to pull out of corners. Sure, it will understeer if you're overly enthusiastic, but the ESP should sort out most of us long before it gets that far.
If you wouldn't normally consider a manual, but enjoy driving, then go try the two head-to-head and you'll see what I'm on about. If you can't drive a manual, learn, you'll be glad you did. Not only is it cheaper to buy at $29990 (auto from $31490), it's cheaper to run, using less fuel than the auto and is bucket loads of fun besides. Easily on par with the 2.2 litre petrol SRi.
Holden claims 7.1 litres per 100km and I found, for once, this was close to the mark, returning an impressive average of 7.4 litres through mixed city and highway driving.
Braking is very confident, and the car stops flat and fast. The four-channel ABS system works confirmatively, and even through hard cornering is not easily upset. I did notice a touch of pedal fade after repetitive hard driving, but it's not something you'd usually expect to notice in the course of normal driving.
Exterior styling is fittingly European, considering the car originates from Opel's Belgian plant. Modern yet subdued, appealing though with well sorted character and edgy high lines, it will age well. It's not a 'look at me' car, but as such, it won't date quickly, nor will it attract unwanted attention. It's a good choice in the looks department for those who want to hang on to their investment a little longer.
Paint finish too is just as we've come to expect from the Opel marque – ten out of ten. I had the 'Ultra Blue' auto and 'Sapphire Black' manual, which although a tad more costly at $360 (metallic paint charge), really is worth the extra cash. Black especially suits this car and would easily be my first choice, contrasting the chrome bits and pieces especially well.
Panel fit is also better than most other contenders. The doors and hatch too have a good solid feel on closing.
Standard 16" alloys finish the package, and do suit the car well, without being overstated. I did find mine quickly blackened from brake dust and were a little hard to clean, so if the dealership offers you alloy wheel sealer – take it.
It wasn't until I spent a while inside this car that all the nice gushy feelings I had came crashing back down to earth. In a word, it's boring. Almost as though the interior was an afterthought, hastily thrown together from pieces of recycled lego.
Door trims, plastic. Dashboard, plastic. Console, plastic. Even the horn button is plastic. They haven't even tried using different plastics to break it up. It's bland, monotone, cheap, inescapably everywhere and is dotty, like braille to touch. Wrongly this interior makes all thoughts of build quality dissipate.
The dash layout too is boring and unimaginative, and the instrumentation's orange back lighting looks dated and tacky. The uninspiring instrument panel is effective though does feel like a little piece of the old eastern bloc hiding somewhere in your peripheral vision.
Legroom is liberal up front, though adults may find the back seat quite tight on longer trips. Comfort though is a let down. The seating position is too flat, too firm and offers little lateral support for cornering. A big let down when you consider how surprisingly capable this car is through the twisty bits. On longer runs I felt sore and tired in the upper thighs and lower back. In short, this sort of seating isn't even fit for a commercial vehicle in this day and age.
The indicators, whilst on the right side this time, are automated, and while reasonably clever, can't cater for every situation and do take a little getting used to.
Ventilation and air-conditioning systems are very good, quiet, and the heater is great. It gets warm quick too, making cold winter mornings, and the drab interior, a little more bearable.
Stereo performance is adequate but not fantastic. Astra only offers a single-disc MP3 compatible player as standard equipment with no factory upgrade available. Steering wheel controls are a welcomed addition as the head unit itself is fiddly to use.
As for the steering wheel itself, this is one thing done well. It has a comfortable grip with good amounts of adjustment available, and is spot on in terms of both size and balance, making all that pointing down twisty roads just that little bit nicer.
Boot space is ample and practical, which combined with a 60/40 split-fold rear seat, makes for acres of room when visiting the nursery. Rear window height is low enough for the little ones and isofix preparation makes fitting kid's seats easy.
Dual front, side, and curtain airbags are all standard, and when you consider the five-star ANCAP rating, standard ESP and ABS, it's a great safe package for the price tag. Great for any young family or budget savvy buyer.
Currently the diesel is only available as a five-door hatch, but may be made available in wagon or three-door if sales are sufficient down the track. Service intervals are 6 months / 10,000kms and warranty is 3 years / 100,000kms.
Matt Brogan
2007 Holden Astra CDTi (Diesel) Road Test