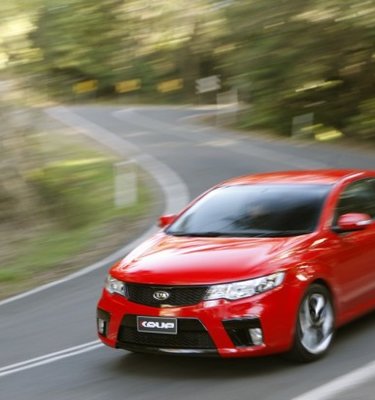 Kia Cerato Koup First Steer
Update: Kia Cerato Koup Review.
Kia seems to have decided to establish itself as the Korean car company that finds a vacant niche in the car market and sets out to fill it.
First there was the love it or leave it Kia Soul, we kinda love it, and now there is the Kia Cerato Koup, a car that could well add quite a bit to the Kia sales numbers.
You see the Kia Cerato Koup is just that, a coupe, in a car market that is almost bereft of such a thing, certainly at the price level Kia is demanding for this stylish addition to our automotive landscape.
Okay, so the name is a bit gimmicky, but Kia does love to play on the 'K' words and the car has been something of a sensation since it was first revealed as the Koup Concept at the 2008 New York Motor Show.
However, the full name certainly serves to indicate that this car is part of the Cerato family and the vehicle is based on the Kia Cerato sedan mechanicals and platform.
While there is a strong family resemblance inside, with some added sporting and luxury touches, the only panel the Cerato Koup actually shares with its slightly more prosaic sibling is the bonnet.
Every other panel on the Cerato Koup is unique and we'd have to say that in general it cuts a pretty sharp line, standing at the curb, let alone when it gets going.
Cerato Koup marks the introduction of the brand's first-ever two-door coupe.
Lower, shorter and lighter than the four-door Kia Cerato sedan, the two-door Kia Cerato Koup is Kia's first-ever entrant in the Sports segment in Australia.
Despite its sporty appearance and lower roofline, the 4.48-metre long Koup has a long wheelbase of 2650 mm, and offers great passenger and luggage space, highly competitive levels of equipment and state-of-the-art active and passive safety.
The Koup is available with a 2.0-litre petrol engine with Kia's five-speed manual transmission as standard or an optional four-speed automatic transmission, which adds $2000 to the overall price. Yes, in the US it also comes with a 2.4-litre engine and a six-speed manual, but that powertrain is engineered only for left-hand-drive, so isn't available to Australia.
Price is certainly one thing that is going to have prospective Koup owners talking as Kia has decided to go for just one specification level, basically throwing everything it has for the Cerato sedan into the Koup, and has priced it all at $23,690.
The coupe market is not something that is densely populated, and at this price level it was vacated by the likes of the Toyota Celica a long time ago.
In developing the new Koup, Kia designers and engineers concentrated on eight key areas: aggressive styling; strong performance; fun-to-drive steering, handling and ride balance; good fuel economy; great cabin comfort; enhanced overall safety; and the introduction of new technologies.
According to Kia's chief design officer, Peter Schreyer, who oversaw the design of the production Cerato Koup and its metamorphosis from the concept created by the company's California Design Studio, "Design gives a soul to the product and the future of Kia products lies in balance, clarity and purpose."
"Our first-ever coupe, the Cerato Koup, embodies that philosophy, and without any extraneous features, its crisp, clean exterior styling conveys a powerful and aggressive image that exudes speed," he added.
Kia Motors Australia product planning manager, Nick Reid, said that the ability of Kia to bring the Koup Concept into production in just 12 months from the time it was first shown, exemplified the engineering ability of the company.
He said that because the Koup was built on the same platform as the Cerato sedan it had exceptional space, including the ability to accommodate three passengers in the rear seats.
Having tried these out we can attest that even for a very tall rear passenger there is considerable room, although the lowered roofline does mean there's little gap between head and headlining!
However, there was more than adequate legroom, and given that this sort of vehicle is not likely to see a lot of rear seat action the space is commendable.
Mr Reid said that safety had also been a high priority with the Cerato Koup and as well as six airbags, there is standard Electronic Stability Control (ESC), ABS with electronic brake distribution and brake assist. Rear parking sensors are also standard on the Koup.
Performance comes from the same 2.0-litre Theta2 engine that powers the Cerato sedan and while there is the same 115kW at 6200rpm and 194Nm at 4300rpm, throttle response has been sharpened to give a more sporting feel. The Koup is also 25 kilograms lighter than its sedan sibling.
Zero to 100km/h takes a modest 9.3 seconds and while Kia executives admit they'd love a turbocharged version of the engine for the Koup, any such enhancement is not planned for the foreseeable future.
On the plus side the car does not have any legal usage or insurance problems for young drivers and it also scores a very commendable 4.5 out of a possible five on the Federal Government's Green Vehicle Guide.
Suspension set-up is the same as the Kia Cerato sedan but again has been beefed up to provide a more sporting feel and the ride height has been lowered 10mm, which coupled with a 50mm lowering of the roofline gives the Cerato Koup a much more 'hunkered down' look.
The kicked up tail and truncated rear are deceptive as the boot offers a huge 400 litres of space and the rear seats retain the sedan's 60:40 split fold which means it's possible to carry very un-coupe-like amounts of things in the rear.
So who's going to buy this car, well Kia's national marketing manager Steve Watt says the company's research shows that coupe buyers are very close to hot-hatch buyers, aged about 18-34 years, professional singles or young couples and that coupe buyers spend a bit more money that hot-hatch buyers. He reckons the coupe buyers will immediately recognise the Cerato Koup as a definite bargain.
He says he thinks those buying the Cerato Koup will be very much in this demographic and they will be fairly evenly split between men and women.
Colour choice is simple with red, white, silver and black being the offerings available, all teamed with black velour upholstery that's highlighted with red stitching.
Later in the year Kia plans to offer a Special Edition Koup that will add leather upholstery and a sunroof.
As for the automatic versus manual transmission split he thinks that could go as close as 55 percent auto and 45 per cent manual.
Incidentally one thing we've criticised in the past is the four-speed automatic in Kia products and we'd been told an all-new six-speed was on the way later this year.
It now seems this entirely in-house Kia developed transmission, which sounds pretty good, won't be available until well into 2010, so the four-speed is going to be soldiering on for some time to come – more's the pity!
Now we know you are going to want to know the all-important question, "what's it like to drive?"
But in truth you are going to have to wait for that answer.
You see in a slightly novel approach Kia did not provide us with the usual day long drive program, designed to show off the vehicle in the best possible light.
Instead they took us to afternoon tea, gave us al the technical info and handed over a set of keys to a spanking new Cerato Koup, so in reality all we've done is drive it back to the office on the freeway and hit the computer keyboard.
The plus side is that tomorrow I'll be tossing the keys to Road Test Editor Matt Brogan and he will be giving our shiny Silver Cerato Koup four-speed automatic his usual week of punishment – only joking - before he gives you his full appraisal of the car.
Watch this space!
Kia Cerato Koup First Steer