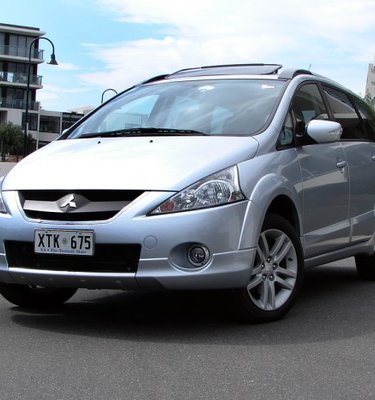 Mitsubishi Grandis Review & Road Test
Need decent, practical and comfortable family motoring? Grandis could be just the ticket
Model Tested:

2009 Mitsubishi Grandis VRX; 2.4-litre, four-cylinder, petrol; four-speed automatic; wagon - $44,950*
Options:
Metallic Paint $NCO (Fitted - Cool Silver)
CarAdvice Rating:
Pull up at any school of a weekday afternoon and the visual consensus is that mum and dad buyers seem to parallel family motoring with SUV ownership, but the fact of the matter is that in most cases, dollar for dollar, they would be equally well served by the humble people mover.
And whilst people movers are often viewed as little more than the vehicular equivalent of whitegoods on wheels, there's a glimmer of hope at the Mitsubishi end of the spectrum with its Grandis VRX model proving you don't have to look dull to be a practical and valued member of the four-wheeled family fold.

Add to that safety gear that includes four-wheel disc brakes with ABS, Electronic Brake Force Distribution and Brake Assist as well as dual front, side and curtain airbags (first and second row) and I'm sure you'll agree that Grandis is a reasonably well kitted vehicle for its $44,950 price tag.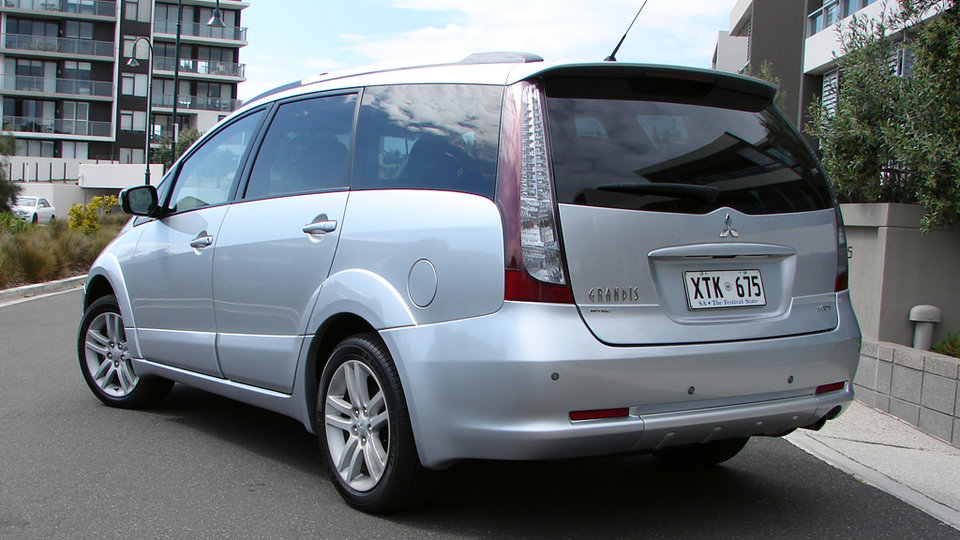 It's a pity ESC and its lifesaving benefits aren't available to protect the families who ride in a Grandis, an omission that flows from the platform being relatively long in the tooth. Which is probably also the reason it feels a little ponderous in the steering and not quite as sharp as you'd like in the corners. If you care about spirited driving, Grandis (and most other people movers for that matter) are probably not for you.

In terms of comfort however the Grandis' credentials are pretty hard to beat with the pliant leather upholstery giving all seven-seats a well cushioned yet supportive feel that only aids to further make the generous proportions and smooth ride on offer all the more enjoyable.
Driver and front seat passenger seats are also equipped with captain's chair armrests to make highway cruising more relaxed. Dashboard layout is simple and effective though I would hasten to point out that the stereo head unit is quite a reach from either of the front seats, further highlighting the want for steering wheel mounted audio controls.
The 60:40 split second row seats are adjustable fore, aft and for recline whilst also offering handy aircraft-style tray tables (mounted to the back of the front seats), cup holders in the doors, plus overhead air conditioning and sunroof controls.
Both second and third row seats are also equipped with child seat anchor points in all (five) positions while all seating positions also offer three-point inertia reel seatbelts with the front seats adding seatbelt reminders, force limiters and pyrotechnic pretensioners.
With the rear seat in the upright position Grandis offers a decent 320 litres of cargo capacity, or enough for the school bags and shopping, but can also be split 50:50 for longer objects, or recessed in to the floor to offer a cavernous 1500 litres of space all told.

If however you require a people mover only for suburban running then you'll probably be quite impressed as, around town, the seven-seater is pleasant to drive with its light steering and excellent visibility making mundane day-to-day trips both easy and comfortable.

That aside Grandis could be just the ticket in providing you with decent, practical and comfortable family motoring and, lack of ESC aside, is a well kitted car for the price that brings a refreshing aesthetic allure to an otherwise dull segment.

CarAdvice Overall Rating:
How does it Drive:
How does it Look:
How does it Go:

*
Pricing is a guide as recommended to us by the manufacturer.