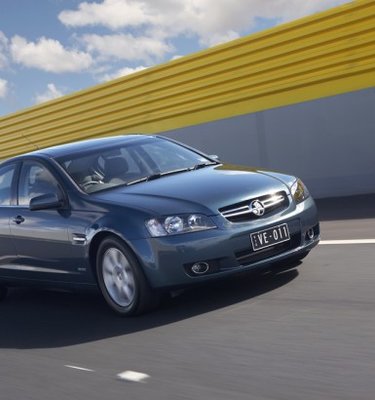 2010 Holden Commodore MY10 Review
Looking for a deal on this car?
If Holden's 'billion dollar baby', the VE Commodore, had engines like these back in 2005 then it truly would have been worthy of the rave reviews it received at the time.
While I would concede that the looks, which personally don't overly appeal to me, have stood the test of time, the mechanical package was behind the game from day one.
The 3.6-litre Alloytec V6 port-injected engine first introduced in 2004 always seemed to us to be an unhappy unit, mechanically harsh and mostly sounding a little strangled in its performance.
Now all that has changed with the introduction of direct injection, plus a myriad of other changes, to the MY10 Commodore, plus the long-wheelbase Statesman and Caprice, engines.
The big feature for most prospective Holden large sedan, wagon and utility buyers will be the downsizing of the base engine to 3.0-litres and the inevitable question; "how does it go, mate?"
Well we can tell you right off that it goes pretty darn well, in fact we'd go so far as to say you wouldn't think it was from the same engine family as the old 3.6-litre.
It revs, it has plenty of power and it has more than enough torque, especially now that it is coupled to a six-speed automatic transmission that is never wanting for the right ration for the job.
And if you think that's a glowing report the new 3.6-litre direct injection engine fitted to the up-spec models, such as the Calais and he SV6, is an even bigger gem, in fact there's just one word to describe it "gun".
At least one senior Holden executive, no we won't be naming him, told CarAdvice that "this was the VE we should have had back in 2005."
In GM Holden nomenclature these new engines are Spark Ignition Direct Injection (SIDI) and they now offer the same technology as engines previously used in the likes of the Cadillac CTS that almost made it to our shores earlier this year.
There are SIDI badges on all models to proclaim the new engines and we've got to say it's a badge that Holden can wear with some pride.
The two new engines draw upon the best practices and creative expertise of GM's technical centres in Germany, North America and Australia.
The Alloytec V6 SIDI engines, both 3.0-litre and 3.6-litre offer advanced direct combustion chamber fuel injection, are made in Melbourne at the company's Fishermans Bend engine plant, although many of the components, including the blocks, come from GM facilities in other parts of the world.
The engines deliver a balance of improved operating refinement with first-rate noise and vibration control, good specific output, high torque over a broad rpm band, fuel economy and low emissions, exclusive durability-enhancing features and very low maintenance.
In addition to aluminium engine block and cylinder heads the 3.0-litre SIDI engine utilises an exhaust manifold integrated into the cylinder head.
Local development work on the two engines started in 2007, with engine, calibration and vehicle durability testing taking place over a 30-month period.
More than 1.1 million test kilometres and almost 11,000 engine dynamometer hours were clocked up in the process.
Fuel efficiency has become the latest game between local car manufacturers and Holden has certainly upped the ante with its new engines.
Commodore Omega achieves just 9.3 litres of fuel per 100 kilometres in the official ADR81/02 test – up to 13 per cent better than current models – making it more efficient than some major four-cylinder competitors.
The 3.6-litre SIDI engine improves fuel efficiency in the premium models from seven to 13 per cent, which means that in a Calais fuel use drops from 11.2 to 9.9L/100km on the ADR81/02 test cycle.
Carbon dioxide emissions from both engines have also been reduced with the 3.0-litre dropping as low as 221 grams of CO2 per kilometres and the 3.6-litre going as low as 236g/km.
Director of Marketing, Phillip Brook, pointed out that head-to-head with the base model Ford Falcon XT automatic the Omega is 1.2L/100km more fuel efficient and emits 30 grams a kilometre less CO2.
All V6 SIDI models have received a power upgrade, with the 3.0-litre increasing output to 190kW from the 175kW of the previous engine, while the 3.6-litre is up from 195kW to 210kW.
At the same time torque has increased to 350Nm for the 3.6-litre while the 3.0-litre produces 290Nm, and both engines are still tuned to run on 91RON petrol, the minimum fuel rating available in Australia.
On the road both engines deliver performance that is more than up to the job of moving a large sedan, although we didn't get to drive a Statesman with the 3.6-litre engine.
However, the comments of those who did indicate it is more than adequate for moving such a large car.
An interesting aspect of the new engines is deceleration fuel cut, which seamlessly cuts the fuel feed when decelerating or coasting.
The feature has been in use on VE from its inception but now Holden has refined the operating range of this feature to maximise fuel efficiency.
Low rolling resistance tyres – the Electronic Stability Control (ESC) has even be recalibrated to allow for them, changes to a host of technical aspects of the cars and the addition of the 6L50 six-speed transmission all make driving the MY10 Commodore range a much more pleasant experience than it was in the past.
Going downhill it will automatically shift down a gear and use the engine to help hold vehicle speed, reducing brake wear.
Going uphill the transmission detects when the car would normally be prone to shifting rapidly between gears or "hunting", and intervenes by holding the right gear for the job.
A Holden executive told CarAdvice that recently departed chairman Mark Reuss had been insistent on the adoption of the six-speed transmission. He reportedly rejected a five-speed option saying that Holden had to do more than be "just adequate, it had to move ahead of the game."
Overtaking performance in the 3.0-litre V6 is certainly adequate and in the 3.6-litre it is exceptional.
The changes to the MY10 Commodore are al about fuel efficiency and improving the driveability of the car, and besides a couple of new 'hero' colours nothing else has really changed.
Holden sees it as evolution rather than revolution and we would have to agree, the same body shape continues – love it or not – and the interior doesn't get any upgrades or changes, so buyers should continue to expect unrelieved expanses of black plastic and dark upholstery.
CarAdvice will be putting a range of MY10 Commodores through its testing regime in the near future and we'll also be looking at how the new powertrains stack up against some of the competitors.
Looking for a deal on this car?
2010 Holden Commodore MY10 Review