The Mercedes-Benz Vito van and Viano people mover are the first van-based vehicles in Australia to earn a coveted five-star ANCAP safety rating.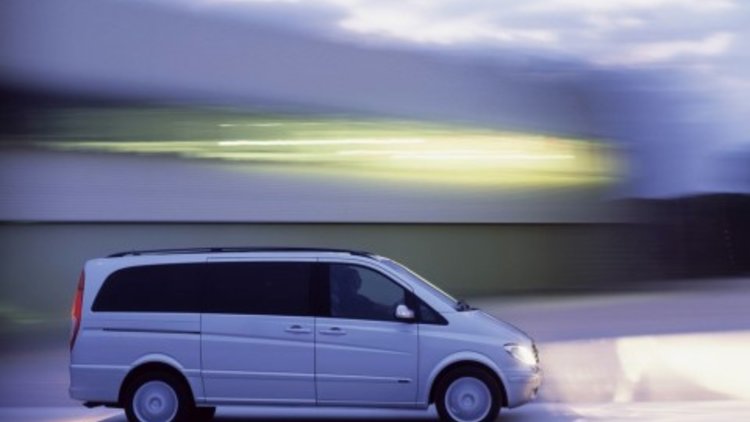 By John Cadogan
The announcement by Australasian New Car Assessment Program boss Lauchlan McIntosh took place at the Alfred Hospital in Melbourne yesterday, two weeks after the final crash test that elevated the Benz vans from four stars to five.
According to ANCAP, compared with people in a five-star vehicle, those in a three-star car are 1.6 times more likely to suffer serious injury in a crash, while those in a one-star car face 2.4 times greater risk.
Mr McIntosh told CarAdvice, "One in every two fatalities in a poorly performing van could be prevented if the occupant had been in a four- or five-star vehicle".
ANCAP test program manager Michael Paine put it more bluntly, categorising the star ratings as "five star", "four star" and "unacceptable" in the pre-test briefing a fortnight ago.
When questioned, he said there is so much choice among highly rated entrants to make the purchase of a vehicle with three stars or less unjustifiable on safety grounds.
To earn five stars, vehicles must pass three crash tests – an offset front crash simulating a head-on collision at 64km/h, a side impact with a 500kg sled at 50km/h, and a pole impact with a 250mm diameter steel pole supported by an immovable concrete block. It must also come equipped with ESC.
This third (pole impact) test is applicable only to potential five-star candidates. The side-on impact takes place level with the driver's head, and at 29km/h experts like Michael Paine say such a crash in the real world – into a tree or pole, sideways, at the same speed – would almost certainly be fatal in vehicles without curtain airbags or head-protecting side airbags.
Although the Viano is equipped as standard with curtain airbags, the Vito is not.
Ken Matthews, managing director of Mercedes-Benz's Commercial Vehicles, says the company will consider fitting them as standard from January but says the van market is extremely price-sensitive.
At present a Vito with head-protecting curtain airbags is an $800 option on top of the vehicle's $39,490 list price. The top-selling Toyota HiAce, which rates three stars, sells from $34,540, and the Mitsubishi Express, at a lowly one star, is priced from just $24,590.
Mr McIntosh says commercial vehicle safety ratings are an OH&S issue.
"There is a legal obligation on companies and fleet managers to ensure a safe workplace. We urge fleet purchasers to factor vehicle safety ratings into their purchasing policies," he said.
The five-star Mercedes-Benz Vito and Viano sit above the Hyundai iLoad van and iMax people mover, and the Volkswagen Caddy and Transporter, all on four stars.
ANCAP has tested a total of nine vans, with the remaining five rating below four stars.
Mercedes-Benz Vito and Viano first to get five star safety