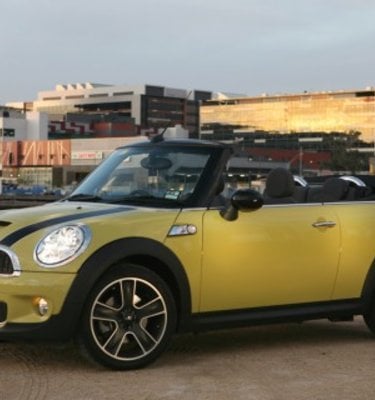 Mini Cooper Cabrio Review & Road Test
Model Tested:

2009 Mini Cooper S Cabrio 'Chilli'; 1.6-litre, four-cylinder, turbo-petrol; six-speed manual; cabriolet - $51,600*
Options (as fitted):
Limited Slip Differential $350; Bonnet Strips in Black $200; Mirror Caps in Black (No Cost Option); Front Seat Heating $490; Interior Surface in Body Colour $225; Chrome Line Exterior $250; Colour Line Dark Grey (No Cost Option); Bluetooth mobile phone preparation with USB interface & armrest $1,470
CarAdvice Rating:
By Matt Brogan Pics by Pavle.com.au
The Mini Cooper S Cabrio Chilli, we've just tested sits just under the mighty John Cooper Works edition on the Mini Cabrio line-up, and on top of the Cooper, Cooper S and Cooper R52 models.
While it might carry a hefty price tag with our road test model optioned to just shy of $55,000, the amount of enjoyment squeezed in to this impressive little package is absolutely incontrovertible.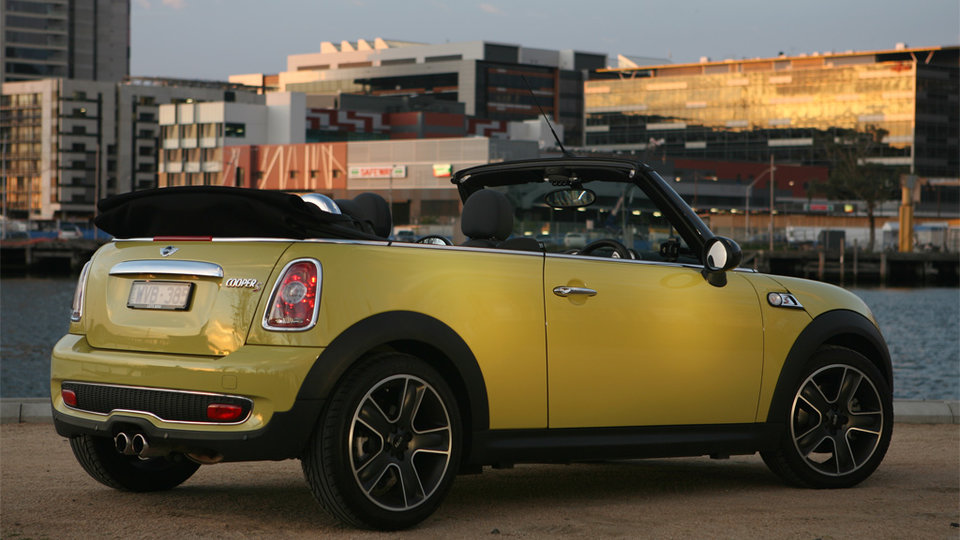 The cabin too retains that retro 60's charm while not doing away with all the mod-cons we've come to expect from the marque, however the 'always-open' metre (a device that times how long the roof has been off so you can calculate your UV exposure) seems to block one of the driver's vents and the rear seat is best reserved for small children or brief trips by adults.
The oversized centre speedo is best thought over as a novelty as parallax error makes it difficult to accurately determine speed. Fortunately a digital duplicate can be found in the centre of the tachometer.

Sadly the new Cooper S is sans Harmon Kardon audio which is a bit of a shame all things considered. The 10 speaker unit as featured in the current model is otherwise decent of both tone and volume, even with the roof off.
When it comes to the retractable roof there's a few issues with regard to noise and rattles which I feel are a little sub-standard for the money with no insulation provided in the canvas twin-folding design.

However, it's driving with the roof off that is the absolute highlight of the 'S' variant Cabrio as it allows you to imbibe the subtle crackle and pop of the raspy exhaust while feeling the wind in your hair and the sun on your back while enjoying that trademark sporting prowess the brand has become famous for.

Zero to 100km/h is dished out in a little over seven seconds, drive out of corners is sharp and snappy, and when it comes to rounding up slow moving traffic, overtaking is brisk and purposeful.

The well cogged gearbox also manages to provide Mini with exceptionally frugal fuel economy returns with our week totalling 7.8 litres per 100km (combined), just over half a litre more than the ADR claims.
Steering is truly a point and shoot affair with near perfect levels of feel and road feedback on offer. Torque steer can however be a little snappy in certain situations, though I will admit, I did enjoy the optional limited slip differential.

Sure all of this wicked fun comes at the price of a comfy ride, but if you're a the kind of driver who likes a little more enthusiasm from your car's handling, then I'm sure you're bound not to care.

While the Cabrio was never really meant to be practical it does offer a 170 litre boot that can be expanded through the rear seats to avail 660 somewhat awkward litres if need be.
So with summer just around the corner the Mini Cabrio represents a joyously uninhibited way to have some topless fun through the warmer months, and even if the added pep of the Cooper S isn't your thing, a base model can be yours from just $39,800.
Ratings:
CarAdvice Overall Rating:
How does it Drive:
How does it Look:
How does it Go: