The new Mitsubish Lancer Evolution X is nearly here and it was time we had a closer look at what Mitsubishi has changed and added to the latest and best Evolution.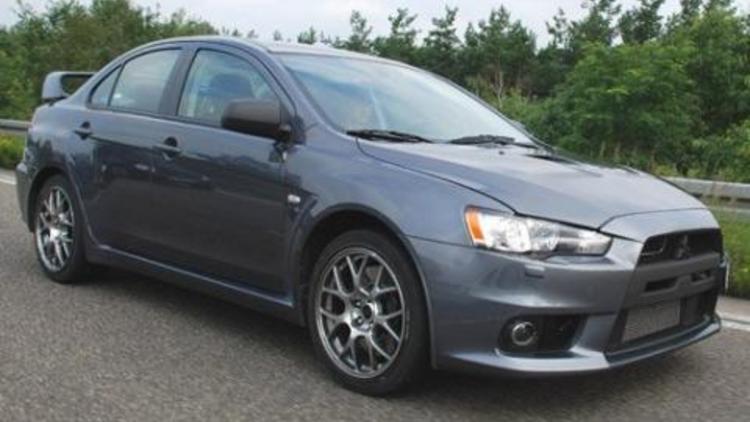 For those in the know, the Evo as well as the STi (and their more mundane variants) have for long employed All-Wheel-Drive systems which have helped give them their cult status. Of course Turbo All-Wheel-Drive technology was a work of the Germans with Audi leading the charge in the 80s, but as usual, the Japanese are quick at adapting and mastering technology.
There are two new systems in the Evolution X, the S-AWC (Super All Wheel Control) and the new Twin Clutch SST (Sport Shift Transmission). The S-AWC is an improved drivetrain that that can dynamically regulate drive torque at each wheel while the Twin Clutch SST is pretty similar setup to Audi/Volkswagens DSG.
To begin with, the S-AWC comes standard with a whole heap of systems:
ASC (Active Stability Control),
ACD (Active Center Differential),
AYC (Active Yaw Control)
Sport ABS (Sport Antilock Brake System).
Get all that? Don't worry, all four systems work in harmony to ensure the new Evo will improve on its supercar beating handling. The Active Yaw Control has been around for a while, and the new version is set to improve on its predecessor, you can find a good definition of active yaw control here.
There is a breakdown of all the different components that make Mitsubishi's new Super All-Wheel-Control at the bottom of this article.
Twin Clutch SST
The highlight of the package though is the new Twin Clutch SST. Although Mitsubishi have changed the name, it is essentially a similar setup to Volkswagen/Audi's DSG. Although we haven't had a steer in the new Evo, we imagine if the SST is anything like DSG, it will be a winner for Mitsubishi and will undoubtedly persuade potential STi owners to change sides.
For the technically minded, the Twin Clutch SST puts odd (1st, 3rd, 5th) and even (2nd, 4th and 6th) gears on separate input shafts, each connected to an individual clutch, hence the twin clutch.
The idea is that gears are already set before being engaged, so moving from 1st to 2nd only takes a miniscule amount of time. The DSG system in the Audi takes 8ms to change up, Mitsubishi are yet to confirm similar times for the SST (we have asked). Either way, next time you're arguing with a mate on "it ain't a sports car if it ain't manual" make sure to quote those times - because as far as we know, no one can change gears that fast!
The Evolution X is expected to land in Australia by December or January, sources have told CarAdvice the Evo X (and the new STi) will retail for over $10,000 more than the Evo IX (57k)!
You can find some brand new spyshots of the production ready Evo X over at MotorAuthority.
Alborz Fallah
ACD (Active Center Differential)
The Active Center Differential incorporates an electronically-controlled hydraulic multi-plate clutch. The system optimizes clutch cover clamp load for different driving conditions, regulating the differential limiting action between free and locked states to optimize front/rear wheel torque split and thereby producing the best balance between traction and steering response.
AYC (Active Yaw Control)
AYC uses a torque transfer mechanism in the rear differential to control rear wheel torque differential for different driving conditions and so limit the yaw moment that acts on the vehicle body and enhance cornering performance. AYC also acts like a limited slip differential by suppressing rear wheel slip to improve traction.
The first component of its type, AYC was first used in the Lancer Evolution IV launched in April 1996. It then took an evolutionary step forward in the Lancer Evolution VIII launched in January 2003 as the Super AYC when it switched from the use of a bevel gear to a planetary gear differential, thereby doubling the amount of torque it was able to transfer.
In comparison to the system used in the Lancer Evolution IX, AYC now features yaw rate feedback control using a yaw rate sensor and also gains braking force control. Accurately determining the cornering dynamics on a real-time basis, the system operates to control vehicle behavior through corners and realize vehicle behavior that more closely mirrors driver intent.
ASC (Active Stability Control)
The ASC system stabilizes vehicle attitude while maintaining optimum traction by regulating engine power and the braking force at each wheel. Taking a step beyond the previous generation Lancer Evolution, the fitting of a brake pressure sensor at each wheel allows more precise and positive control of braking force.
ASC improves traction under acceleration by preventing the driving wheels from spinning on slippery surfaces. It also elevates vehicle stability by suppressing skidding in an emergency evasive maneuver or the result of other sudden steering inputs.
Sport ABS (Sport Anti-lock Braking System)
ABS allows the driver to maintain steering control and keeps the vehicle stable by preventing the wheels from locking under heavy braking or when braking on slippery surfaces. The addition of yaw rate sensors and brake pressure sensors to the Sport ABS system has improved braking performance through corners compared to the Lancer Evolution IX.
Mitsubishi's New S-AWC & Twin Clutch SST