With technology continuously evolving, it's sometimes hard to keep up with laws and the way they adapt to modern technology. Reader Andrea contacted CarAdvice asking whether it is illegal to use an Apple Watch while operating a motor vehicle, similar to the way it would be using a mobile phone while driving.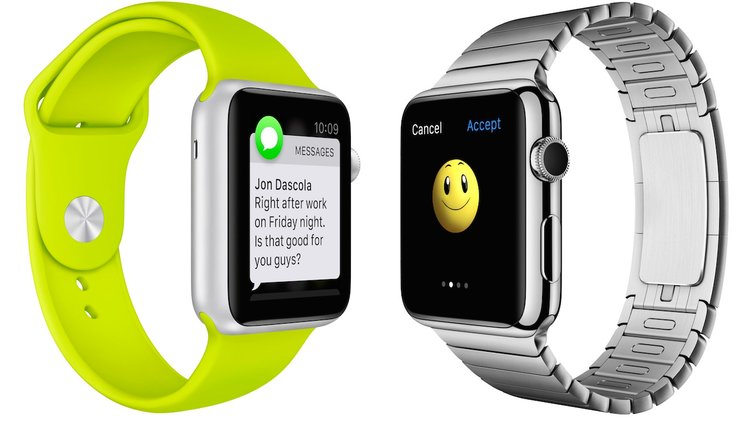 Q: I own an Apple Watch and live in Victoria. Is it illegal for me to use my watch when I am stationary at the traffic lights? I am always paranoid to look at it in fear of getting a fine!
A: Excellent question, Andrea. We have an Apple Watch in the office and have often asked ourselves the same question.
With the fine for using a mobile phone at $455 and four demerit points in Victoria, it's not hard to see why it could be a costly mistake to make.
While you shouldn't consider this legal advice, we have run through a breakdown of each state and their rulings on the use of an Apple Watch while driving:
Victoria:
The Victorian road rules are quite clear in the way they deal with the use of mobile devices while driving.
According to a Victoria Police spokesperson, "Penalties can range from fail to have proper control of vehicle which is a $228 fine to more severe penalties if a collision occurs. If the smart watch is being used as a mobile phone then the driver can be fined $455 and lose four demerit points."
Australian Capital Territory:
The strangest response is from the Australian Capital Territory police force, who suggest that the watch should be in a mobile phone holder.
An ACT police spokesperson said "Yes its illegal – the mobile must be in a hands free kit regardless if it's on your arm or not.
Talking on an apple watch leaves the driver not having proper control of the vehicle or paying attention."
Western Australia:
In Western Australia, it's a little different. The Apple Watch is actually classed as a Visual Display Unit (VDU), which sits under its own piece of legislation.
The associated penalty for a breach of this code is $300 and 3 demerit points.
The rule states that a driver has used the VDU if:
(b) is likely to distract another driver."
Northern Territory:
The Northern Territory doesn't appear to have any legislation around the use of an Apple Watch while driving. Instead, the police are able to fine a driver for not taking due care.
A spokesperson for the Northern Territory police force said, "the responsibility of every driver to drive with due care and attention and the use of any device, or the conducting of any activity, that distracts them from the task of driving would constitute an offence. The fine in the Northern Territory for driving without due care is $150 plus a $40 victim levy."
South Australia:
In South Australia, the ruling follows the Australian Road Rules, which refer specifically to VDUs as well.
A spokesperson for the South Australian police force said, "wearable computers are miniature electronic devices that can be worn on the body and can include smart watches and glasses which can be connected wirelessly to mobile phones or other similar devices. A recent addition to the wearable computer market is the Apple Watch. Depending on the miniature electronic device many can make and receive phone calls, as well as display text messages and other social media content. The one common element of all these devices is that they have a visual display unit.
Rule 299 of the Australian Road Rules makes it an offence to have a visual display unit in a vehicle operating while the vehicle is moving, or is stationary but not parked, if any part of the image on the screen is visible to the driver."
Tasmania:
We are still waiting for a response from the Tasmanian police force — carrier pigeon related issues. We'll update this post as soon as information becomes available.
New South Wales:
New South Wales considers the use of an Apple Watch as illegal if the driver is using the mobile functions.
According to a spokesperson from the New South Wales police, "Current mobile phone laws apply when using mobile functions on an Apple Watch while driving. Breaking these rules attract heavy penalties.
Learner and P1 drivers aren't allowed to use their phones at all when driving. For everyone else behind the wheel, you can only make or receive calls, play music or use GPS functions if you don't have to touch the phone or it's in a fixed mounting. All other functions of a phone aren't allowed while driving.
If you use your phone illegally while driving you could face a $319 fine and lose three demerit points or a $425 fine and four demerit points if you're in a school zone.
Distracted drivers who don't have proper control of their vehicles face a $425 fine and three demerit points or a $531 fine and four demerit points if they're caught in a school zone."
Queensland:
Queensland appears to be the place to be for driving and using an Apple Watch.
According to a spokesperson from the Queensland police force, "the Queensland Road Rules which apply to using a mobile phone while driving do not apply to a 'smart watch'. However, drivers could be charged with not having proper control of their vehicle and driving without due care and attention, should they drive erratically or become distracted due to the 'smart watch.'"
So, Andrea — there you have it. If you're in Victoria, the Apple Watch joins sneaky speed cameras as a source of revenue for the government if you use it as a mobile phone.