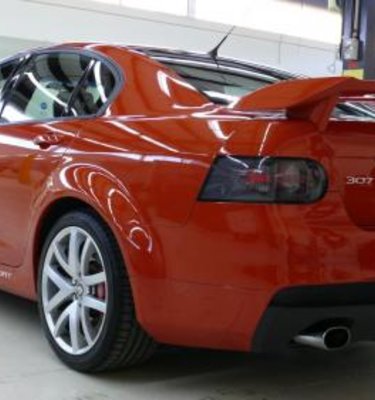 2007 VE HSV ClubSport R8 with Walkinshaw TOMCAT exhaust
2007 VE ClubSport R8 with Walkinshaw TOMCAT exhaust
"Not that we needed any more road presence than the "Ignition" coloured ClubSport R8, but now we had one of the best sounds in the automotive world, courtesy of Walkinshaw Performance"
When we got the word from HSV that we could have take a ClubSport R8 fitted with a louder exhaust system together with GM's 6-speed manual tranny for a few days, we dropped what we were doing and left immediately.
When HSV is not enough, Walkinshaw performance can sort you out with a lolly shop full of go fast goodies for any Holden or HSV model. Just listen to the sound:
HSV's "Ignition" paint job is loud, but nowhere near as loud as the TOMCAT exhaust system fitted by the Walkinshaw tuning shop.
It's a 2 ½ inch stainless Steel system running from the catalytic converter through to the twin oval chrome tipped pipes as per the photo below.
It's not so much the twin oval pipes; in fact, the standard R8 four-pipe 'look' is by far the pick. The problem is, if you like your V8 sound served loud, you have to wait until you are spinning the engine at around 5000-6000rpm before that glorious V8 Supercar-like roar kicks in.
All that changes with a $1695 TOMCAT exhaust system on board. From the moment you fire up this car and blip the throttle, there's a noticeable increase in the 'base' of the V8. This is surely what a high-powered HSV was meant to sound like.
Engage 1st gear and give it a bit, and before you are through with second, you'll be doing 110km/h. Three-hundred and twelve kilowatts (they reckon its good for an extra 5kW) is a shed load of power and you can now hear it, in full surround sound.
The T-56 TREMEC gearbox is nice and meaty, and the six-speed shifter has a great look and feel. Shifts are precise, with well-placed ratios and a superb clutch action, that allows for easy hill starts.
Incidentally, this transmission is used in a host of four-wheel rockets including the Dodge Viper, Corvette Z06 and the Aston Martin Vanquish, so the R8 ClubSport is in good hands.
While the six-speed auto box is suburban friendly, the manual option, combined with the Walkinshaw exhaust, is by far the more exciting drive. By Anthony Crawford
2007 VE HSV ClubSport R8 with Walkinshaw TOMCAT exhaust