Volkswagen Australia has announced a range of sweeping changes across most of its forthcoming MY16 passenger car and SUV range, which it has billed as the "biggest model year update in the local company's history".
In what amounts to a significant value improvement, all Polo, Golf, Beetle, Scirocco, Jetta and Tiguan models will now get a standard reverse-view camera and a new App-Connect USB interface integrating Apple CarPlay, Android Auto and MirrorLink as standard.
This makes Volkswagen among the first brands with these new-generation connectivity systems, which over the coming years will become standard across the overwhelming majority of new cars.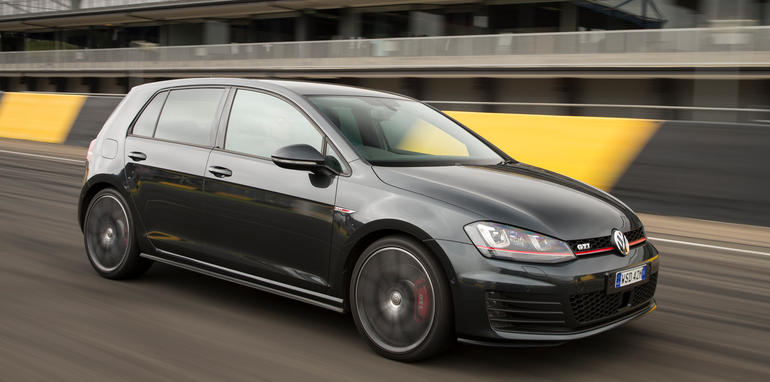 Some models also get a new 6.5-inch screen — notably the Golf, which definitely needed one — along with power bumps (hello to the Golf 92TSI and 110TSI) and other additional equipment. The just-updated Polo GTI hot hatch is now standard with adjustable dampers.
There is also an array of small price tweaks, both increases and decreases. Polo pricing changes from -$100 to +$500, Golf and Golf Wagon pricing changes from -$200 to +$700, Golf GTI pricing drops from by between $1000 and $2000, Beetle pricing rises $600 and Jetta Trendline prices rise $200.
The Passat range is untouched, as the new-generation car is coming before year's end. The Golf Cabriolet remains the same too.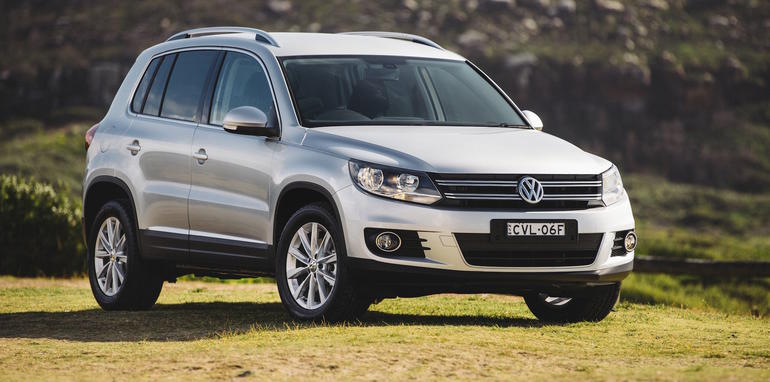 The MY16 model range will begin to arrive in Volkswagen dealerships across the country in the coming weeks, with models available to order immediately.
"It's great to be able to offer our customers the best of German engineering, and in the coming weeks and months, our customers will be able to get even more bang for their bucks," said Volkswagen Group Australia managing director John White.
White has been effusive in the past about VW's mission to be a top-five player in Australia, and the company has been posting record growth this year.
The full suite of MY16 running changes are below (prices mentioned are for versions with manual gearbox unless otherwise mentioned. DSG auto generally a $2500 extra):
Polo
Polo 66TSI Trendline
($16,990 plus on-roads, up $500)
Additional features over and above the MY15 Polo 66TSI Trendline
Composition Media 6.5-inch (replaces Composition Colour 5.0-inch) high resolution touchscreen display

App-Connect USB interface for Apple CarPlay, Android Auto and MirrorLink

Reverse-view camera
Polo 81TSI Comfortline
($18,490, down $100)
Additional features over and above the MY15 Polo 81TSI Comfortline
Composition Media 6.5-inch (replaces Composition Colour 5.0-inch) high resolution touchscreen display

App-Connect USB interface for Apple CarPlay, Android Auto and MirrorLink

Reverse-view camera
Polo GTI
(Still $27,990)
Additional features over and above the MY15 Polo GTI
Sport Select suspension (electronically adjustable dampers) Including sportier tuning of a range of parameters (such as steering, sound actuator and accelerator response) by pushing the Sport button

App-Connect USB interface for Apple CarPlay, Android Auto and MirrorLink

Reverse-view camera
Options
Golf and Golf wagon
Golf 92TSI
($22,490, up $700)
Additional features over and above the MY15 Golf 90TSI
1.4 litre TSI engine with 92kW of power (+2kW) and 200Nm of torque

Composition Media 6.5-inch (replaces Composition Colour 5.0-inch) high resolution touchscreen display

App-Connect USB interface for Apple CarPlay, Android Auto and MirrorLink

Reverse-view camera
The entry Golf Wagon has been discontinued
Golf and Golf Wagon 92TSI Trendline
($23,990 hatch, $27,990 wagon with DSG standard on latter)
NEW MODEL: Additional features over and above the MY16 Golf 92TSI
15-inch Lyon alloy wheels (4)

Parking distance sensors, front and rear with Optical Parking System (OPS)

Rain sensing windscreen wipers

Automatic headlight function

Automatically dimming interior rear-view mirror
Golf and Golf Wagon 92TSI Comfortline
($27,990 hatch, $29,490 wagon, both standard with DSG, prices down $150 and $200 respectively)
Additional features over and above the MY15 Golf 90TSI Comfortline
1.4 litre TSI engine with 92kW of power (+2kW) and 200Nm of torque

Discover Media satellite navigation system with 6.5-inch high resolution touchscreen display

App-Connect USB interface for Apple CarPlay, Android Auto and MirrorLink
The Golf 90TSI Comfortline manual has been discontinued
Golf and Golf Wagon 110TSI Highline ($32,990 hatch, $34,490 wagon, both standard with DSG, prices up $200 and $150 respectively)
Additional features over and above the MY15 Golf 103TSI Highline
1.4 litre TSI engine with 110kW of power (+7kW) and 250Nm of torque

Discover Media satellite navigation system with 6.5-inch high resolution touchscreen display

App-Connect USB interface for Apple CarPlay, Android Auto and MirrorLink

Vienna leather appointed upholstery with heated front seats

Keyless Access, keyless entry and starting system
Golf and Golf Wagon 110TDI Highline
($35,490 hatch and $36,990 wagon, both standard with DSG, prices up by $200 and $150 respectively)
Additional features over and above the MY15 Golf 110TDI Highline
Discover Media satellite navigation system with 6.5-inch high resolution touchscreen display

App-Connect USB interface for Apple CarPlay, Android Auto and MirrorLink

Vienna leather appointed upholstery with heated front seats

Keyless Access, keyless entry and starting system
Golf GTI
($40,990, down $1000)
Additional features over and above the MY15 Golf GTI
Discover Media satellite navigation system with 6.5-inch high resolution touchscreen display

App-Connect USB interface for Apple CarPlay, Android Auto and MirrorLink

Bi-Xenon headlights with LED daytime driving lights

Keyless Access, keyless entry and starting system
Golf GTI Performance
($46,490 with standard DSG, down $2000)
Additional features over and above the MY15 Golf GTI Performance

Discover Media satellite navigation system with 6.5-inch high resolution touchscreen display

App-Connect USB interface for Apple CarPlay, Android Auto and MirrorLink

Keyless Access, keyless entry and starting system
Golf R
(Still $52,740)
Additional features over and above the MY15 Golf R
Discover Media satellite navigation system with 6.5-inch high resolution touchscreen display

App-Connect USB interface for Apple CarPlay, Android Auto and MirrorLink

Vienna leather appointed upholstery with heated front seats
Beetle
($31,390, up $600)
App-Connect USB interface for Apple CarPlay, Android Auto and MirrorLink

The Rear View Camera (RVC) with static guidance lines is now standard equipment
Options
Discover Media satellite navigation is now available as a $950 individual option

The Blue Silk Metallic paint has been introduced
Scirocco R 
(Still $45,990)
New-generation Discover Media infotainment system to replace the RNS510 satellite navigation system

App-Connect USB interface for Apple CarPlay, Android Auto and MirrorLink
Jetta
Jetta 118TSI Trendline
($22,990, up $200)
Additional features over and above the MY15 Jetta 118TSI Trendline
Composition Media 6.5-inch (replaces Composition Colour 5.0-inch) high resolution touchscreen display

App-Connect USB interface for Apple CarPlay, Android Auto and MirrorLink

Reverse-view camera
Jetta Comfortline, Highline and Highline Sport models
(Pricing unchanged)
Additional features over and above the respective MY15 Jetta models
New generation Discover Media infotainment system to replace the RNS510 satellite navigation system

App-Connect USB interface for Apple CarPlay, Android Auto and MirrorLink
Options
Tiguan
Tiguan 118TSI, 132TSI and 130TDI
(Pricing unchanged)
Additional features over and above the respective MY15 Tiguan models
Composition Media 6.5-inch (replaces Composition Colour 5.0-inch) high resolution touchscreen display

App-Connect USB interface for Apple CarPlay, Android Auto and MirrorLink
Tiguan 155TSI R-Line
(Pricing unchanged)
Additional features over and above the MY15 Tiguan 155TSI R-Line
Introduction of new generation Discover Media infotainment system to replace the RNS510 satellite navigation system

App-Connect USB interface for Apple CarPlay, Android Auto and MirrorLink
Options