CarAdvice's spy photographers have snapped the entry-level Jaguar XE E-Performance diesel for the first time on public roads in the UK.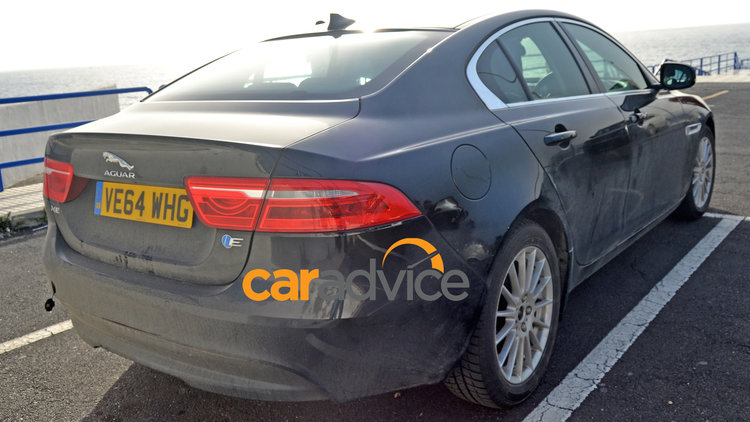 Shots of the black sedan's blue E boot badge sent the online rumour mill into overdrive last night with speculation that Jaguar was developing an electric version of its new C-Class-rivalling mid-sized model.
It's clear, however, that the spied car is the forthcoming Jaguar XE 163PS E-Performance variant, which will become available in overseas markets from the middle of the year.
Jaguar is yet to officially reveal the entry-level E-Performance variant, though the car's alloy wheels - not to mention that E badge - leave no question about its identity. According to Jaguar's website, the wheels – known as 17-inch lightweight 10-spoke sparkle silver – are only available on models with the 163PS diesel engine.
The E-Performance diesel XE will become the most fuel efficient and cleanest-emitting Jaguar production car in the company's history.
2
Jaguar Australia has no plans to bring the E-Performance version of the XE to local showrooms when the car arrives here in August, opting instead for the more powerful tune of the engine that produces 132kW and 430Nm, uses only slightly more fuel (4.2L/100km) and is between four and six tenths of a second faster from zero to 100km/h (7.8sec).
Joining the diesel motor are two petrol engines, including two tunes of a 2.0-litre four-cylinder turbo (147kW/280Nm and 177kW/340Nm), and the 250kW/450Nm 3.0-litre supercharged V6 from the F-Type sports car.
Click the Photos tab for more images of the Jaguar XE E-Performance diesel.