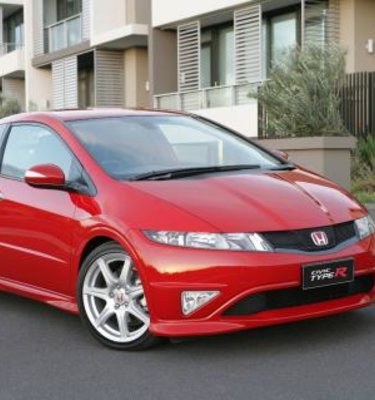 2007 Honda Civic Type R First Steer
After seeing this thing on display at the Melbourne Motor Show this year, I knew Honda were making an attempt at impressing their Aussie supporters, along with reviving a brand name that is synonymous with style, performance and affordability
From behind, one of the first things you notice is the set of dual exhaust pipes shaped like triangles. This Civic is unlike any other, it takes on a unique design only available in Europe.
Open the door and an obviously race inspired interior ensues. Aluminium clad pedals and a big red starter button headline the driver visible aspects of the interior, whilst a set of 'Type R' labelled seats support both driver and passenger alike in the utmost fashion. The gauge cluster does away with any pointless nomenclature and features a big tachometer, along with digital speedometer and auxiliary gauges. Similar to the Toyota Supra of yesteryear, the Type R's dashboard is driver oriented, angled toward the driver and visible from all angles and heights.
Rear seat room is about on par with its competitors – XR5 Turbo, SRi Turbo and Golf GTI – whilst boot room matches – if not exceeds – its competitors, allowing for the haulage of shopping and/or bags.
The part I'm sure you've all been waiting for – the drive. I must say, this thing is f'en quick! The whole package is almost perfect in every regard. The engine is extremely responsive, whilst the clutch and gearbox combination can only be described as divine. The steering allows the driver to feel every aspect of the front wheel's movement and also provides perfect feedback under harder cornering.
From a standing start, slip the clutch slightly with a few revs on board and the traction control battles with the tyres to keep them under control. After a moment of hesitation, you're off and racing, hitting the 8000RPM redline with no time to spare. A quick dab of the clutch and slam of the gearstick has the tyres chirping into second gear, moving well on the way to 100km/h. Believe it or not, the Type R moves from naught, to one hundred in just 6.6-seconds and there's no turbo to be heard of.
The Type R does away with any form of forced induction and uses Honda's renowned VTEC, variable valve timing technology. At 7,800RPM, the 2.0-litre DOHC motor produces a spritely 148kW, whilst at 5,600RPM it's ramming out 193Nm of torque. Although the figures don't sound all that impressive, the power delivery is extremely smooth and constant. The Type R also beats all of its rivals (except the Mazda3 MPS) in the 0-100 dash, proving that force-feeding isn't the be-all and end-all in hot hatches.
There's absolutely no dire torque steer to be heard of (unlike the SRi turbo which tries to steer you off the road after an enthusiastic jab of the throttle), which is one of the downsides of front-wheel-drive turbocharged vehicles. The sound track isn't too bad, but it doesn't have the burble or bark that a Golf GTI or XR5 Turbo does, but that's something that an aftermarket exhaust would easily rectify.
Braking is taken care of by 300mm front and 260mm rear disc brakes. The Civic Type R leads the stakes in terms of braking potential. When compared to its competitors, the Civic Type R out-brakes the BMW 120i and Volkswagen Golf GTI by some one and two metres respectively. VSA (Vehicle Stability Assist) – Honda's version of Electronic Stability Control – is standard equipment in the Type R, which receives a custom tune tailored toward sporty driving. During the drive, VSA stepped in on a few occasions but rarely caused a fuss or interrupted driving dramatically.
Fuel consumption is quite commendable. Using just 9.3-litres/100km, the Type R rates as one of the most fuel efficient in its class. Accepting a recommended 95RON, the Type R can run on 91RON petrol, but it's not recommended for optimal performance.
The steering wheel feels great; it's slightly meaty and fills the hands nicely. A couple of downsides inside the vehicle include the task required to reach the seatbelt. The seat's side bolster gets in the way of reach to the seat belt, making it a slightly strenuous task. The spoiler also sits directly in the line of traffic, making it a bit tricky to see following traffic, along with reversing. Aside from that, the interior feels extremely well built and the fit and finish is spot on.
There is no independent rear suspension featured in the Type R. The Type R uses a torsion beam type suspension setup instead, which increases rigidity during cornering. Built alongside Europe's Civic range in the UK, Honda expects to sell 100 Civic Type Rs per month.
Starting at $39,990, the Civic Type R is only available with a 6-speed manual transmission. There are three colours available – Milano Red (non-metallic), Alabaster Silver (metallic) and Nighthawk Black (metallic) – with metallic colours incurring an additional cost.
Standard features include: Adjustable headlight height; 18" alloy wheels; trip computer; cruise control; drive by wire electronic throttle; engine immobiliser; keyless entry; electric mirrors; heated mirrors; folding door mirrors; fog lights; dual zone climate control; power steering; leather wrapped steering wheel; rain sensing windscreen wipers; power windows; Type R Alcantara sports seats and single disc CD player with MP3 compatibility.
Safety features include: Vehicle Stability Assist (VSA); ABS brakes; dual front airbags; dual side airbags; dual curtain airbags (front and rear); Electronic Brake-force Distribution (EBD); Emergency Brake Assist (BA) and side impact protection beams.
So what's the final verdict on the all new Honda Civic Type R?
It's impressive...very impressive. In fact, at such a price along with the brilliant fuel economy and near perfect on-road dynamics, there's really no way to fault the Type R. The first steer had me quite impressed and I think Honda will have people queuing for some time.
The Civic Type R looks unlike anything on the road at the moment and in my opinion, will sell in droves. It simply has to be test driven to be believed, so head into your local dealer and get the pedal to the metal, it's sure to impress.
- by Paul Maric
2007 Honda Civic Type R First Steer