Honda have today officially launched the all new Civic Type-R. We noted the arrival of the first Type-R shipment last week. This morning, details of the British made Honda landed in the mail. The Type-R badge which went missing when Honda Australia went for the Type-S Integra has returned with the Civic Type R three-door hatchback.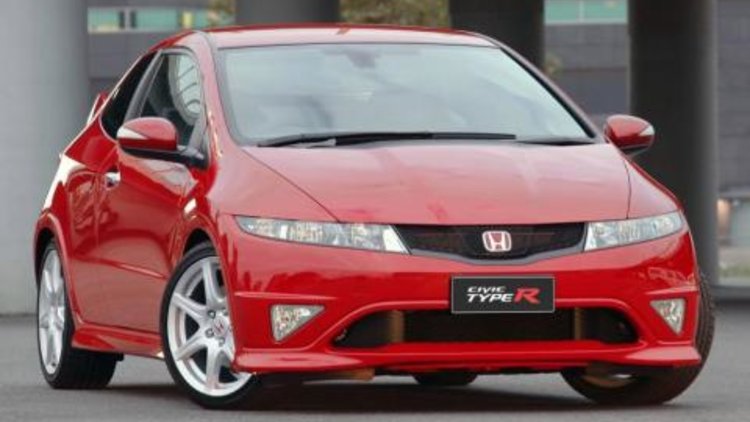 Firstly, the price? $39,990 - It will go head to head with the Volkswagen Golf GTi, Ford Focus XR5, Astra SRi Turbo, Mazda3 MPS, Mini Cooper S, Renault Megane Sport and to a lesser extent, the Impreza WRX.
Honda expects to sell roughly 100 of the hot hatches a month.
The Civic will be in Honda dealerships from next month. The Civic Type R is available in three colours – Milano Red, Alabaster Silver and Nighthawk Black, each sharing the same black and red interior.
The Type-R will be powered by Honda's high-revving, naturally aspirated, 2.0-litre i-VTEC engine (148kW and 193Nm). 0-100km/hr times are 6.6 seconds - some of our readers thought this was a typo when we mentioned it in the past, rest assured, it is not, the Type-R is a fast car!
The Type-R will only be offered in a six-speed manual gearbox, Honda says the Type-R is a true drivers car, hence an Auto gearbox was out of the question. Front suspension setup uses MacPherson-strut with torsion beams for the rear.
The Civic Type-R comes standard with body-hugging Alcantara racing-style bucket seats and rides on 18-inch alloy wheels wrapped in 225 / 40 R18 tyres. The package is completed with 300mm front and 260mm rear brake discs.
Honda claims fuel economy figures of 9.3L/100 km using 95 RON fuel (91 is a no no).
Honda are keen to maintain the safe image with the Civic Type R equipped with
front, side and curtain airbags,
Vehicle Stability Assist (VSA, ESP),
ABS brakes with Electronic Brake force Distribution
an Advanced Compatibility Engineering (ACE) body structure.
Honda have also fitted a rolling code anti-theft immobiliser.Other standard features include
automatic rain-sensing windscreen wipers,
auto on/off headlights,
an MP3 and WMA-compatible CD player,
multi-function trip computer,
cruise control,
front fog lights,
dual-zone climate control,
a leather-bound tilt and telescopic adjustable steering wheel.
The car also features Honda's "magic seat" system. This is a neat system that Honda has developed for its hatch range. The system works by allowing the rear seats to fold to create a fully flat rear cargo floor. Owners will benefit from an increased boot space (from 485 litres to 1352 litres). The Type-R has service intervals of 10,000kms.
We keep asking Honda why the premium Honda cars are never turbo-charged, and we finally have the answer,
No bolting on of a turbocharger to give silly power figures. All Type R engines are normally-aspirated, which deliver smoother power delivery throughout the rev range, allowing power to be transferred through the chassis more easily, improving traction and acceleration. Honda Australia says
Silly power figures? We highly doubt its competitors, all turbo/super charged, would agree!
The only way you will get this Honda to give you its power is by trashing it all the way to redline, maximum revs is at an
astonishing 8,000rpm. The engine screams to its peak power of 148kW at 7,800rpm.
You can see a dyno chart for the Type-R below:
Honda are quick to point out the brake system in the Type-R is ahead of the competition (at least some of the competition).
The Type-R also comes with a Start Button, this seems to be a growing trend on performance cars, one which gets old after the first week.
However Honda have managed to implement the start button pretty easily.
"This is now on every new Civic hatch, but the idea came from a modification that we do to tuned Civics. The cigarette lighter hole is the exact same size as the starter for an S2000. So we take the lighter out, poke a start button in and wire it up. Job done." Toshiya Sakai, Type-R project leaders said.
It seems our invitation to the Civic Type-R launch was lost in the mail, however we will get our hands on the new hatch soon.
2007 Honda Civic Type-R Overview