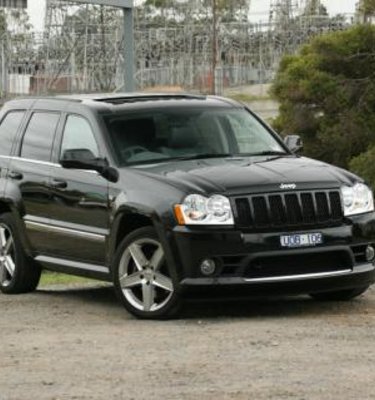 2007 Jeep Grand Cherokee SRT8 Road Test
"Pfft…" said my passenger as I collected him in the Jeep Grand Cherokee SRT8. "I thought you said you were driving something quick…not a tarted up 4WD" he continued. Not long after nailing the throttle, my passenger was eating a large serving of humble pie, and this was the case with most people who had no clue about the SRT heritage or its meaning.
This isn't any ordinary Jeep. In fact, it's far from it. Aside from a massive set of dual, centre-aligned exhausts at the rear, it rides on 20" Pirelli Pzero performance tyres and uses a massive set of Brembo brakes. The most impressive part of all lies under the bonnet. The 6.1-litre Hemi V8 is ready to disappoint almost anything off the lights, packing 313kW and a face-wrenching 569Nm of torque.
Let's put that into perspective. The 2.1-tonne 4WD will out-row a HSV GTS in a straight line run to 100km/h and will also beat one of its double-priced rivals – the Porsche Cayenne Turbo. Although it's quick in a straight line, cornering performance is limited. The stiff suspension and low-profile tyres make cornering very edgy and unnatural. This thing also won't go off-road. The body kit and lowered suspension means that off-road driving will be limited to dirt roads.
All this performance comes at a price though – especially at the bowser. During my week with the car, I averaged 22.3-litres/100km. That's around double that of a standard Commodore or Falcon. That included around 60% highway driving and 40% city driving. Mind you, I could barely resist nailing it from every set of lights, so I'm partly to blame for the massive fuel consumption figure!
Inside the cabin is a nice place to be. Racing inspired leather/suede seats, along with a meaty steering wheel dominate the cabin. Along with a stellar sound system, the interior feels very well built and extremely solid. There are even a set of 'holy crap' handles for passengers to grab on to when the cornering gets a bit tighter. Rear leg and head room is somewhat limited – despite the spacious appearance from the outside.
Priced at $85,990, the Jeep Grand Cherokee SRT8 is pretty loaded with features. Included on the standard list are: Leather interior; 276-watt Boston Acoustics sound system with 6-disc CD-changer; dual-zone automatic climate control; electric seats with memory; rear parking sensors; automatic windscreen wipers; 20" alloy wheels with Brembo brakes; cruise control; electric windows; heated seats and privacy glass.
Safety features include: ESP (Electronic Stability Program); driver and passenger front airbags; ABS brakes; BA (Brake Assist); side curtain airbags; alarm and immobiliser.
The new Jeep Grand Cherokee SRT8 isn't just quick…it's insanely quick. A feeling of disbelief came over me each and every time I nailed the throttle, it was very addictive and was ludicrously powerful with each application of the throttle.
At just under $86k, it's decent value for money when you consider the closest performance contender (aside from the Ford Territory Turbo) is well north of $120,000. If you could learn to drive slightly more sedately than I did, I'm sure the fuel consumption would be far more pleasing. Either way, with more power than a U.S President, the Grand Cherokee SRT8 is devastatingly quick and for a performance enthusiast with a family, there's simply no cooler option!
CarAdvice rating (out of 5):
2007 Jeep Grand Cherokee SRT8 Road Test