Have you ever wondered what it would be like to spend a few days driving, shopping and enjoying life in Italy amongst privileged supercar owners? What most of us dream of, a few lucky individuals manage in their lifetime.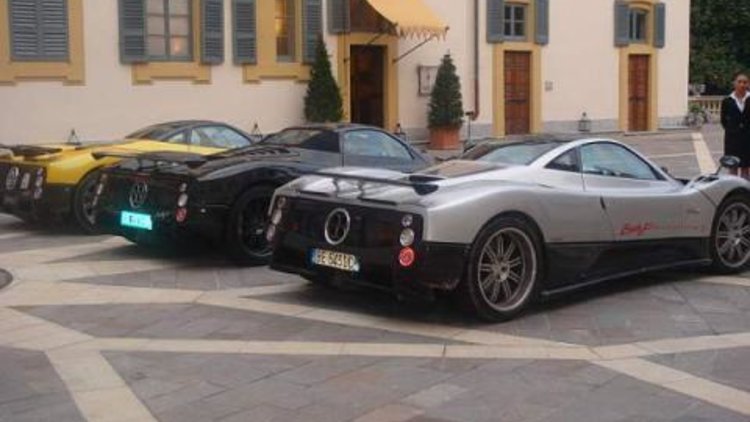 Our friend, Adam Kaplan from Supercar Investments who is sponsoring the Ride in a Pagani zonda competition recently returned from the 3rd Pagani Gathering in Italy. We'll let him do the talking:
I just returned from the fabulous 3rd Pagani Gathering in Italy. What a fantastic trip, 13 Zondas, a Ferrari 599 and a Mercedes SLR. We started in Milan at the fabulous Hotel Villa San Carlo Borromeo in Senago where we renewed acquaintances from last year and met some new faces too.
Pagani has just delivered Chassis #79 which is the red Zonda F Coupe. That's 8 years producing cars and only 80 cars produced, pretty exclusive stuff. The current wait for a build slot is approaching 2 years and is growing as the brand increases its global awareness. So if any of you have been "holding off," now might be a good time to take the dive and reserve your slot.
It was interesting to note that the owner of the SLR is most unhappy about the fact that he can't get a new Zonda for 2 years. I was lucky enough to be a passenger in his car for the run from Bellagio to Lecco, following a Police escort down the twisty narrow roads and through a couple of acoustically perfect tunnels as well.
Whilst the SLR is, to me, one of the prettiest cars I've ever seen, it doesn't rate compared to the Zonda in terms of ride and handling and certainly can't compete with the F1 like wail that you get from the Zonda's exhaust...but it's certainly got some squirt!
Read more...
Whilst in Milan, at the Gala Dinner, we got to see the Zonda R engine as well as the scale model used for wind tunnel testing the awesome, track focused, Zonda R.
With 750HP from a high revving, naturally aspirated, dry sumped 6.0L V12, mounted as a stressed member of the all new, longer chassis with hugely improved aerodynamics, the Zonda R is certainly going to be the track toy of choice for the discerning err.... "rich person."
At $2M + taxes it's not for everyone, but 5 have already been sold guaranteeing production and leaving only 5 remaining available.
Mr Pagani is very serious about maintaining the value of the cars he builds and so each model has only a limited build. As an example, only 25 Zonda F Coupes will be built, and these are all now sold.
Only 40 Roadsters in total will ever be built, 25 of these will be Zonda F Roadsters and the rest, Zonda S Roadsters, like my car. That leaves only 25 Zonda S Coupes and 10 Zonda R Track Cars to make a total of 100 Zonda's that will ever be built. As you can see, this is a car that is destined to be very desirable in years to come.
The Gala Dinner itself was most enjoyable, with Mr Pagani being presented with many gifts from his customers, amongst them a special Pagani watch pictured below. Several versions of the watch are available for sale (Gold, Titanium, Platinum) and the prices are along the lines..."If you have to ask..."
The relationship between Mr Pagani and his customers is unique. It goes without saying that Pagani customers are very wealthy people, generally they own several (up to hundreds) of exotic cars and they all revere Mr Pagani and his family for bringing them their Zonda's.
It's interesting talking to them, whilst different cars in their collections mean special things to them for a host of reasons, none of their other cars bring them the driving pleasure and ease of use that the Pagani does. Consequently they use their Zonda's the most and are genuinely grateful to Mr Pagani for creating the car, thus allowing them to enjoy it. So it's not unusual for the customers to shower Mr Pagani and his family with gifts...now if only I could get my customers to do that...hint hint!!
Day 2 was pretty leisurely and started with a late morning drive to Bellagio and the beautiful Villa Serbelloni (pictured below), via Lecco. The rest of the afternoon, after Bellagio recovered from the traffic jam created by 15 supercars trying to get into the Hotel parking lot, was split between shopping and enjoying the view from the poolside bar.
No points for guessing that my wife and I decided to split the duties on this one. Bellagio, in fact the whole of Lake Como, is one of the most beautiful places I have ever seen, well worth a visit next time you're in the area if you haven't done so already.
Day 3 started with a boat cruise on the lake and a visit to the fantastic Villa Balbaniello, (pictured below). The scale and grandeur of these private Villa's is simply breathtaking, with absolutely beautiful gardens and in this case even secret passages leading to a concealed boat pen under the Villa in case a quick getaway is required from invaders (or abductors).
This Villa was used for some of the filming of the new James Bond film, Casino Royale...for anyone that remembers, it's the scene where Bond is recovering in a wheelchair in the garden. Whilst I wouldn't wish the car crash and subsequent "activities" that resulted in him being in a wheelchair on anyone, he couldn't have picked a more serene place to recover. Again, well worth a visit if you're in the area.
We then set off for the long drive to Monaco. It really is a very special feeling traveling in Italy in a convoy of supercars. Despite the fact that cars of this nature are a lot more common in Europe, we still created quite a stir anywhere we went. 13 Zondas screaming through the tunnels on the way to Monaco was also a real treat for any enthusiast. Seeing another one of these...
...was the cue for everyone to drop it down 2 or 3 gears and give their Zonda's a thrashing so they (and anyone anywhere near the tunnel) could enjoy the beautiful sounds and acceleration of these very special cars.
I'd never been to Monaco and was really looking forward to it. Naturally, we had to convoy right through the town, over the race track which is still in the process of being dismantled, past the Casino...twice, and then cause the obligatory traffic jam when we tried to pull all the cars into the Hotel (LE MÉRIDIEN BEACH PLAZA) forecourt...with nobody too keen to hand their keys to the Valet staff.
Monte Carlo marked the end of the official gathering with a late dinner and then a visit to Jimmy'z Disco...but only for the brave. This little Aussie let the team down and got to bed early (1am) to prepare for the long drive into France (Lake Annecy, another beautiful place...but another story as well) the next morning.
Turns out it was a pretty good choice, because as I was heading out in the morning, a group of "the brave" were just returning from the nightclub looking much the worse for wear and certainly not looking in any shape to drive again that day.
I hope you enjoyed my run down on the trip, whilst I have your attention, I'd like to announce that our new showroom in St Leonards (Sydney) is now open with the Zonda on display and able to be viewed 7 days a week at Herbert Street on the corner of Frederick Street.
As well as the Zonda, we also have the Elfin range of sports cars on display...
...and great coffee, so feel free to drop in at any time and ask for either myself or David Beverley, my General Manager or Rochelle Boyer in Sales Support. I look forward to seeing you there.
A huge thanks to Adam Kaplan.
Ed's note: Although not many can afford a Pagani Zonda, you can enter our competition to win a ride in one! Click here to enter
The 3rd Pagani Gathering in Italy