Results for the latest ANCAP (Australian New Car Assessment Program) Crash Test study are now official (you can read the results here). As we expected, there are some big surprises.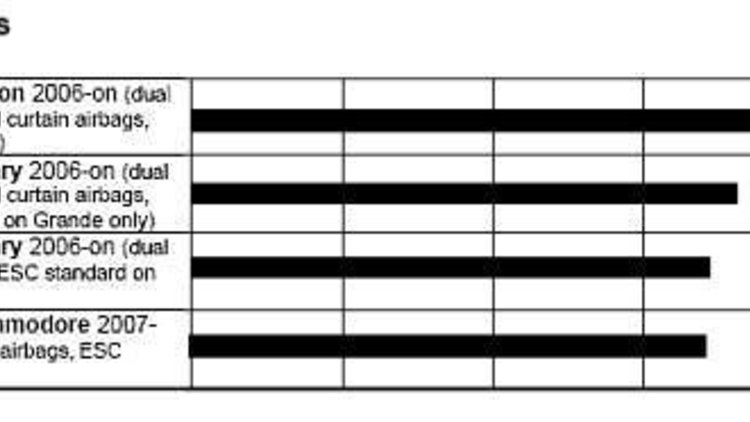 Firstly, Holden's billion dollar VE Commodore scored less than all other Large cars tested:
From that table you can see the Aurion - a direct competitor to the Holden VE Commodore (and the Ford Falcon) scores above the VE Commodore (by 3 points) - the VE Commodore, which cost Holden $1.23 Billion (AUD) to manufacture, scored the same as the current BA/BF series Falcon.
Apart from singling out the Commodore, why are all Australian made vehicles still rating only as four stars? From the small cars table (above) you can see that nearly all small cars have a five-star rating, with the Suzuki SX4 missing out narrowly (still ahead of the VE Commodore).
Cars that were shamed in the latest crash test results include:
Mitsubishi Express Van, with a dismal one-star safety rating (the car has no airbags).
Chrysler Voyager People Mover, with a two-star safety rating.
Cars which scored a maximum five-star rating include:
Ford Focus
Toyota Corolla Hatch/Sedan
Peugeot 207
Renault Clio
Mini Cooper
Volkswagen Passat
Volvo C30
Honda Legend
Citroen Picasso
Peugeot 207 CC
Land Rover Free Lander 2
Mitsubishi Outlander
Just how much more money and effort needs to be put in to make Australia's first Five-Star car?
ANCAP Crash Test Result Analysis