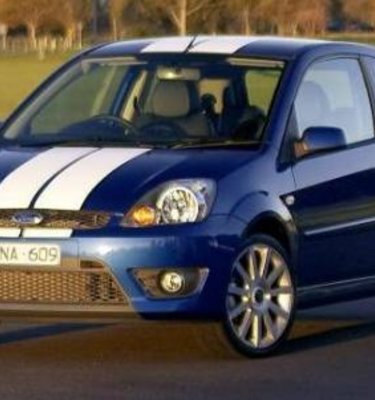 2007 Ford Fiesta XR4 Review
Ford might have lost 40 million dollars this year (due to development costs of the new Falcon), but in the last 12 months they have added two new XR cars to the showrooms.
First came the mighty XR5, aimed at those who wanted a little more sophistication than a WRX (but not the torque steer in Mazda's 3 MPS) and as of last week, Ford dealers got their hands on a new hero car, the Ford Fiesta XR4.
I approached this car with a great deal of caution. After all, a sporty Fiesta? Do you want one? The XR4 is powered by a modified version of the 2.0-litre engine living in the Focus. Power comes in at 110kW (3kW more than the Focus) while Torque pushes to 190Nm (5Nm higher than the Focus).
You have to remember, this car weighs all of 1090kg - nearly a go kart with a 2.0-litre engine!
Ford are silent on the 0-100km/hr times but I suspect high 7s low 8s. Fuel economy is 7.4L/100km combined, but expect around 9-10L if you want to enjoy it. The XR4 rides on 17" wheels with 205/40 tyres, not bad at all. Disc brakes front and rear. The car comes standard with six airbags, ESP (which you can turn on/off) and a whole lot more.
It wasn't the package that troubled me though, for $25,000 (28 on road) the car is a steal, but just who exactly will buy it? Obviously aimed at the younger crowd, the XR4 stands out like Bruce Lee in a sea of Steven Segals (specially with the stripes - $300 option), the part that got me was it even sounds like Bruce Lee! But does it go?
The XR4 only comes in manual, so it is obviously aimed at the younger crowd with a little bit of motoring enthusiasm. The gearbox is a modified version of the standard box in the basic Fiesta, however it has shorter gear ratios and a clutch lighter than one found in a Toyota Echo.
I took the car for a drive up Mt Cootha (Brisbane) with lots of hard corners and many twists and bends, initially my reaction was sheer surprise, just how much torque does this thing have! Second gear felt strong all the way to 6,000 RPM - power delivery is smooth. You can approach corners with confidence and accelerate out with little to no torque steer (ESP on).
The ESP system is relatively lenient, you really have to be doing something wrong before it kicks in, big thumbs up to Ford for including the system as standard (now why isn't it available on the FPV Typhoon?). I did find first gear a little too short and this is definitely not made for hard launches at traffic lights.
Coming from an AWD I was very surprised just how well the XR4 behaves around corners, you really can push it hard without too much fear - the chassis is strong and the car feels very well balanced. Given the weight, the 2.0-litre engine makes a meal of hills and has plenty of power for quick dashes, but as with any small car it lacks punch at high speeds - and doesn't like passengers.
There are some notable problems though, apart from the clutch (which even an anorexic celebrity will find light) - the rear seats are pretty useless. I am not actually sure what the point of them is, you can potentially fit two adults - without their legs. You can comfortably (just) fit one full adult - resting vertically in the back seat.
The XR4's front doors are about as large at the ones on the Murcielago, and just as heavy. However in order to fold the front seats down, the button actually resides on top of the seat as oppose to its usual place at the bottom, this makes it infinitely easier.
There is no foot rest. So your left foot has to hover around the clutch at all times, in fact the pedals are so close together that in more than one instance I managed to hit the accelerator and brake at the same time.
Ford have squashed the 2.0-litre engine to fit in the XR4, so don't go opening the bonnet, not that you would because the bonnet release is on the passenger side....
As for the seats themselves, they are half leather bucket style seats, rather comfortable, even for a big guy. The interior in general is rather bland with cheap looking plastic and a leather steering wheel better suited to a base model Kia, typical Ford. However the seats come in a range of colours to match the paint. Speaking of colours, there are six choices :
* Colorado Red,
* Frozen White,
* Moondust Silver,
* Sea Grey,
* Panther Black
* Performance Blue.
If I was going to pick, it would either be the Colorado Red, Frozen white with the stripes or Performance blue. The black with the silver stripes really doesn't work.
Then there is the stereo, sure its 6-speakers and supposedly a Sony, but it sounds worse than a tin can. It can't even play MP3s! What year is it again? I believe the cost in adding MP3 playback function to a CD player is less than $10 for royalties - Hyundai added it across the range in 2003! - come on Ford.
There is an auxiliary input though, so you can plug your iPod into it. Thankfully the CD player is not integrated and can be easily removed.
All the good and bad aside, The XR4 has some tough competition, notably the Mitsubishi Colt Ralliart which would leave the Fiesta dead at the lights, and the Volkswagen Polo GTi. The Polo is powered by a 1.8-litre engine with the help of a turbocharger, and boy does it go! With 110kWs of power and 220Nm of torque, the Polo is only $2,000 more than the XR4.
As for the Colt Ralliart, you can read our review here.
In all honesty, I found it hard giving the car back. Sure it has less power than the Golf/Colt, a stereo system from the 80s, a dashboard put together from recycled plastic, a gearknob from Crazy Clarks and rear seats with as much room as my TV cabinet, but the Ford Fiesta XR4 has something its competitors lack. Style.
As I stopped at a red light 20M in front of a police station, a cop car pulled out behind me - had I been in the Colt Ralliart, I am sure I would have received that usual look of death that QLD Police give Turbo car drivers, and as for the Polo, its just a little too feminine for me (and no one looks at a Polo anyway).
The police car pulled up next to me and had I been in another car I might have been a little worried but the officer took a quick glance and said "nice car mate....". His compliment (my first ever from a cop I might add) pretty much sums up the XR4, its not as fast as its competitors, but it's cheaper, it handles well and most importantly - it looks hot.
Alborz Fallah
2007 Ford Fiesta XR4 Review