The mid-life update of the fifth-generation Volkswagen Polo promises to make a very good thing even better. New engines, new infotainment systems and new technology headline the upgrades to the compact hatchback that CarAdvice has rated the best city car in the country since its introduction in 2010.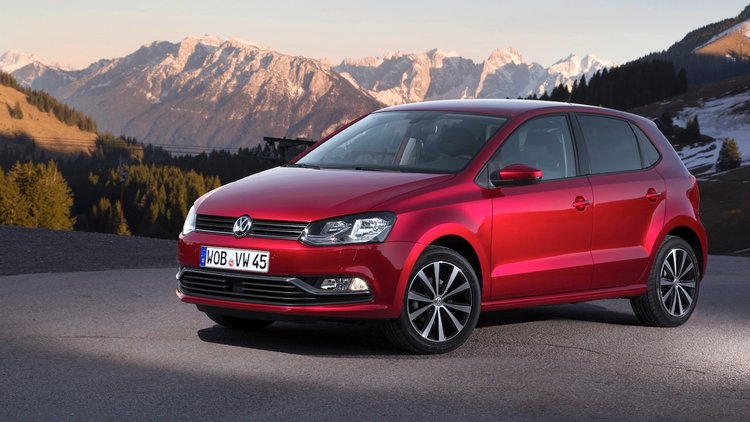 Here are 10 things to know about the updated Volkswagen Polo ahead of its arrival in Australia in September.
Facelift? Doesn't it look just like the old one?
Volkswagen has never been known for making drastic design departures, and the updated Polo is no exception. Subtle exterior tweaks include a larger lower air intake with new grille pattern and fog lights, the introduction of first-in-class optional LED headlights, revised tail-light lenses and rear bumper design, and new wheel designs and paint colours.
What about the inside? Is it still as 'conservative' as ever?
The changes are a little more obvious from behind the wheel – which itself is new. Joining it is a fresh-looking instrument cluster and a more colourful centre stack that's livelier than its monotone predecessor. Touchscreens are standard across the line-up, ranging from a 5.0-inch monochrome display to 6.5-inch colour units available with Volkswagen's MirrorLink apps system (not for Australia), Bluetooth phone connectivity, satellite navigation and a reverse-view camera.
What other technology features are new in the updated model?
A number of driver-assist safety systems have trickled down into the Polo from its big brother, the Golf. Among these is the segment-first automatic post-collision braking system, which brakes the car following a crash to reduce the risk of subsequent collisions, as well as adaptive cruise control, driver fatigue alert system, and front assist radar with city emergency braking.
So it's harder to crash, but will it feel any different to drive?
In addition to the safety systems, Volkswagen has introduced a newly developed electro-mechanical steering system designed to provide more precise and agile response and greater isolation from road bumps. Also new is the optional Sport Select suspension with variable dampers (also not for Australia). The standard setting is designed to deliver a comfortable ride, while 'Sport' mode promises a firmer ride quality.
What about the changes under the bonnet?
From launch the updated Polo features three different engines: two entirely new to the range, one updated, and all available with two different power levels. The smallest of these is the non-turbo 1.0-litre three-cylinder petrol engine from the pint-sized Up!, which is available with either 44kW or 55kW of power and 95Nm of torque. The carry-over direct-injection turbocharged 1.2-litre four-cylinder tops the petrol line-up, available in 66kW/160Nm and 81kW/175Nm tunes. Both have an official combined cycle fuel consumption rating of 4.7 litres per 100km, matching the most frugal of the three-pots. The new turbo diesel is a 1.4-litre three-cylinder, available with either 55kW/210Nm or 66kW/230Nm. Combined cycle fuel consumption of both is rated at a hybrid-beating 3.4L/100km.
Great! So which ones will we get in Australia?
Volkswagen Australia plans to take only the two tunes of the 1.2-litre engine, which will be available in 66TSI Trendline and 81TSI Comfortline specifications. It says low demand for diesel in the current range means it won't offer the new 1.4-litre unit, and it has also ruled out the low-powered 1.0-litre engine for our market.
Aren't you forgetting the GTI?
Hot-hatch fans will have to hold out for a little while as the updated Polo GTI isn't due to be released until later in the year and won't reach Australia until the first half of 2015. The facelifted GTI will be more powerful, producing 141kW (up 9kW on the current model), and most significantly will also be available with a six-speed manual transmission, unlike the current DSG-only model. That means it will likely be cheaper than the current five-door GTI, which starts at $29,540.
Wait a second! What are these other Polo variants I've never seen before?
Volkswagen Australia doesn't currently offer the BlueGT or CrossPolo variants that are available in Europe and has no plans to add them to the updated range. The BlueGT combines performance with efficiency, employing a 110kW/250Nm 1.4-litre turbo petrol engine with cylinder deactivation technology, while the SUV-inspired CrossPolo gets a more rugged look with black plastic guards, metal protector panels, and roof rails. Ultra-frugal Bluemotion TSI and TDI variants will be added to the European line-up in the coming months but also won't come our way. The former will be powered by a new turbocharged 1.0-litre three-cylinder petrol engine and consume 4.1L/100km combined, while the latter builds on the 1.4-litre diesel's efficiency, consuming just 3.1L/100km.
Is our Polo going to cost more than before?
Volkswagen Australia says customers should expect small price increases over the current range in line with the introduction of new technologies and enhanced equipment levels. The current Trendline starts at $16,990 while the Comfortline is priced from $19,240 (plus $2500 for DSG for both).
Okay, enough specs. What's this thing actually like to drive?
In a word… great. CarAdvice is currently attending the international launch of the updated Volkswagen Polo in Munich, Germany. Stay tuned for our review, coming soon.
2014 Volkswagen Polo – The Quick Guide