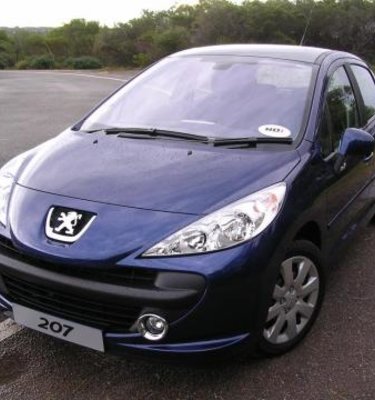 2007 Peugeot 207 Road Test
2007 Peugeot 207 – Road Test
Test Model: 2007 Peugeot 207 XT HDi 5 Door with 5 speed manual transmission (no auto available in the diesel)
Options fitted: Panoramic glass roof with Sunat $1000 (its hard to refuse at this price) this model 207 is packed with more features than cars costing twice its price.

Options worth a look:
Rear parking assistance - $450. While the 207 is a cinch to park, this is an audio and visual system, so not a bad price and well worth it for those narrow car parks littered with concrete pylons.
16 inch Alloys $900 – go ahead and tick this box if you enjoy driving but they really should be standard on all 1.6 litre versions
Cruise Control and speed limiter - $250. Its not a lot of money, so why not standard spec.
Recommended retail price: $27,990
Where it sits: It's the only diesel model in the 207 range in Australia and sits squarely in the middle of the line-up. The XT petrol version retails for $24,990 so there's a decent premium for the diesel.
The 207 line-up is:
XR 3 Door 1.4ltr with manual transmission only - $19,990
XR 5 Door 1.4ltr with manual transmission only - $21,490
XT 5 Door 1.6ltr with 5 speed manual transmission - $24,990
XT 5 Door 1.6ltre with 4 speed auto - $27,190
XT 5 Door HDi 1.6ltr with 5 speed manual - $27,990
XE 5 Door 1.6ltr with 4 speed automatic - $32,490
GT 3 Door 1.6ltre turbo with 5 speed manual - $31,490
GTi 3 Door 1.6ltre turbo (late July/August) -
"More style, more presence, than a Mini Cooper or a Fiat Punto, Peugeot's new 207 pushes all the right buttons"
Road Test Overview
"When you're on a good thing, stick to it" is what Peugeot was thinking when they designed their latest small (but big on space) car, the Peugeot 207.
As far as the Supermini (Europe's classification of this size car) goes, PSA Peugeot Citroen, the giant French company that owns Peugeot and Citroen, hasn't put a foot wrong since they launched the hugely successful Peugeot 205 back in 1983. Combined sales of the 205 and 206 cars, are sitting at a whopping 10.3 million units, and guess what – they're still building the 206, as I write this piece.
The 205 is widely considered a modern classic, particularly the pocket rocket versions such as the legendary 205 GTi which was revered by driving enthusiasts worldwide. That said, we are anxiously awaiting the arrival of the 207 GTi, which should arrive early August and from all reports, is a good, good thing!
HOW IT GOES
It's only a 1.6 litre engine but you'd be quite wrong in thinking that it's not enough juice to get this car going.
To be honest, I was thinking the same thing. A small 1.6 litre powerplant in a car weighing in at 1328 kg, I mean how much fun can this be. A whole lot of fun - and eminently practical at the same time.
If you were like me, and never really saw the point of a diesel engine in a small car then go ahead and take a short test drive in a 207 HDi and become a convert as I have become.
Don't be concerned with the 207's power output of only 80kW. Max power is delivered at a user friendly 1750rpm, and its got more toque than the 207 GT, when you factor in the variable geometry turbocharger which provides an "over boost" function, temporarily lifting torque from 240Nm to 260Nm. The frighteningly quick Porsche Turbo uses similar adjustable vanes technology, which effectively and dramatically reduces turbo lag, which is all but non-existent in this 207.
It's also worth mentioning that Peugeot and BMW buddied-up to develop the range of 1.6 litre petrol engines but again, the fact that this development didn't include the 1.6 HDi engine is a non issue, as Peugeot are top of the class when it comes to smaller capacity diesel technology.
There's no question that the five-speed manual transmission is well suited to the diesel powerplant in the 207. Acceleration is strong in every gear and will undoubtedly put a smile on your face each and every time you're behind the wheel of this little Peugeot.
Power delivery is remarkably smooth while top speed is a credible 193km/h and that's a whole quicker than you're allowed to go in this country. The proverbial 0-100km/h sprint is stated as 10.1 seconds but it really does feel a whole lot faster than this on the road.
With a small capacity diesel engine you would normally expect a fair dose of diesel clatter and engine noise through the gears. Not so, with the 207. In fact, once on the move, it's hard to tell you're driving a diesel at all, such is the refinement of this high pressure – direct injection powerplant.
About the only issue I have with this drivetrain, are the slightly notchy gear changes, which I suspect, is a result of a cables and linkages to the gearbox as opposed to a direct shift set-up found on board more expensive rides.
Road Test Overview
HOW IT HANDLES
You'll be hard pressed trying to find a Peugeot that doesn't handle decently. Going around corners well, more so than speed itself, is what Peugeot DNA is all about.
I can think of few cars in this class, which possess the handling and suspension talent built in to the current 207 line-up. It doesn't seem to mind how quick you throw it into a corner - body roll is fractional while grip is tenacious – and that's without Electronic Stability Control and Traction Control (standard on the XE and GT variants).
Electric speed sensitive steering does not always provide the necessary feel for some enthusiastic weekend driving, they can be quite sloppy. The 207 HDi though, is not part of that group. Peugeot have dialled in just enough weight and feel for keen steerers and yet when you need to perform a quick parallel park under pressure, you'll find the steering light enough to do so.
I know the Germans don't like the French and visa versa, but there is an extraordinary similarity in the ride quality of the smaller Peugeots and Volkswagen's Golf an Polo models. I would even go so far as to say, that the 207 offers a slightly better balance of ride and handling than these worthy competitors.
Potholes and un-repaired bitumen are hardly noticeable in the 207 and believe me; we put it through the ringer on Sydney's deplorable suburban roads. It's a comfortable ride and quite an achievement when you factor in the body and chassis control this car provides.
BEHIND THE WHEEL
When you enter the cockpit of the 207 HDi for the first time, you can't help get a little excited by the superb sports seats. With over developed side bolster and trimmed in a high quality fabric; they look identical in shape to those fitted to the more expensive 207 GT. Your backside won't be moving around too much in this French beauty. They are also fully adjustable, as is the steering wheel, for that perfect driving possy.
Looking around the cabin, this is very much a sport look interior with a set of three white faced, chrome bezeled dials each with non-reflective glass covers. There's also a beautiful chrome topped gearshift while interior accents are a stylish aluminium/carbon fibre look.
Materials are largely high quality throughout the car, with special interest in the soft textured "thermo-coated" front facia, which would not look out of place in a BMW 5 Series.
What spoils an almost perfect score though, are the plastic inserts in each door trim housing the electric window switches in each door, which are on the low rent side and should be binned.
Switchgear is conveniently positioned and simple to use while there is plenty of information available, via three various sized digital read out screens.
Like me though, you'll sit behind the steering wheel wondering where the heck the audio controls have gone. You see, Peugeot doesn't believe in steering wheel clutter and as such, provides a stalk behind the wheel, which enables fingertip movements to change volume and channels, allowing both hands to remain firmly on the wheel. It's not such a bad idea, and once you get used to this French idiosyncrasy – you'll probably see the method in their madness.
Road Test Overview
INTERIOR COMFORT
With the average family size in OECD countries becoming smaller every year, you've got to wonder about the need for large family sedans these days. While Australians still like things big, we are nowhere near as bad as our American buddies who still call a Range Rover a medium sized SUV.
Europeans on the other hand, have long been fans of smaller cars out of sheer economic necessity. Overcrowded cities, ludicrously expensive fuel and tiny streets with parking spaces rarer than a Bugatti Veyron, have driven the demand of small economic cars.
But small doesn't mean cheap. On the contrary, the Peugeot 207 HDi is about big car luxury for a small car price.
For starters, you get one-touch (up and down) electric windows with an anti-pinch feature. This might seem extravagant to some, but it simply means that you can put two hands on the steering wheel, far more often.
Electric and heated door mirrors are standard across all but one of the 207 model range, although only the XE and GT get electrically folding mirrors, which is disappointing considering the premium ask for the HDi.
Automatic door locking and boot once the vehicle is moving, is great if you have those little rascals on board or happen to be driving home late at night through a seedy area.
You also get automatic rain sensing wipers and automatic headlights on function. Both of these systems contribute to increased driver safety, particularly the auto wipers, which mostly get the frequency of the wiper sweep correct, something almost impossible to control manually, during on and off rain showers.
Other comforts include air conditioning with Pollen filter (the XE and GT come with Dual Zone Climate Control) and a separate control duct in the glove box to keep drinks cool on those scorching summer meltdowns.
Interestingly, the windscreen is athermic - with a reflective power of 30%, which is supposed to reduce temperature build up and therefore more efficient air conditioning.
The single CD audio system is a bit average, given its 4 X 15 W output and six speakers, although it sounds OK at medium volume. It's just that for this kind of money – you expect a 'you beaut' system without having to option up.
Another problem in the audio department is the lack of an auxiliary input for your iPod and I have no idea why. There are well over 1 million iPodians in Australia (including me) and we want to listen to our music through the car's audio system. This is not just a Peugeot issue; very few car manufacturers seem to have heard of this popular apple device.
But if you're into perfumed candles and that sort of stuff, then you'll probably want to check out a curious feature in the 207 called the "Fragrance Diffuser" which does exactly that – diffuses any one of seven fragrance cartridges including Lime Fresh and Tender Jasmine from a small plastic device which pops out in front of the LED screen.
The fragrances were developed with a French perfume specialist, so it's the real deal ladies. It's of course standard on the XE and GT models, but an option on the HDi.
Active Safety includes: ABS with Electronic Brake force Distribution although the HDi misses out on Electronic Stability Control and Traction Control.
Road Test Overview
THE LOOK
The French have never been short on style. It doesn't really matter if we are talking fashion, cars or food. If it's French, it's stylish or at least, that's what they believe.
They certainly don't design the best looking cars in the world – that podium is all Italian with the occasional German getting up!
What they do produce, are very distinctive cars - just look at the current Citroen C4 and C6. Both unusual, but stylish in an avant guard kind of way.
The Peugeot 207 is no exception, especially with the new corporate nose already at work in the 307 and 407 series cars.
It's one of the few small cars designs, which works in both 3 Door and 5 Door guises, as with the previous 206 range. The sweptback look and sharp front light assembly; along with integrated chrome mounted fog lights set the 207 off.
The famous company emblem, the "lion in combat" is featured heavily with a flush mounting near the leading edge of the bonnet, and on the rear hatch door.
Even the door mirrors look fast, but the indicator light, built in to the mirror arm rather than the mirror itself, looks like a last minute retro-fit and surely could have been done better by the partons of style, back in France.
The rear of the car is pretty much a re-styled 206 design but with a larger LED 'look' rear light assembly.
Road Test Overview
SPACE, STORAGE AND PRACTICALITY.
You have keep reminding yourself that this is a small car because there is just so much useable space in the '207'. If you're a four-person family and live in one of Australia's five capital cities, Peugeot's four-metre long 207 is plenty of car.
It's longer, wider and higher than the 206, with ample head and legroom for front and rear set passengers. The rear pews while not all that thick are more comfortable than most cars in the class.
Boot space with rear seats up is 270 litres, but this increases to a staggering 1195 litres with rear seats folded. This is no small car.
The 207 sits low on the road and that's a good thing for many reasons but none more important than loading those bloody great slabs of Coke cans which are a necessity buy when they hit $13.95 for 30 cans (I try not to drink the stuff but at .46c a can, who can say no). A cargo net comes standard and are more than useful to tie down your groceries, especially when you are charging home to get the half melted ice cream in the freezer before it morphs into a chocolate thick shake.
Although the hand brake and twin cup holders have consumed the centre console storage, there are heaps of well-designed spaces ready to look after phones, bottles, money and Ipods. There is also a neat little cardholder for credit cards or more likely, those wretched parking tickets that build up over time, making the task of selecting the right ticket for the right day, a high-pressure nightmare.
Road Test Overview
SAFETY FEATURES
Peugeot have always thought highly about safety even when it was a marketing disaster to say so.
"Class Leader" is how I would describe the 207 range, with good reason.
Euro NCAP (New Car Assessment Program) gives the 207 Five Stars out of Five for adult occupant protection
Four Stars for child occupant protection
Three Stars for pedestrian protection
Most comforting is that the 207 borrows from the more expensive 407 when it comes to impact absorption so that in the event of a crash, energy is distributed more effectively.
You need several university degrees to understand all the safety features built into this car's structure but suffice to say – it's as good as it gets in this class of car.
There's also plenty of airbags fitted as standard kit across the model range with the exception of the 1.4 litre XR variants.
Front air bags are of the dual-generator type, which are able to adapt airbag pressure to force of impact. Side airbags are built in to the sides of the front seats protecting chest, stomach and Pelvis and finally, there are two curtain airbags, which help protect the upper body of both front and rear passengers.
Audible and visual fasten seat belt warnings are also fitted on all models except the XR, for all those people forget to buckle up as drive away.
COST OF OWNERSHIP
At $27,990 the 207 HDi is priced in the mid to low end of small diesel class. The only cheaper car is Volkswagen's Polo TDI 1.9 at $22,990, which is well priced but offers a fairly bland styling package when compared to the 207.
The rest of the fleet includes: the Citroen C4 HDi 1.6 (same engine) at $29,990 Holden Astra CDTi 1.9 at $29,990, Fiat's Punto Sport 1.9 at the same $27,990 and Alfa Romeo's 147 JTD 1.9 at 39,990.
There are two reason's for buying a small diesel powered car and they are; heaps of low down torque allowing plenty of acceleration where you need it most and the other, is fuel consumption.
Peugeot has few if any peers in this department. They have three Guinness World Records that says so!
We haven't put it to the test (but we night just do that) but based on the Australian Design Rules (ADR 81/01) the 207 HDI will deliver 1000kms on one tank of fuel. Extraordinary, I know.
Clearly, that kind of mileage is not possible around the red light infected suburbia in Australia but nonetheless; you are almost guaranteed far less trips to the servo in this car.
HOW GREEN?
Very. The 207 HDi includes a particulate filter and produces a staggeringly low 126 g / km CO2 emissions. To give you an idea of what that means, the Range Rover Supercharged I last tested produces a whopping 380g/km and globally car manufacturers want an average reading across their fleets of 140g/km by 2008.
"Peugeot's 207 HDi is incredibly user friendly and a whole lot of fun on the road"By Anthony Crawford
2007 Peugeot 207 Road Test