Australia won't see this car for some time, but that won't stop us talking our heads of about it, its the new Porsche GT2 and its on our list of dream cars.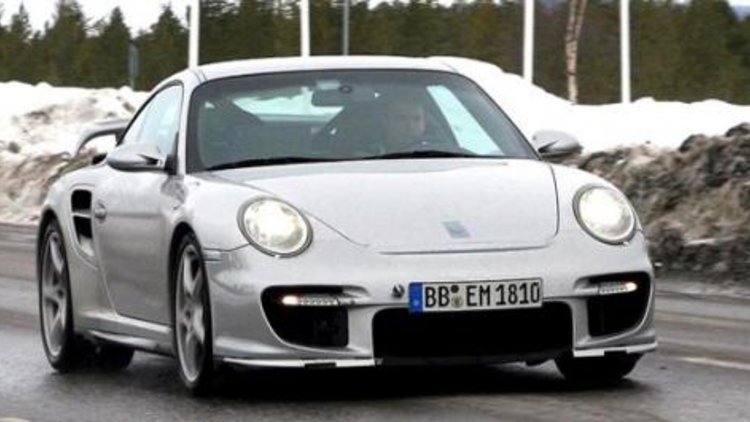 Expected to at this years Frankfurt motorshow in September, the new Porsche GT2 will sit at the very top of the Porsche podium - and that means its not only fast, but relatively expensive (around $350,00 if/when it comes to Australia).
At around 1480kg, the GT2 has a top speed of over 320km/hr thanks to its twin-turbo 3.6-litre 391kW engine! With a gigantic rear wing (obviously adjustable for track or road driving).
However, there is an odd thing about the GT2, Porsche have decided to scrap the All-Wheel-Drive system and push all that power via the rear wheels only. Of course this leaves Porsche's highly respected electronic stability and traction control systems to be extensively recalibrated and refined.
This car is all about precision and performance, so weight was a huge factor,
first the AWD drive system had to go (25kg)
the standard-fit carbon ceramic brakes replaced the steel disc brakes at a wieght saving of 20kg,
but it gets even more outrageous - aircon had to go– 20kg
every bit of sound-deadening material on board.
The end result? A Priceless compromise to make the best racing Porsche yet. Who needs an Air Con anyway?
The GT2 weighs a good 100kg less than the 911 Turbo. The GT2 has a power to weight ratio of 263kW/per tonne - to put this into perspective, the Ferrari 599 with its V12 engine has a power to weight ration of 269kw/per tonne. Not a bad achievement, (although the Ferarri has aircon).
The GT2 will do the 0-100km dash in a not so quick 4.5seconds - it doesn't make too much sense since the 911 Turbo does the same sprint in roughly 3.9seconds, of course the AWD system in the 911 Turbo helps but why compromise with rear wheel drive?
Because the GT2's in-gear acceleration will have drivers glued to their seat, but more importantly, it will out run even the 911 Turbo at higher speeds. The modified engine is expected to have around 720Nm of torque from only 2000rpm.
Will we even get the GT2 in Australia? Who knows, Porsche Australia are reluctant to comment for the time being.