The CarAdvice team were at Mt Cotton driver training centre yesterday at the launch of the new Golf GT, so before we get our "first steer" article up and going, lets have a closer look at the technical details of the new Golf GT.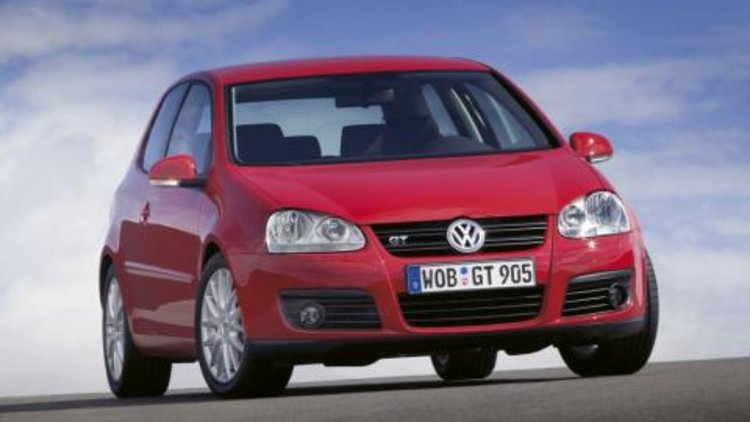 The Volkswagen Golf GT is the first car in a production to employ a turbocharged & super charged FSI engine - the idea being that by super/turbo charging the engine, it will gain maximum power with minimum fuel consumption, but does the theory work?
Yes! The compact 1.4 litre direct-injection engine develops 125 kW of power and has a maximum torque of 240 Nm in the range from 1750 to 4500 rpm thanks to the combination of an exhaust turbocharger with a mechanically driven supercharger. All of this power from a 1.4-liter engine? But at what cost?
The 1.4-liter engine uses only 7.7 l /100 km for combined city and highway driving, not a bad feat for a 125kW engine!
The table below shows a comparison between the Golf GT twin-charged engine and the 2.0 FSI engine (both from VW)
| | | |
| --- | --- | --- |
| | Golf GT 1.4 TSI | Golf 2.0 FSI |
| Swept volume | 1390 cc | 1984 cc |
| Bore/stroke | 76.5/75.6 mm | 82.5/92.8 mm |
| Valves per cylinder | 4 | 4 |
| Compression | 10.0 : 1 | 11.5 : 1 |
| Compressor | Supercharging Turbocharger | - |
| Boost pressure | 2.5 bar | |
| Power | 125 kW/170 PS at 6000 rpm | 110 kW/150 PS at 6000 rpm |
| Torque | 240 Nm at 1750 - 4500 rpm | 200 Nm at 3500 rpm |
| | | |
| 0 - 100 km/h(0 - 62 mph) | 7.9 s* | 8.8 s* |
| In-gear 80 - 120 km/h(50 to 74.5 mph)5th gear | 8.0s* | 9.0 s* |
| Maximum speed | 220 km/h (136 mph) | 209 km/h (130 mph) |
| Consumption | 7.71 / 100* | 8.01 / 100* |
| CO2 emissionscombined | 183 g/km* | 192 g/km* |
| * Manual gearbox | | |
You have to wonder though, with this many Volkswagen Golf variants flying around, how does one distinguish between them? Volkswagen have worked hard to differentiate all the different models, the new front section with its V-shaped radiator grille in the body colour is the exclusive preserve of the new Golf GT.
Like the GTi, air inlet holes are integrated into the front bumper of the GT, but are more understated than in the GTI. There is an opening for the twin tailpipe in the rear apron. The GT is 15 millimetres lower than the standard level plus it also gets 17-inch wheels.
If your wondering where all the power goes from the GT's twin charged engine, and your thinking, is it DSG? Yes it is, there is a choice of six gears - manual or DSG. The car is driven through the front-wheels (same as the Golf GTi however the Golf R32 is AWD).
Although in standard guise, the Golf GT comes in a manual, for those willing to pay a little bith more (and why wouldn't you, the DSG is worth it) it will also be possible to combine this engine with the crisply shifting six-speed DSG transmission. Volkswagen are hoping to convince buyers to tick the DSG box, after all, this car was designed for DSG.
Standard equipment on the Golf GT includes
electric windows,
electrically adjustable and heated outside mirrors,
central locking with radio remote control,
six airbags,
head restraints and threepoint seat belts for all five seats,
electromechanical power steering
ABS with Electronic Stabilisation Program (ESP) and traction control (ASR).
17-inch alloy wheels in the "Classixs" design with 225/45 R17 tyres.
The 16-inch brakes (as in the Golf GTI) combined with Brake Assist
Prices are set to start at around $35,000. If you think paying 35g for a 1.4L car is expensive, just remember, this is no ordinary 1.4L, it will give the majority of naturally aspirated 2.0-litre cars a good run for their money.
Volkswagen Golf GT Specifications