Now that all the fuss on the Toyota Corolla has somewhat settled down, lets sit down for a minute and examine the new car. Firstly, designing the new generation of the world's best selling car is not easy. Toyota claims that on average a Corolla is sold every 40 seconds somewhere in the world.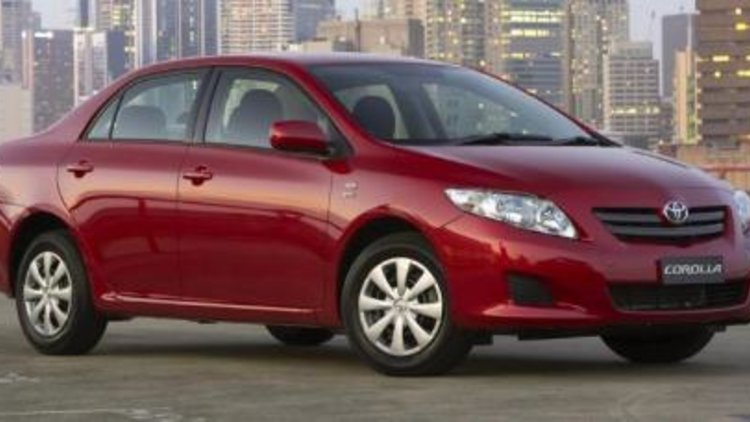 In 2006, the Corolla was Australia's best selling car, this was quite an achievement given the shape was a few years out of date. Nonetheless, the VE Commodore took the #1 title and Toyota is looking to reclaim the throne, but will Toyota succeed?
Toyota is now the world's #1 manufacturer, overtaking GM and Ford. It is obvious that whatever Toyota is doing, is succeeding. However, selling more cars than anyone else doesn't necessarily make Toyota the best manufacturer.
Infact as far as brand image goes, many would agree that even an everyday person would take, say, a Porsche over a Toyota without question, but whilst Porsche has made a name for itself as one of the most reputable performance car manufacturers in the world, Toyota has continued to deliver cars to the masses, and essentially, this is where the new Corolla sits.
Toyota says the new Corolla is aimed at private buyers looking for a car that is more than just a A->B car.
"Being the sensible car hasn't always made us the hot choice among private buyers, but times change, cars change and the Corolla has changed. We've now added Euro-inspired style to the traditional Toyota attributes of quality, durability, reliability, strong resale values and excellent fuel economy."
Its great to see Toyota admitting their "Fridge on Wheels" styling has not been the most popular choice for buyers, but just how do you make a car that is stylish whilst it remains, essentially, a car for everyone?
Of course Toyota says this car is aimed at young people, those 'with it' and looking for a reliable, yet stylish car.
"We're aiming for career-oriented, socially active singles or young couples living predominantly in urban areas - or at least having an urban mindset. They're fashion conscious and they see their car as an expression of themselves. They're open to new technology - and they're marketing savvy," he said.
Socially Active singles? Fashion conscious? Come on Toyota, give us a break. There is obviously one problem Toyota didn't seem to consider, their success is their own failure. The idea of being fashion conscious has a lot to do with being different and standing out. Now tell me, how does a young fashionable late 20/early 30s person go about buying a new Corolla hoping to stand out and be noticed?
Honestly, we like the Corolla, the world needs more Corollas just so those who dare to be different stand out even more. The new shape is different sure, but its no revolution in design, if anything, the outdated Mazda3 and the (as much as I hate to admit it) the Holden Epica present a better choice as far as design goes (but then again do you want to have the stigma of driving a Daewoo on your mind?)
Enough on the design, we've established that whilst its not revolutionary, it does the job in the sense of being modern and attracting some relative attention. So what about the performance?
The new Corolla's performance, as previously mentioned by one of our readers, has not exactly increased over the old shape, the 2004 model put out the same 100 kW of power as the new model, it was only reduced in 2006 to meet tougher emission laws.
So Toyota have redesigned the engine to get the same kW with lower pollutants. 100kW of power and 175Nm of torque is sufficient to pull the ~1200kg Corolla out and about. However, despite Toyota's marketing department hard at work, this is by no means a class leading figure.
We have to hand it to Toyota, for a naturally aspirated 1.8-litre engine, this is a respectable result, nevertheless, however the Ford Focus (2.0-litre) which is in the same class as the Corolla achieves 107kW of power and 185 Nm of torque. Now you might think, but the Toyota has better fuel economy!, not exactly, the Focus has a combined fuel usage of 7.1L/100km, and the Corolla? How does 7.4L/100km sound?
So how does that work? Can someone from Toyota please explain to us how a smaller engine with less power is using more fuel than a larger engine with more power? Oh wait, we don't need an explanation, its called German engineering.
Thats the engine out of the way, lets get onto safety and price. Toyota prides it self on the Corolla being one hell of a safe car, and we can't take that away from them, with a five-star European NCAP rating, the Corolla leads the way in terms of safety. In addition you also get seven SRS airbags as standard on nearly all variants (otherwise a $750 option).
You also get a lot of breaking systems such as
But Toyota has come cheap with some aspects of the new Corolla, its great an all to have a five-star safety rating, but what is better is to have preventive technology to help stop accidents in their tracks.
The new Corolla doesn't have the most important technology of all, Electronic Stability Control (ESC). There is talk that ESC technology will soon become mandatory on all new cars sold in the States and Europe. It is a great shame that Toyota has decided to not offer this on the Corolla range, perhaps this will come in a few years time.
As far as the price goes, check out the price table here.
Onto the six speed gearbox, what can we say, whilst Subaru still refuses to release the (once) mighty WRX with a six-speed, your standard econobox Corolla now comes with a six-speed manual. Congratulations to Toyota for opting out for the six-speed box, but why is the auto still running a four-speed?
How come the world's best selling manufacturer is not embracing CVT? Or more importantly, unless its due to a power limitation, why is the new Corolla not driven via a five-speed auto? Unfortunately we have no statistics to the ratios for manual/auto but one would assume that as far as private buyers go, the manual is the winner, in which case the six speed is an excellent addition.
When it all comes down to it, people buy the Corolla not really for the looks, but more so for the fact that they know its reliable and wont let them down. Toyota's new service plan ($120 services for the first 60,000kms/3yrs) will surely be one of Corolla's biggest draw cards.
So what do we really think of the new Corolla? We are getting our hands on it for a road test in a few weeks time, so we can tell you then for sure, but in the mean time, even though its still a little boring, it lacks ESP and can really do with a five-speed auto, as a car designed to appeal to nearly everyone, its a great choice, but if you want individuality and uniqueness, look elsewhere.
2007 Toyota Corolla - What Do We Really Think?