The all-new Audi TT has been unveiled at a function before the Geneva motor show, officially showing the edgier styling of the third generation compact coupe.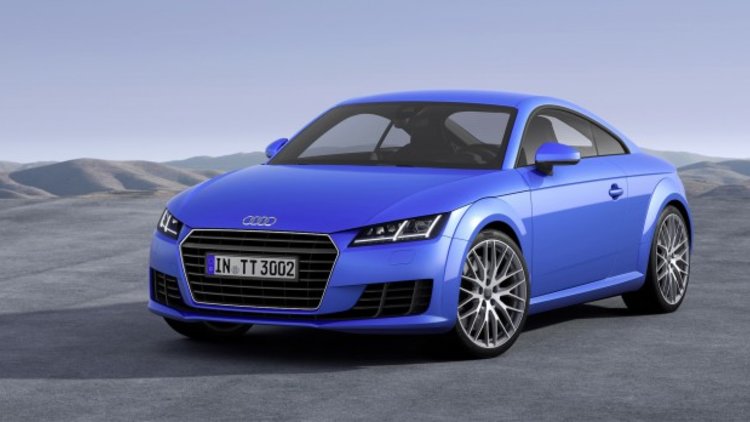 Measuring 4180 millimetres long, on a 2505mm wheelbase, the Audi TT has grown by 18mm overall and 37mm between its front and rear axles. At 1832mm wide, it is 10mm narrower, with identical roof height of 1353mm.
Building on the Audi Space Frame (ASF) aluminium and steel body of the previous generation model, the new Audi TT utilises ultra-high-strenth steel that constitutes 17 per cent of the body's mass, and a roof frame and side sills made of aluminium.
Audi cites the original TT that launched in 1998 as having been a design revolution, with its geometrical design language having "returned" to the latest model. Characterised by sharper lines at the front than the previous model, the glasshouse also more closely mimics the original Audi TT.
Xenon headlights are standard, with LED headlights optional and 'Matrix' LED technology a further option where the high beam is controlled by individual LEDs.
Inside, and Audi says it took a "less is more" approach, with the wide TFT screen ahead of the driver encapsulating speedometer, tachometer and all multimedia, navigation and trip computer functions. Inside each of the five classic-TT circular air vents – each with 16 spokes seemingly modelled off a jet engine's – the centre bezels perform a climate control function.
On either side of the car are the buttons for the heated seats, while the trio of central vents incorporate fan speed and air-con (left), temperature (middle) and ventilation (right) functions.
Various connectivity options are available, with an Audi multi media interface (MMI) touchpad available, MMI navigation plus with flash memory, DVD drive and Bluetooth interface with voice control. Connection to LTE internet transmission and creation of its own Wi-Fi hotspot means the driver can connect other devices to the car.
Meanwhile, the 2+2 seater has a boot capacity of 305 litres, up 13L on the previous car.
Thanks to the Volkswagen Group's flexible MQB architecture on which the Audi TT is based, the entry-level petrol 2.0 TFSI specification, for example, weighs 1230kg, or 50kg less than before.
Developing 169kW of power and 370Nm of torque, the Audi TT 2.0 TFSI claims a 6.0 second 0-100km/h in six-speed manual front-wheel drive specification, and just 5.3 seconds with the six-speed dual-clutch automatic and quattro all-wheel drive.
The latter variant also claims 6.8L/100km combined cycle consumption.
One diesel is on offer from launch, the Audi TT 2.0 TDI with 135kW and 380Nm, as a manual gearbox and front-wheel drive specification. It claims a 7.2-second 0-100km/h and 4.2L/100km consumption.
Book-ending the Audi TT range is the TTS (below), which utilises a tuned version of the 2.0 TFSI engine, here producing 228kW and 380Nm (between 1800-5700rpm) for a 4.7-second 0-100km/h sprint, with six-speed manual or dual-clutch automatics available.
On quattro all-wheel drive models, Audi describes an "intelligence of quattro drive" new to the TT, where software decides the torque distribution between front and rear axles.
For the first time the driver can now select a 'dynamic' mode that sends more drive to the rear axle "earlier and to a higher degree". This is in additio to 'auto' and 'efficiency' modes, the latter of which can result in the "temporary shutdown" of drive to the rear wheels to send torque to the front wheels only. It is said the system will still reactivate all-wheel drive long before situations require it.
Aluminium components in the strut-front, multi-link rear suspension set-up are said to have reduced unsprung mass, while the Audi magnetic ride adjustable damping system is again standard on TTS and optional on other Audi TT specification levels.
A third generation unit, Audi claims the magnetic ride "has been improved in terms of characteristic spread, control dynamics and precision as well as user friendliness." Three modes remain available – comfort, auto and dynamic.
Progressive steering is standard, Audi-speak for a variable-ratio electric steering set-up that quickens the steering ratio as the wheel is turned.
Active lane assist and auto park assist are available for the first time on the Audi TT, as is road sign recognition.
On all Audi TT grades, the electronic stability control can be switched off partly or completely.
It works in conjunction with a new torque vectoring system that replaces the previous electronic differential lock that simply applied braking pressure to a spinning inside wheel during hard cornering. The new system directs more torque to the outside front wheel on front-wheel drive models and all-wheel drive models, and even can send drive to one rear wheel on the latter.
The third-generation Audi TT will arrive in Australia early next year, with prices tipped to remain steady, at between $60,000 and $100,000.
2014 Audi TT and TTS : new-gen compact coupes revealed