A hybrid version of the new fifth-generation Honda Odyssey is under consideration, and it could use only half as much fuel as the conventional petrol version.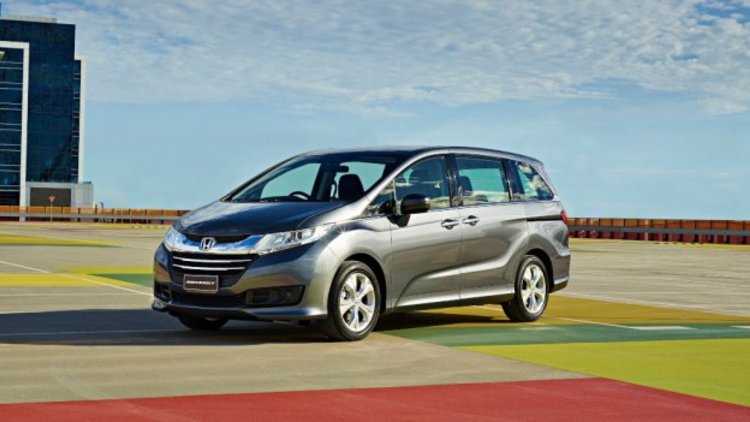 A petrol-electric version of the Japanese brand's all-new people mover is "under consideration" according to Honda powertrain assistant large project leader Takashi Shinchi, who was one of the leaders of the development of the new 2.4-litre engine in the updated Odyssey.
"We're still considering [a hybrid version of the new Odyssey]," Shinchi said, claiming the brand needs such a car to be competitive in the heavily hybridised Japanese market.
"In Japan we have the [Toyota] Tarago, which is available in a hybrid, and also we have a vehicle called [Toyota] Alphard. They are both available in hybrid, so because there is a need and a high demand for a hybrid vehicle, we have just commenced the consideration of bringing in a hybrid," Shinchi said.
Shinchi said any such hybrid model – which he says is not currently under development, rather under consideration – would not boast plug-in capabilities. But he said the car could see the Odyssey's fuel use drop substantially.
"[Fuel use could drop] maybe 50 per cent," he said, which would mean the Odyssey hybrid may use as little as 3.8 litres per 100 kilometres, as the most efficient conventional petrol version uses 7.6L/100km.
Shinchi admits the "ultra low floor" of the current Odyssey does make for some challenges in placement of the hybrid version's battery banks. The new model rides just 150mm from the road, and despite its taller body meaning it sits 1695mm tall, the interior offers a maximum of 1304mm of space inside the cabin.
"We have to consider all possibilities of where this battery can be located," Shinchi said. "We have to think about the weight distribution – whether positioning it in the forward area or the rear is best. So all of that will be considered when we pick the most optimal position for the battery."
When asked a potential timeframe for a production version of the Odyssey hybrid, Shinchi gave little away.
"That information I unfortunately cannot disclose," he said.
Shinchi also confirmed there will be no diesel version of the Odyssey, despite rival people movers such as the Hyundai iMax, Volkswagen Caravelle and soon-to-arrive Citroen Grand C4 Picasso offering such a drivetrain, and Honda having a refined and efficient diesel engine in the CR-V that could potentially be adapted for such a model.
"The demand is very low [in Japan]," Shinchi said, indicating that would rule it out for global markets as well its home base.
"In Japan – this is years back – but with the diesel vehicles there were pollution issues in the past in Japan. So the image toward diesel in Japan is not very good, or well accepted. So from that perspective, there's no likelihood."
Honda Odyssey hybrid : Japanese people mover set to cut fuel use by "50 per cent"