Australian workers currently building the Holden Cruze small car may be out of a job prior to the company's planned closure of its Elizabeth manufacturing facilities in 2017.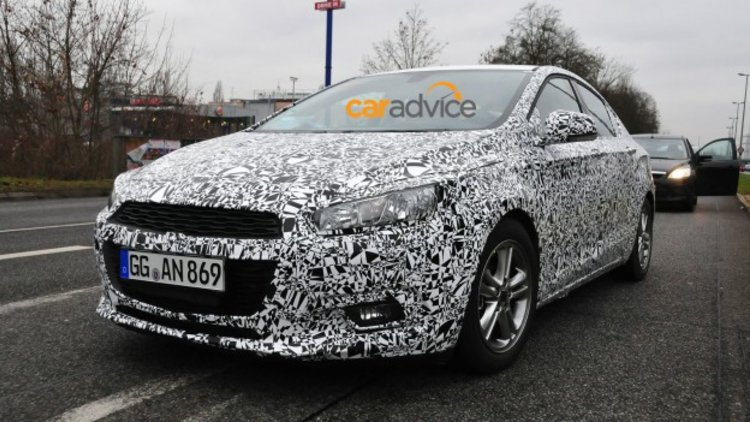 CarAdvice has received spy shots of the next-generation Chevrolet Cruze sedan that is reportedly set for a global launch in 2015 – indicating a new model could be available for Holden to import to Australia two years ahead of its deadline to stop local production.
Holden national manager of product communications Kate Lonsdale told CarAdvice that the brand is not going to make any comment on future products, other than to say it needs to be sure it's doing the right thing by the Australian market.
"We're looking at all options from the General Motors portfolio that are available to us at this stage, but haven't made any announcement at this point," Lonsdale said.
Holden's executive director of corporate affairs, George Svigos, refused to discuss any plans for the next-generation Cruze.
"I'm not in a position to say anything other than what Kate told you already," Svigos said.
When asked specifically if a new Cruze would be built locally, or if Holden would continue to build the current Cruze to keep its employees in the job up until the time the plant shuts its doors, Svigos refused to offer any insight.
"We're not in a position to say anything further," he said.
Holden Cruze sales are dipping dramatically. The brand sold just 1395 Cruze models in January 2014, while it averaged 2035 per month in 2013, and 2430 per month in 2012. Average monthly sales peaked in 2011 at 2815 units.
Prior to Holden's announcement that it will close its Australian manufacturing arm, the new Cruze was expected to be built in Australia from 2016.
The all-new model - codenamed D2SC (Delta 2 platform small car) - is set to be built on a global platform that will also underpin the next-generation Opel Astra and Chevrolet/Holden Volt. As CarAdvice has previously reported, the imported version sold in Australia is likely to be badged as the Astra and sold in five-door hatchback guise.
The latest images of the next-generation Cruze reveal slightly more than we've seen to date, include the loss of some exterior camouflage and a glimpse at the interior of the all-new small car.
It looks longer than the current Cruze sedan, and features a swept roofline and more sharply angled windscreen. It also appears to boast a larger grille opening, similar to that seen on the Captiva 7, with slimmer headlights and higher mounted door handles giving it a smoother, sleeker look. The rear end also looks more refined, with a sloping rear windscreen and a neat tail-light design.
Inside there are a range of updates, including a large central touchscreen media system, a new multifunction steering wheel, new buttons across the lower dash indicating an "eco" mode, automated parking assistance and possibly with a lane departure warning system, and stitching across the top of the dashboard.
See more pictures of the new-generation Chevrolet Cruze by clicking the photos tab.
Australian Holden Cruze manufacturing under a cloud of uncertainty