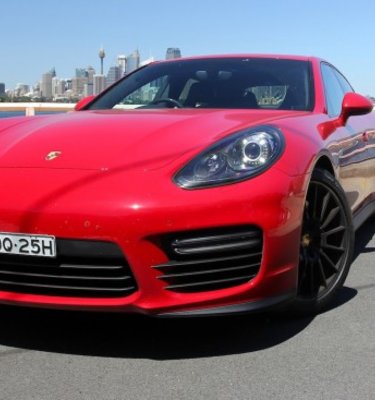 Porsche Panamera Review : GTS
Facelifted version of the purist's large liftback misses a turbo, gains a high redline and epic noise
Purity isn't a word to associate with a 1925kg, 1.9-metre-wide liftback, but the Porsche Panamera GTS is designed to put driver intimacy ahead of sheer speed or efficiency-focused technology.
Sharing in the first facelift since the Porsche Panamera range debuted in 2009, the GTS costs $318,300. Its styling tweaks include new headlights with four piercing LED bulbs, a fresh front bumper with LED daytime light 'blades', a flatter rear tailgate and rear indicators moved from the top to the bottom of the tail-lights.
There's a frugal new hybrid, and turbo sixes replace the non-turbo V8s, but none of that matters here.
The GTS still utilises a 4.8-litre V8 that produces 324kW of power at 6700rpm, and 520Nm of torque at 3500rpm. A standard seven-speed dual-clutch gearbox, called PDK by its maker, sends drive to all four wheels.
Unlike other models in the revised Panamera range, and most competitors including the almost identically-priced new Maserati Quattroporte, the GTS does not include a turbocharger to boost performance and lower emissions.
Indeed the GTS has the same torque figure as the rear-wheel-drive Panamera S that utilises a 3.0-litre twin-turbo six-cylinder, but that $31K-cheaper variant makes its peak from 1750rpm all the way to 5000rpm. The GTS is also 115kg heavier than the S, and claims 10.7L/100km combined consumption – 2L/100km thirstier than its sibling.
Even the 382kW/700Nm, 3.9sec 0-100km/h, $382,400 Panamera Turbo is thriftier than the GTS, claiming 10.2L/100km (although it is academic, since prospective buyers are unlikely to count the millilitres).
The GTS claims a 4.4-second 0-100km/h, only four-tenths faster than the 309kW S, yet in the 80-120km/h stakes, its claimed 3.1 seconds is 0.2 seconds slower.
On-paper, then, the Panamera GTS doesn't appear like the smart choice, but the specification sheet doesn't mention the 7100rpm redline of the non-turbo engine, and the soaring soundtrack that accompanies it, or the crisp throttle that is available only because there's no turbocharger. And so the purity argument begins…
Standard on the GTS are 19-inch alloy wheels, shod with 255mm-wide 45-aspect front and 285mm-wide 40-aspect rear Michelin Pilot Sport 2 tyres. It gets its own variation of Porsche's adaptive air suspension that firms damping and lowers the body by 15mm in Sport Plus mode.
In that latter mode, the shift speed of its PDK transmission is quicker than that in any other Panamera, and during an upshift the fire of selected cylinders is cut in order to enjoy a tasty engine blurt. A quad sports exhaust is also standard only on GTS, which in either Sport Plus or regular Sport mode is much louder than in the standard Comfort setting.
Those three buttons that adjust steering, throttle, suspension and exhaust are part of the Sport Chrono package optional in other Panameras, but still don't offer the claimed shift speed and exhaust note of the GTS.
The upshot is a fantastic, burly V8 symphony teamed with that throttle response and beautifully damped suspension that is just a touch too jiggly in its firmer modes, but breathes nicely over chopped-up urban arterial roads in Comfort.
After sampling steering set-ups in rivals, the electro-mechanical system in the Panamera GTS shades all of them with the exception of the Aston Martin Rapide. It is so wonderfully mid-weighted and tactile that it could be a non-power steering system.
In corners the Panamera GTS shrinks around you. It is 1.93-metres wide (a Mercedes-Benz S-Class is 1.87 metres) and weighs almost two-tonnes, yet it has a keen front end and an all-wheel drive system that allows you to slide it on the throttle.
During fast changes of direction, the suspension's ability to keep the bluff body flat is staggering, though its sheer weight is felt when the non-turbo V8 is asked for full throttle out of corners – for a $320K car, it struggles through the mid range and really needs revs to perform. The engine is a sweetheart, but it needs to be set free in a lighter car.
Passengers, meanwhile, may also feel like the Panamera GTS has shrunk around them. For such a large liftback, the interior is poorly packaged, with average rear legroom in the two back bucket seats. The versatility offered by lifting the rear glass with the bootlid, however, makes for easy loading ability not offered by sedan rivals, and the 445-litre volume extends to 1263L with the rear seats folded.
In tight city streets the broad dashboard is a reminder of the Panamera's sheer width, too – of all the cars I've tested, only the Porsche shares with the Nissan Patrol the dubious honour of being too wide to squeeze between parked cars in one very tight street in Sydney's inner west.
The dashboard design is feeling its five-year-old vintage, with a small seven-inch colour touchscreen lacking internet and 'app' connectivity options. There are plenty of options, too, many of which should be standard for a car of this price – keyless auto-entry ($2490), adaptive cruise control ($4990), lane departure warning ($1590) and four-zone climate control ($2750).
Auto-braking technology, standard on the $250K Mercedes-Benz E63 S AMG for example, is unavailable at any price.
Despite being billed as the ultimate driver-focused offering in the range, there are still hardware options on the Panamera GTS that include active anti-roll bars and torque vectoring ($10,990), and carbon ceramic brakes ($21,590).
For those who can't afford both a 911 and a Cayenne, the facelifted Porsche Panamera is a fine halfway point. As fantastic as the GTS is to steer, throttle and corner in, however, it would work even better as a lighter rear-wheel-drive model with the expensive pricetag dragged down and enthusiast appeal pushed higher still. Currently it is too heavy to allow its engine to shine, and too pricey to hit a really high score.
Porsche Panamera Review : GTS