A leaked document claiming to reveal engine specifications and performance data of the Porsche Macan has appeared online ahead of the luxury SUV's official unveiling at next week's Los Angeles auto show.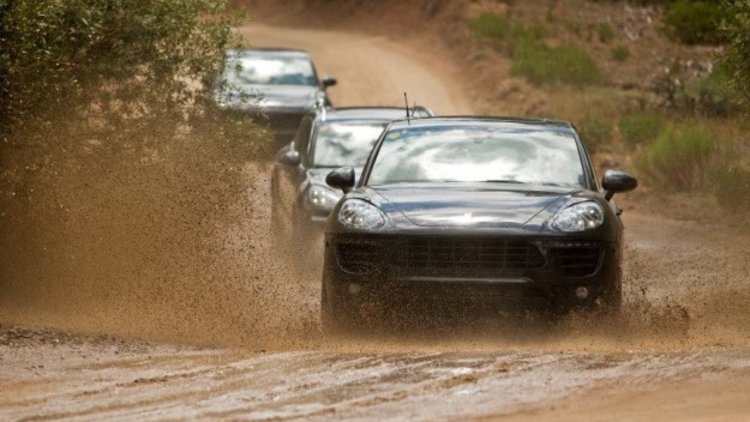 Claimed to be a photo of an official specification sheet for Chinese-market Macan modele, the image, which remains unverified, details a three-model line-up comprising Macan S, Macan S Diesel, and flagship Macan Turbo variants.
Following the leak of official images by a German magazine earlier this month, the spec sheet suggests the Macan S will be powered by a 253kW/460Nm 3.0-litre V6, weigh in at 1928kg, and be capable of reaching a top speed of 254km/h after passing 100km/h in 5.5 seconds.
The Macan S Diesel is suggested to be powered by a 192kW/580Nm 3.0-litre V6 diesel, weigh 1898kg, claim 0-100km/h in 6.2 seconds and a top speed of 226km/h.
If accurate, the figures put the Porsche off the pace of the 230kW/650Nm 3.0-litre twin-turbo V6 diesel-powered Audi SQ5 TDI but a closer match for the BMW X3 xDrive30d, which produces a similar 190kW/560Nm and has an identical 0-100km/h time.
According to the unofficial image, the range-topping Macan Turbo will be equipped with a 298kW/550Nm 3.6-litre V6, although whether the powerplant will employ one or two turbos remains unknown. The model is said to weigh in at 1947kg and hit triple figures in 4.8 seconds. The Macan Turbo is also shown to be the only Macan with Porsche's Active Suspension Management (PASM) system.
The Macan Turbo's claimed 0-100km/h time puts it just 0.1sec behind the larger, more powerful BMW X6M and Porsche's own Cayenne Turbo.
The Macan is said to measure 4675mm long, making it slightly larger than the Audi Q5, while riding on an identical 2807mm wheelbase. It is also set to be wider and lower than the Q5.
The Porsche Macan – heard for the first time in a recently released clip – is due to be revealed in full in LA on November 20.
Porsche Macan: report claims to reveal engine, performance data