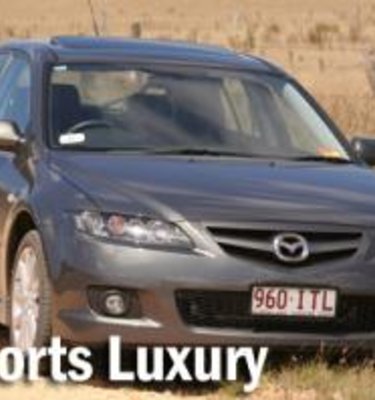 2006 Mazda 6 Sports Luxury Road Test
The Mazda6 Sports Luxury is a car that I could simply stare at for days on end. It just oozes style, poise and substance. The Gun Metal Grey colour, along with the styled front end and 17" alloy wheels tease other drivers, in a bid to make them envy you. The styling is discreet, yet manages to grab your attention.
From the moment you sit your back end in the driver's seat, you feel engulfed by a rich surrounding of leather, buttons and style. The steering wheel carries a very adequate size that makes manoeuvring the vehicle easy and enjoyable. The air vents carry simplistic shaping and offer ease of use. The dark interior with reflective highlights make you feel like you're driving a vehicle that carries a focus on quality and design.

Mazda6 Sports Luxury is the top of the line Mazda6. Priced at $40,910, you get a host of features on the inside. Starting with climate controlled air-conditioning and moving onto cruise control, ventilation pollen filter, leather seats, power driver's seat with memory, cup holders galore and an absolute cracker of a Bose, 200W sound system (more on this later).
Safety features are also as common as muck. You get ABS Brakes with EBD (Electronic Brake Distribution), Front SRS Airbags, Side SRS Airbags, Curtain SRS Airbags (front and rear), Engine Immobiliser, Whiplash-minimising front seats and 'Triple H' safety construction with front and rear crumple zones. It's also re-assuring that all these features are standard across the range and not only limited to the Sports Luxury.
The 6-speed manual gearbox that was fitted to our test vehicle was absolutely superb. It was so precise, sharp and close. Shifts seemed so easy and delightful. Unfortunately, the clutch fitted to the Mazda6 Sports Luxury takes some patience and diligence. The pickup point of the clutch was very short and very close to the end of travel. But, after some playing it was easy to master and made for very fast and precise shifts.
The entire Mazda6 N/A (Naturally Aspirated) range is fitted with a 2.3ltr, 4cyl engine that produces 122kW at 6,500RPM and 207Nm of torque at 4,000RPM. It's a lively engine but really doesn't offer much below 3,000RPM; it's only after 3,000RPM that it starts feeling alive and ready to have fun. A run from 0 – 100km/h takes just under 9 seconds and cannot happen if you try and launch the car from any more than 2700RPM. If you even bother trying, all you get in return is loads of wheel spin.
The gauge cluster looks a bit large, all the numbers associated with it (tacho and speedo) look far too large for the cluster size. The digital read-out of the stereo/trip computer could have been displayed in a more attractive fashion. It's far too small and requires fiddling to get to the reading you're after. The extra space could have easily been used to fit a decent sized LCD monitor of some sort.
Road holding at speed is great. Even at speeds of around 170km/h, the car feels like it is adequately squatting and feels stable and conformed. An emergency brake from speed induces some unwanted vehicle steer that can be a hindrance in adverse conditions. It would have been nice to also see the Mazda6 Sports Luxury fitted with ESP (Electronic Stability Program).
Great handling is also a card that the Mazda6 hides up its sleeve. It sticks to the road very well and hugs the corners with great intent. It only ever lets go and breaks into understeer if you push it beyond expectations.
If you're after boot space, the Mazda6 can only happily provide it. The boot has a volume of 505L (yes, that's 50L more than a current model Holden Commodore!). The boot size took me by total surprise and really suits the family motif. The best part is that it doesn't intrude too deeply into the vehicle cabin, providing ample room for the vehicles occupants; front and rear.
The sound system really packs a mighty punch. There are 7 Bose powered speakers hidden away that really produce a fine sound when quality music (such as ACDC, Metallica, Pink Floyd etc.) is played. Unfortunately though, there was a dirty rattle coming from inside the driver's door when music was turned up, making it very un-appealing, due to it being very audible from the outside. Another downside to the sound system was the fact that the quality of audio dropped significantly when listening to the radio (even with good reception).
It was quite surprising to find that the bonnet wasn't fitted with a hydraulic lift; it had a manually operated lever. It's certainly something you would see fit to live in a $40,000 vehicle.
Fuel consumption averaged out at around 11.3L/100 with a mix of city and highway driving. That figure would have been greatly improved with lighter driving.
Conclusion –
Before driving the Mazda6, I always had great respect for them because of the stance and image they carry on the road. After taking up the opportunity to fit one into my road test schedule, I can happily conclude that my initial thoughts remain un-changed.
The car looks fantastic, is reasonably priced and is loaded with goodies. It's not hard to see why they sell so well. The Mazda6 is quite possibly the perfect family car for the family that doesn't want to fork out large sums of money to re-fuel their car each week. It carries a respectable badge and moves the family around in luxury and with class. What else more could you want?
- by Paul Maric
CarAdvice rating (out of 5):
2006 Mazda 6 Sports Luxury Road Test