The local distributor of the Foton Tunland has developed a special version of the one-tonne ute designed specifically for Australian mines.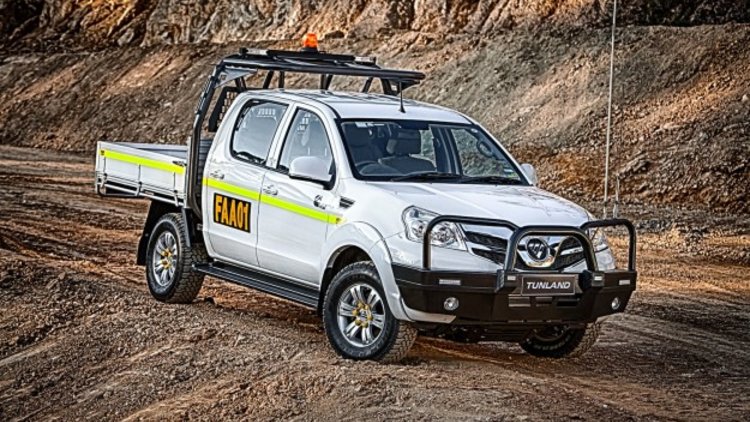 FAA Automotive Australia's 'Mine Spec' Foton Tunland comes equipped with the necessary lighting required by vehicles operating in mines (including a
revolving amber top light), as well as a steel external roll over protection system and anodised aluminium tray. The tray itself is 1780mm long, 1805mm wide and 250mm high.
The ute's interior comes equipped with rubber floor and dash mats, an UHF (ultra high frequency) handset, tyre-pressure monitoring system and a first aid kit.
The Mine Spec Tunland also comes with a fire extinguisher, reflective safety triangles, heavy-duty rubber wheel chocks, aerials for the UHF radio, and wheel nut torque-check lugs.
The Mine Spec is powered by the same 120kW/380Nm 2.8-litre turbo-diesel found in the standard Tunland. FAA notes that, because the Cummins engine also serves duty in several of its heavier vehicles, including 4.5-tonne trucks, the engine should be relatively understressed in the Tunland, and therefore prove to be particularly reliable.
Cast iron cylinder heads in the engine are capable of withstanding the high temperatures of many of Australia's mine locations.
FAA also says the Foton Tunland Mine Spec will be the most stable ute in its class. Its cab-to-axle ratio means the ute has an especially small rear overhang, as well as the widest front track of any ute. Only the Volkswagen Amarok has a wider rear track.
FAA says the Tunland will have the largest diameter front brakes in the class, though the standard car does not come equipped with electronic stability control.
The Tunland can be specified beyond the Mine Spec's standard features, so that each ute is properly equipped for its specific mine's needs.
FAA had sold 105 Tunland
4x4 and 4x2 utes to the end of August, in what is Foton's first year on the Australian market.
Along with the Mine Spec, FAA is set to soon introduce several more Tunland variants to the Australian market, and is aiming to grow from its current 20-strong dealer network to 30 by the end of 2014. It is also hoping to introduce a light-commercial van, a mini bus and an SUV to its Australian range "in the medium term".
Foton Tunland Mine Spec: Chinese ute made for Aussie mines