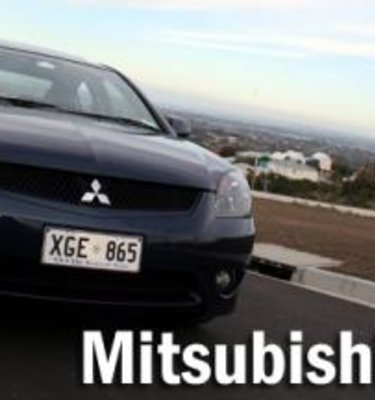 2006 Mitsubishi 380 GT Road Test
Last year I drove the Mitsubishi 380 LX. Although I was impressed by the new Mitsubishi offering, it really didn't offer any ground-breaking features or anything that really set it apart from its competitors.
Unfortunately the Mitsubishi 380 GT is much the same. Apart from being Dark Blue in colour and sporting a black leather interior, Bluetooth phone capability and darker interior accents it was identical to the 380 LX.

Mitsubishi have described the 380 GT as offering the 'ultimate blend of sports performance and luxury'. To be perfectly honest, it really is quite hard to tell. You see, the 380 GT has the exact same engine size and power (3.8ltr V6, producing 175kW at 5250RPM and 343Nm of torque at 4000RPM) and doesn't carry a different drive train or any extra significant features.
Upon jumping into the 380 GT, you are greeted with wrap around, black leather seats that feel very comfortable and easy going. The driver's seat is equipped with a 10-way adjustable power seat with memory functions, whilst the passenger gets a 6-way adjustable power seat. There was a slight flaw with the memory functions, if you were sitting with your feet outside the car, the outside lip of the seat often pushed against one of the three memory buttons, setting your seat in motion, even when you didn't want it moving anywhere.
The Bluetooth function is quite intriguing. After switching my phone's Bluetooth function on, it detected the vehicle (it had some weird jargon name for the car) and asked for a password. After typing in the password the two mini computers were talking to each other. From here things started to get interesting. When my phone received a call, I had the option of answering it with the button located next to the steering wheel, upon answering the call, it would be transmitted through the speakers in the car and my voice would be picked up by a microphone hidden in one of the vents. When I was done with my call, I could simply hit the hang up button and I was conveniently done with the call.
The only real downfall to this system was the fact that it wasn't possible to turn down the volume of the call or the volume of the Bluetooth lady who sometimes liked to talk to me. I feel it was a little bit too loud for my liking.
Our test vehicle had a dire issue with its right-front wheel assembly. During prompt acceleration from a standing start, a large clunk noise was heard coming from the right-front wheel assembly, although it didn't affect acceleration or handling, it was certainly an unwelcome noise that really didn't sound nice from either inside or outside the vehicle.
Again, I can happily convey that the Mitsubishi 380 GT had great handling abilities and didn't mind being thrown into a bend for a bit of work, although understeer was a common feature associated with hard driving through the twists, it was expected due to its front wheel drive nature.
The engine is dead quiet, when you switch it on, it idles at around 800RPM, and you have to keep double checking to see if the engine is actually in motion. At highway speeds (100km/h) it sits at around 1750RPM and road noise isn't overly prevalent. With the stereo turned up, it's barely noticeable.
The reception is still total rubbish in the 380, I experienced the same issue in the 380 LX and it would seem that the GT is following the same trend. Even inside the city, the reception often breaks up and becomes unbearable; it would have been great if Mitsubishi researched the reception issue a little more thoroughly prior to putting it into production.
Yet again we were met with the low speed shuddering that we experienced in the 380 LX. It was the most noticeable during a cold start, when you being moving it shudders violently. It still shudders when the engine is warm but, to a lesser extent. It felt like I was driving a giant washing machine during its spin cycle.
The audio and HVAC controls live in the same cluster and although they are easy to read, they often feel like they blend into each other and it's a little tricky to tell them apart from one another. If you're not careful, it's also quite easy to dislodge the big knobs from their holders. A bigger LCD screen would have been nice, pushing it inline with the Premium Sound System offered in the BF Falcon. After a bit of testing, the steering wheel controls are good to use, although they take a bit of effort to reach, they are quite convenient in terms of their function.
Steering in the 380 GT felt like it needed more feel. The steering wheel is too thin and could be a bit tricky to deal with when there was wheel spin. The point where the outer and inner wheels meet is in the wrong spot and doesn't allow you to wrap your fingers around it correctly.
Styling is more persuasive in the 380 GT. It features clear taillights, tinted headlights, a small boot lid lip spoiler and a defined body kit. The 17" 8-spoke wheels also suite the car. It would have been nice to see an 18" option available on the vehicle. The 380 GT is also fitted with reversing sensors. It took a total of one minute before I started getting quite annoyed with the reverse sensors. They would randomly beep and make confusing noises before I was even approaching an object. It was only when I started getting very close to an object that they started making any sense. They really should scrap the audible sensors for a set of visual and audible sensors that are easy to use and understand.
Our average fuel usage over our 1200KM trip ended up being 11.2L/100KM. This was with a mix of hard driving and highway driving. Unfortunately the fuel gauge was extremely spasmodic and would start reading as empty if left on a slight incline and didn't adjust back to the proper reading until you were stationary on a flat piece of road for a few minutes.
Conclusion –
As much as I enjoy driving the vehicles from the new Mitsubishi 380 range, I really do end up asking what exactly is so good about the 380 GT.
Mitsubishi should have taken the initiative and at least increased the power output in the GT or at least offered some features that distinguished it from the rest of the range. And no, Bluetooth capability and tinted headlights simply don't cut it.
If you isolate the 380 GT and don't compare it to its siblings, it's a well priced car with enough features to keep everyone happy. But, when you throw it back in the pack with the 380, 380 VR-X, 380 LS and 380 LX, you really start to notice how they are all almost identical and only vary in the slightest regard.
Although I quite like the styling of the 380 GT, I simply can't say that I would happily tell somebody that I owned one. Well, at least not until Mitsubishi decide to whack a turbo in it, make it RWD (Rear Wheel Drive) or at least jazz it up a bit to set it well apart from its siblings.
As such, I really feel it doesn't deserve the GT (Grand Tourer) badge, yet.
- by Paul Maric
CarAdvice rating (out of 5):
2006 Mitsubishi 380 GT Road Test