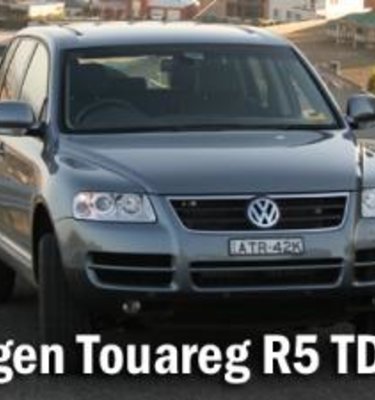 2006 Volkswagen Touareg R5 TDI Luxury Road Test
Getting into the Touareg R5 TDI Luxury is like boarding your own private jet. There are so many buttons for so many things and there is enough wood to fill a good portion of the Amazon forest. You also get a big, meaty wheel that is serrated with buttons, along with a very cool flip out starter key.
Once you are done gazing in total awe at the beautiful interior, you go to start the machine. That's where life is put on hold for a few minutes. You see, when I was walked around the car, I was also told how to start it. Being the expert that I am, it went in one ear and out the other. How could some big 4WD outsmart me? Not a chance. I sat there in the driver's seat for about five minutes trying to figure out how to start the darn thing! I turned the key but nothing happened (I must have looked like a twit sitting there scratching my head). Finally, after a quick flick through the manual, I found out that you need to have your foot on the brake pedal whilst turning the key…I knew that all along anyway.
The second the in-line 5-cyl engine comes to life you are greeted with a truck like idle that seems lifeless and boring. You see, the truck like engine is a Turbo Diesel (TDI); it has a 2.5ltr displacement and produces 128kW at 3500RPM and a chest pushing 400Nm of torque at 2000RPM (Yes, that's 20Nm more torque than a 4.0ltr, 6cyl Falcon!).
From the outside the Touareg simply looks drop dead sexy. It employs a tall stance with a well defined grill and mouth-like air intakes (one of which houses the intercooler for the motor). The fold away mirrors contain indicator lamps and the front bumper has two moulded locations that hide away twin fog lamps. Our test vehicle also had an optional full-size spare tyre hanging off the back of the vehicle (Optional extra, valued at $2,100). Huge tyres keep the Touareg planted to the road, the alloy wheels are 17" in size and the tyres are an astonishing 255mm wide!
The Touareg is about as safe as these 'Toorak Tractors'/'Soccer-Mum Mobiles' get. It has a 5-star Euro NCAP safety rating. It also carries pedestrian protection measures such as an aluminium engine bonnet with improved deformation characteristics, along with self-regenerating plastic bumpers and front guards. To top it all off, the interior is equipped with six airbags, which include two in the front, two at the side (front seats) and curtain airbags, front and rear for additional protection from side impacts.
What kind of cool gadgets does ~$80,000 get you? Plenty let me assure you. We were driving the R5 Luxury, things you're guaranteed to see include. Leather seats, more wood grain than you could poke a stick at (pardon the pun), dual-zone climate control, heated seats, heated mirrors, retractable mirrors, an absolute gob-smacker of a sound system, electric windows, 6-speed automatic transmission, electric seats…the list simply goes on and on. In terms of value, you're really not missing out on much when it comes to spending your hard earned ~$80,000.
Are there any negatives? Yes, there are. As with any vehicle, there are almost always negatives. During my 10-day drive I jotted down some things that I really disliked about the Touareg.
The steering…golly gosh. It's so light and has absolutely no feel whatsoever. I could have easily driven the car the whole time with one finger; it was far too light and lifeless. You get a fair whack of turbo lag; there is a large time lapse between sinking the right foot and getting thrown back. There was no way to change the CD track or radio station via the steering wheel, which was slightly irritating. The glove box was far too small and there was limited visibility out of the back window due to the optional full-size spare tyre. I would have also preferred more power-bias to the rear wheels, under WOT (Wide Open Throttle), the Touareg seemed to shift most of the power to the front wheels. And lastly, I would have liked to be able to select RWD (Rear Wheel Drive) only, not a big deal but, it would have been nice to do so.
Handling and road holding in the Touareg is surprisingly friendly and attentive for a vehicle of its size. It sits relatively flat through bends and holds the road with little complaint.
Transmission mode 'D' doesn't really do the Touareg any justice. 'D' is for economical driving and doesn't respond to the right foot unless you push it down to the floor board. I found the 'S' driving mode to be the most rewarding, it was far more responsive and willing to hold gears with little fuss. I'm at a total loss to the purpose of the tiptronic mode. Not only is it slow to respond, it doesn't actually hold the gear until you desire to change it! It automatically up-shifts around 500RPM before red-line, it frustrated me to no end.
'Loud and Proud' should be the Touareg's motto. If you dig the right foot in and wind down the window, you will hear a noise that can only be described as spine tingling. The Touareg lets out a God-like scream and lets everyone and everything around it know that it has an intention of moving and that you need to get out of its way. I have no doubts that the engineers at Volkswagen could have easily silenced the Touareg but, I commend them for the fact that they didn't silence it and left it as loud as it is, it simply sounds awesome.
Weighing in at a tickle over 2200KG, the Touareg is surprisingly fuel efficient. The combined fuel consumption figure achieved was 11.2L/100KM. I travelled 1127KM and used around 126L of Diesel.
Being sold as a 4WD, how does the Touareg actually cope with off-road situations? Surprisingly well. Our off-road adventure saw us travel over the same terrain as the Mitsubishi Pajero that we drove late last year. It had no problems traversing large hills with its 'Hill Holding Assistance', which automatically applies braking and holds the vehicle in position until adequate acceleration is applied. On one occasion, when reversing through some dense bush, the Touareg stalled and didn't want to start again until the key was removed and re-inserted; I was unable to replicate the scenario though.
The R5 TDI Luxury test vehicle being driven was also fitted with optional parking sensors ((front and rear) valued at $1,500), they had visual indicators mounted on the dashboard and also on top of the rear window. They also compensated for the optional full-size spare tyre attached to the rear of the vehicle and generally aided in parking the big 4WD.
Verdict –
We are approaching a time when fuel prices are out of control. The large car segment is slowly diminishing and people are looking for smaller cars to commute in.
The Touareg is really the best of both worlds. It provides a plethora of luxury appointments and doesn't skimp on looks or the ability to be taken off-road. And to top it all off, it also provides very reasonable fuel efficiency for a vehicle of its size.
If I was in the market for a luxury off-roader that was easy on fuel and could happily be taken to the bush for a weekend away, the Touareg would be right up there on my list. It's a vehicle that has gorgeous styling and looks appealing from every angle. Although, if you had a bit more money to splash around, I would be checking out the V10 TDI version.
- by Paul Maric
CarAdvice rating (out of 5):
2006 Volkswagen Touareg R5 TDI Luxury Road Test