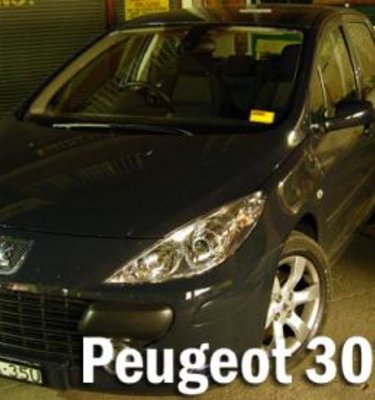 2006 Peugeot 307 XSE Road Test
The new Peugeot 307 XSE, where do I start?
The second you open the door and plant your back side you quickly start to notice why the $28,990 Peugeot is quickly set apart from its competitors. Everything is styled and laid out neatly, the steering wheel has a very solid and robust feel to it, the controls and other gadgetry are well placed, easy to find and best of all, easy to use.

After a large amount of fiddling and playing, the clunky and loose steering wheel controls become of second nature. They allow you to adjust cruise control (via a digital speed reading), speed alert, volume, radio station, CD track etc.
Then we get to the bits and pieces that really let the Peugeot 307 XSE down, and there are lots of them. Let's start with the build quality. When you're paying almost $29,000 for a car, you want it to be built properly. Unfortunately our 307 had several build quality issues. Take for example the centre armrest, it simply de-hinged each and every time the centre console was pulled down. Then we have the rattly door which resembled an '83 JB Holden Camira when closing. The central locking makes enough noise to wake up a small village and the disco-esque light array that is emitted when locking and unlocking is a bit much.
The big glove box door gets you thinking there is a huge block of space available. Unfortunately it's not the case, when you open the glove box door not only is half of it obstructed by a black box, the big door covers space that isn't even available for the glove box. Then there's the drink holders, unless you have a habit of drinking a toddler sized milk bottle you've got no chance of fitting anything else in, it's far too small.
What's with the pedals? They are offset to the left, they are also lifted extremely high off the floor and to top it all off there is no footrest, even if there was you couldn't fit your foot in because of the centre console intruding into the foot well. There is a cargo net in the boot that is meant to somehow drape over cargo when loaded, good luck with that because it wouldn't even cover a small box that we were trying to stop from moving around.
Unless you're hearing impaired you're absolutely going to hate the stereo. The sound quality is absolutely atrocious, there is far too much speaker distortion, absolutely no bass at all and the radio randomly likes to turn off and search for RDS enabled radio stations whenever it feels like it.
So far you must be wondering if there was actually anything good about the car. Yes, there was.
Take the handling for one; it was fantastic for such a small car. The 205/55 Dunlop SP Sport tyres really make the car stick to the road. Throw it into a bend and it holds its form and stays extremely stable and rigid throughout the bend. There were only hints of understeer if you threw the car into an unrealistic situation; even then the feel through the steering wheel was extremely well balanced and decisive, making the level of power assistance and feel perfect.
The brakes…ohh the brakes! Wow. They are so good, it's hard to explain the level of braking this car can emit at 10/10's. When you jump on the anchors you are guaranteed a seat belt rash, they pull the car up with such force that it feels like you could avoid anything that popped out in front of you. The brakes also had a firm and responsive feel to them and their bite point was right on par with the accelerator, making heel-toe driving a real breeze.
The 307 XSE makes a modest 103kW at 6000RPM and 200Nm of torque at 4000RPM. It felt like a slug under 3000RPM but, once you dig the foot in and let the engine do its job, it built up plenty of power and left you with a big smile. Peugeot claim the 307 XSE can get from 0 – 100km/h in 8.9s, our testing revealed that this was a very realistic figure and we were able to reproduce it each and every time. We achieved a combined fuel economy of around 10.3L/100KM during our 1500KM stint in the 307 XSE, which included 70% city driving and around 30% highway driving.
Engineers at Peugeot have spent a great deal of time making the driver, passengers and even pedestrians safe. The 307 range comes with 6 airbags, with the front airbags featuring a 'smart' release that deploys in two stages, according to the severity of the crash. The 307 is also designed with a very soft front end, aiding in pedestrian injury prevention.
Standard features in the 307 XSE include dual-zone climate control, halogen headlamps, auto-dimming mirrors, single disc CD player, electric windows, 16" alloy wheels, ABS brakes and automatic headlights and automatic windscreen wipers (which often have a mind of their own).
Conclusion –
In the brochure and in the images the Peugeot looks like a great car.
Once you get a chance to be with the car it's a different story all together, the build quality is really nothing to write home about and although the drive and handling can be quite rewarding, you're always left with those little niggly things such as the stereo and clunky amendments that always let you down.
Surely Peugeot could have put more effort into the car because it has killer looks and is great to drive. But, at the end of the day, when you're spending $28,990 on a car, you're going to want more than what the Peugeot 307 XSE has on offer.
- by Paul Maric
CadAdvice rating (out of 5):
2006 Peugeot 307 XSE Road Test