The Audi A3 1.6 TDI ultra has been unveiled, linked with the title of Audi's most fuel-efficient production model.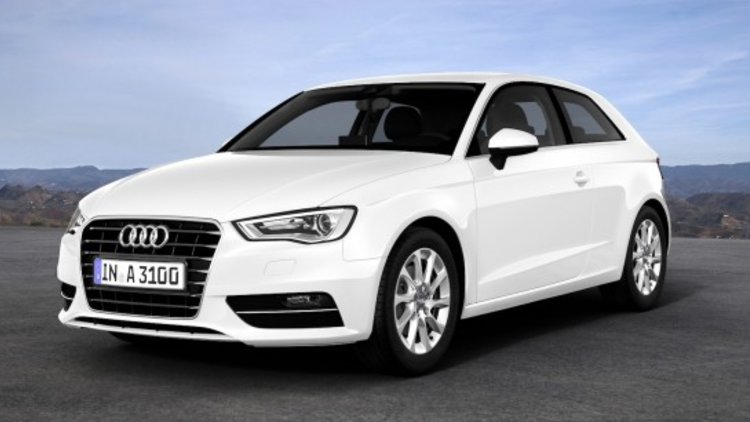 A3
debuted at the 2012 Geneva motor show
2
Those numbers not only better the current 77kW/250Nm 1.6-litre four-cylinder turbo-diesel A3 1.6 TDI's figures of 3.9L/100km and 102g/km, but also the 66kW/230Nm Audi A1 1.6 TDI's best of 3.8L/100km and 99g/km. They're also matched by the Volkswagen Golf TDI BlueMotion revealed in June, which uses its 1.6-litre direct injection four-cylinder turbo-diesel engine to produce 81kW of power between 3200-4000rpm and 250Nm of torque from 1500-3000rpm.
While able to accelerate from 0-100km/h in 10.5 seconds and reach a top speed of 200km/h, the ultra's 50-litre fuel tank means 1563km off a single tank is potentially achievable – again equalled by the Golf TDI BlueMotion.
Helping to improve efficiency targets, Audi has reduced the A3 1.6 TDI ultra's weight by 75kg over the standard 1280kg A3 and enhanced aerodynamics by adding S line side sills and lowering ride height by 15mm. Sixteen-inch low rolling resistance tyres have also been fitted along with a longer final drive ratio.
Audi says the new efficiency-focused A3 also marks the first time the 'ultra' tag has been attached to a volume production model. Used to designate the German brand's commitment to sustainability, 'ultra' has been seen on the lightweight Audi TT ultra quattro concept (pictured above) and Audi R18 ultra Le Mans racers.
Expect to see ultra versions of other model lines in the future, with others planned to join Audi's e-tron plug-in hybrid and natural gas-powered g-tron models.