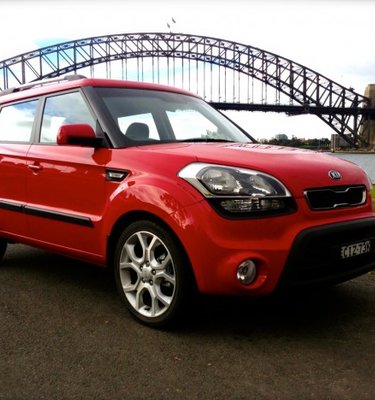 Still funky and unique as ever, but does the Kia Soul still make sense?
The first-generation Kia Soul will soon make way for the all-new model that arrives early next year. But until that happens, it's worth having another look at this funky little Korean.
When the Kia Soul came out in 2009, the market was going through a phase where boxy cars were the buzz. The likes of the Soul and Toyota Rukus attempted to leverage that demand but overtime the hype fizzled out, like most fads do.
In 2011 Kia sold 431 Souls in Australia, that figure dropped to 353 for 2012, and so far this year, from January to July, only 101 Souls have found new customers.
To find out if it the falling figures were a result of the Soul itself or shifting market trends, we found ourselves in a range-topping Kia Soul+ automatic diesel.
The Soul isn't a bad car, indeed it's a pretty decent thing and although it's starting to show its age, the value for money proposition is still compelling.
Our test car retailed for $29,990 for the 1.6-litre turbo diesel six-speed automatic, with the only option being the $620 cost of "Tomato Red" metallic paint.
Although classified in the small car class, among cars like the Toyota Corolla and Mazda3, in reality the Soul is a higher-riding car, which allows for easier entry for those averse to bending, and one that targets a niche audience.
The interior is certainly not up to modern Korean car manufacturing standards, with a black and red display screen for the audio system and hard plastics throughout the cabin.
The front and rear seats are comfortable and, given the shape of the Kia Soul, headroom is substantial. Two adults can comfortably sit in the back and a third can be accommodated in the middle centre seat if necessary.
But while the head and legroom is above the class average, luggage space is not. The boot is tiny at 222 litres but can be as large as 818L depending on the rear seat arrangement. We found it a struggle to fit a full-size pram inside the boot alone, let alone the week's worth of shopping.
Speaking of prams, the Kia Soul also lacks the ISOFIX child-seat anchor points that have recently been legalised in Australia.
Behind the wheel the 1.6-litre four-cylinder turbo diesel delivers 94kW of power and 260Nm of torque. Coupled to a smooth-shifting six-speed automatic transmission, the Soul accelerates with ease and power delivery is never an issue. We found it a competent drivetrain for both inner-city and highway commutes.
The Soul's ride is a little on the firm side and bumps tend to be felt, while the cabin is certainly not shy of road noise.
Driven through Sydney the diesel-powered Soul is easy to manoeuvre around town and keeps up with traffic without issue. Weighing a decent 1372kg, the Kia Soul sips just 5.9L of diesel per 100km, according to official consumption figures. In the real world it's closer to 7L/100km, but even that is pretty decent for a car its size.
Outward visibility isn't great, and is compounded by the lack of a reversing camera or even parking sensors – across the range. Its flat rear-end does make it a predictable car to park but the very small window at the back means you have absolutely no visibility of anything below a certain point.
The Kia Soul range starts from just $21,490, very reasonable for a car that comes with a five-year unlimited KM warranty, higher-access entry point and distinctive looks. A 1.6-litre petrol engine coupled to a five-speed manual transmission, which gives you 95kW of power and 157Nm of torque, powers the base model. Go up a step to the 2.0-litre petrol and figures jump to 122kW and 200Nm.
Base Kia Soul models, which are available with the 1.6-litre petrol only, get 15-inch steel wheels, full complement of safety features, including driver and passenger front and side airbags and electronic stability control.
On the technology side, Bluetooth connectivity with an iPod-compatible USB port is standard across the range, though we did struggle to get our iPhone 5 to stream music to the car's six-speaker stereo system.
The higher-spec Kia Soul+ – available with the 2.0-litre petrol ($26,990 for the automatic) and 1.6-litre diesel (from $27,990 for the manual) – gets cruise control, leather steering wheel, seat back pockets, luggage screen, fog lamps and 18-inch alloy wheels.
Specifications and pricing aside, the Kia Soul's underwhelming sales figures are somewhat simple to explain. For less money buyers can opt for the Kia Cerato (soon to be available in hatch), which starts from $19,990 and comes with a more modern style and superior interior fit and finish. Need more space and a higher seating position? The recently launched Kia Sportage Series II SUV starts from $25,490.
Then there's the competition – notably the quirky-looking Skoda Yeti that is currently running out the door at $21,990 driveway (but three-year warranty only) and offers a higher-quality cabin, better engines and more enthusiast-focused driving manners.
Overall, the Kia Soul is a decent car if you're after something with a higher ride height and unique looks, but given its replacement will be here in a less than a year's time and that both Kia and other manufacturers offer newer and more practical products for similar coin, it's not the ideal choice.