Ford Motor Company has conducted experimental tests for new communicative technology, named 'Electronic Brake Light', aimed at mitigating or preventing rear-end collisions in heavy traffic or around blind corners.
The technology sends an alert from a car travelling ahead, to a car travelling behind, to warn them they have stopped. A wireless signal is sent from the car in front, which may be halted or braking but obscured from the car behind by trees, a wall or traffic, to activate a 'warning' light in the following car.
The equipment is just one of 20 potential future systems Ford has tested, as part of Safe Intelligent Mobility (simTD), a four-year joint industry research project involving some of the largest manufacturers in the automotive industry.
The simTD field tests took place in Frankfurt, Germany, and involved 500 test drivers in 120 vehicles – including 20 Ford S-MAX models. Testers recorded more than 41,000 hours and 1.6 million kilometers on public roads and an enclosed test track.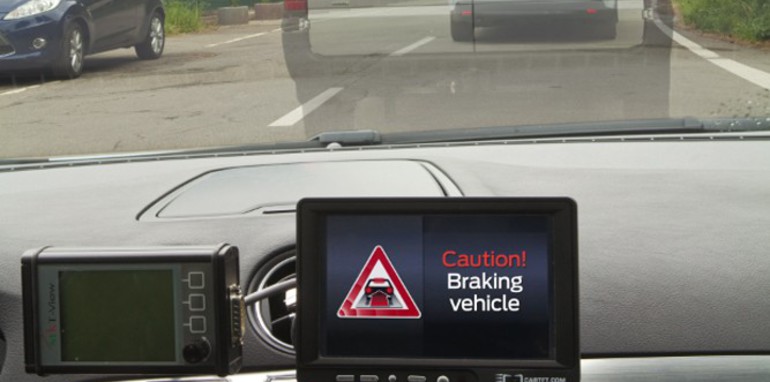 Chief technical officer and vice president of Ford Research and Innovation, Paul Mascarenas, has admitted that the focus is on "real world testing, with the goal of implementation in the foreseeable future."
"Car-to-car and car-to-infrastructure communications represent one of the next major advancements in vehicle safety".
Other technologies tested include an Obstacle Warning System, which alerts the driver to the presence, position and type of potentially hazardous objects on the road, as well as the Traffic Sign Assistant, which remains in contact with traffic management authorities for up-to-date information.
simTD is a joint project by leading German automotive manufacturers, component suppliers, communication companies, research institutions and public authorities.
The conglomerate involved delegates from all major interest groups, including Audi, BMW, Daimler, Ford, Opel, Volkswagen, Bosch, Continental, Deutsche Telekom among others.
http://www.youtube.com/watch?v=Z9rPotK5iC0#at=59