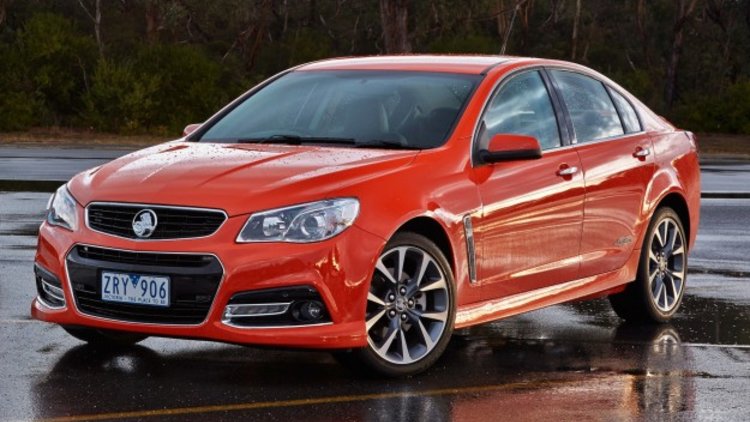 Holden VF Commodore
The all-new entry-level Holden Commodore Evoke sedan is the most fuel efficient in the line-up. Its claimed combined cycle fuel consumption of 8.3 litres per 100km represents a 6.7 per cent improvement over the MY12 VE Omega, and puts the new price leader within 0.2L/100km of the four-cylinder Ford Falcon EcoBoost.
The Evoke's 3.0-litre direct-injection V6 produces 185kW of power and 290Nm of torque – down 5kW on the VE Omega, which is a side effect of the shift to a lighter single exhaust system. The Commodore Evoke also gets a smaller differential in a further weight-saving measure. Efficiency of the Evoke Sportwagon improves by 3.4 per cent, now measuring 8.6L/100km.
Aluminium replaces steel for the bonnets and bootlids of all VF Commodores, contributing to weight savings of up to 43kg, while an improved drag coefficient (down from 0.33 to 0.31) and an electric power steering system (saving approximately 0.2L/100km) all play a role in making the VF more efficient than its predecessor.
VF Commodore variants equipped with the larger 210kW/350Nm 3.6-litre V6 experience the greatest economy gains, with Holden's engineers delivering improvements of between 5.1 and 8.2 per cent across the SV6, Calais and Calais V grades. Sedans and Utes powered by the 3.6-litre consume 9.0L/100km, while Sportwagon variants are slightly thirstier at 9.3L/100km.
Efficiency of the 6.0-litre V8-powered performance models also improves as much as 7.3 per cent. Previously rated at 12.2-12.4L/100km, the SS, SS V, SS V Redline and Calais V grades now range between 11.5 and 11.8L/100km, with the SS and SS V sedans and utes leading the way.
Consumption of the 6.0-litre Caprice V improves 4.9 per cent, falling from 12.3 to 11.7L/100km.
As in the VE, six-speed manual V8 Commodores produce 270kW of power and 530Nm of torque, while their six-speed automatic counterparts are capped at 260kW and 517Nm.
Holden's 180kW/320Nm 3.6-litre LPG V6-powered models offer efficiency improvements of between 2.0 and 4.9 per cent. Available in Evoke and SV6 sedan and Sportwagon grades, as well as the standard Caprice, the gas burners consume between 11.5 and 12.1L/100km on the combined cycle.