The Holden VF Commodore demanded a culture change within the company's local engineering department.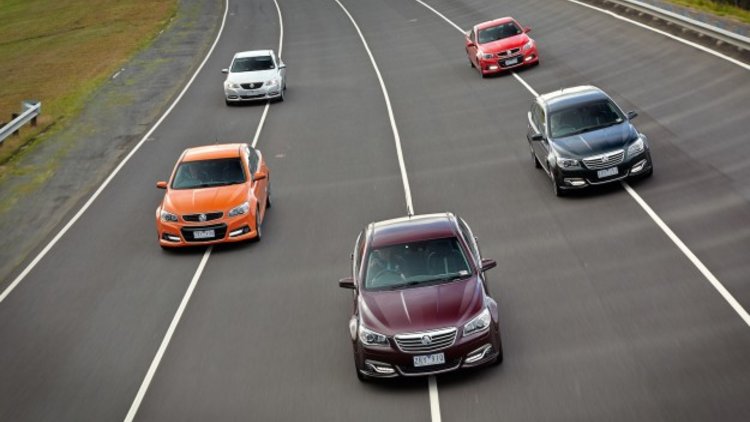 According to vehicle systems manager Andrew Holmes, for the first time ever weight-saving became obsessive and every engineer designing a new part was told it had to weigh less than the old one.
Holmes describes the process as a major learning curve for many workers who didn't believe that a gram here and there mattered. But with weight-saving post-it notes pinned to each engineer's head, Holden engineers were able to shave a massive 72.5kg from the chassis alone.
Holmes says the reductions in "bad mass" needed to be huge, to allow new technologies – or "good mass" – to be put into the car. As it turned out, the tech added 29.5kg for an overall 43kg reduction with the base Evoke sedan compared with the outgoing Omega.
Weight reductions are regenerating, too. By switching to lightweight aluminium for the bonnet, Holden only needed to use a single gas strut to open it, not two as before, further increasing the weight saving . Lightening the bootlid the same way means the lid can now open automatically instead of needing to be lifted. Both lids front and rear save 10kg.
An aluminium cockpit beam is stiffer and lighter than before, helping to compensate for extra padding around it to reduce engine noise and vibration. Holmes says that move allowed engineers to lower the idle speed of the 3.0-litre V6 to 500rpm, helping to increase economy.
In the front suspension an aluminium lower control arm and knuckles saves 6kg on each corner.
At the rear, Evoke models get a "high efficiency" differential, which is smaller than before. Moving back to a single exhaust in the Evoke – the previous Omega had a split twin exhaust – meant sacrificing 5kW from the engine. But, Holmes argues, that minor change was offset by the weight saved by flicking the second exhaust, while engineers also worked to beef up torque below 2000rpm in the 3.0-litre "by a handful of percent".
Holden claims more than 60 per cent of the VE model's chassis components have been replaced, with a total 38.9kg taken from the chassis alone.
The total body-in-white saving is 12.5kg. Vehicle structure and safety systems manager Steve Curtis says that with VF Commodore more high strength steel was used in the body, particularly around the B-pillar area to improve side impact protection.
Holden found that in addition to beefening up the body structure, engineers could then reduce the thickness of the door skins to further push weight reduction.
Curtis argues that although the VF Commodore receives a five-star ANCAP safety rating – the same as VE – the standards required to meet a maximum rating have changed substantially since the VE launched in 2006.
All VF models get Isofix rear seats, which Holden decided to include in the engineering program well before the Australian government approved it for legislation. Curtis admits it was a gamble, but footage showing the difference between how a standard child seat performed in a side impact versus an Isofix seat, sealed the decision. Isofix – which clamps into the car's seat base – maintained complete composure in a side impact. In another Commodore-first, three rear seatbelt reminders are standard.
The shape of the front side-impact airbag has also changed, with more coverage given to the lower pelvis area instead of the ribs. Curtis argues that in the human body the pelvis is better able to withstand large intrusions.
Disappointingly, however, a driver's knee airbag standard on the export Chevrolet SS model is not available at any price on the identical VF Commodore. Curtis also admits that being unable to move the engine position meant Holden had to accept a 'marginal' pedestrian safety rating from ANCAP, as lowering the engine would have substantially decreased the risk of injury to a pedestrian in an frontal collision.
Adding "good mass" meant utilising GM's Global A electrical architecture, which is also used in Cruze and Camaro. It controls the Commodore-first technology in the car – including blind-spot detection, forward collision alert, side-reversing alert, head-up display and auto-parking. The VF Commodore also boasts MyLink infotainment system (read more here).
Shaved side wheelarches help Commodore aerodynamics improve by seven per cent to 0.31Cd, which together with the weight reductions, and the switch to electro-mechanical power steering (which saves 0.2L/100km) means a total economy improvement of 6.7 percent on the entry-level 3.0-litre Evoke and even greater reductions made by the V8-engined SS.
Three suspension tunes are available with the Holden VF Commodore. The 'Touring' (or FE1) set-up is used on Evoke, Calais and Calais V; the 'Sport' FE2 is reserved for SV6, SS and SS V; and the 'Track' FE3 suspension is available on SS V Redline only.
Compared with the outgoing FE1 on VF Omega, and FE1.5 on Calais, the VF Evoke and Calais get a "tighter damper tune and larger stabiliser bars" than before. Larger bore struts with internal rebound springs are a unique addition on Calais models only. The new electro-mechanical steering set-up also gets a 'Touring' mapping, which is lighter than the sports models. All VFs share a faster on-centre steering ratio than VE, with speed dependant variable assistance.
Although the SV6, SS and SS V grades also get a new damper tune, Holden are less clear about specific intentions. The steering system does add weight "for increased vehicle feedback".
The SS V Redline, with FE3 tune, benefits from larger front and rear stabiliser bars, wider rear tyres, a faster steering ratio and launch control with a less restrictive Competitive Mode stability control calibration and even firmer steering set-up.
Click the photo tab above for more Holden VF Commodore development images.
Holden VF Commodore: the engineering story