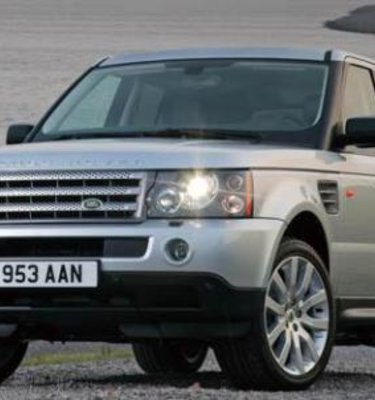 2007 Range Rover Sport Supercharged Road Test
2007 Range Rover Sport Supercharged Road Test
Test Model: 2007 Range Rover Sport V8 Supercharged.
"Like a Challenger 2 Battle Tank dressed in Savile Rowe finery – the rock star of the Land Rover brand"
Road Test Overview
Options fitted:
Sunroof - $3000 (expensive)
Personal Telephone Integration System – 2,500 (better than a speakerphone but this seems pricey)
Tow Bar Pack - $500
Metallic Paint – 1,500
The Electric Sunroof, Premium ICE pack audio system and centre console cooler box should be standard kit on this top end model NOT $5700 worth of options
Recommended Retail Price: $136,900
Where it sits: Top Shelf
Other models in the Ranger Rover Sport Range in descending order:
4.4 litre V8 Petrol - $107,900 (why bother)
3.6 litre TDV8 Diesel - $107,900 (can't wait to review this model)
2.7 litre TDV6 - $87,900 (best value and most popular)
The UK's main battle tank is a serious weapon. Weighing in at a mind-boggling 62 tonnes and powered by an 895 kW (1200hp) donk, the Challenger 2 can hit 60km/h while it's potent 120mm canon scores direct hits on moving targets!
Land Rover, the undisputed king of luxury off-road machines, decided to create their own weapon, and it's called the Range Rover Sport – Supercharged.
A BIT OF HISTORY
High performance sports touring is not something a rational person would ever have associated with the stalwart British 4 X 4 brand. The idea itself would have been laughable. Land Rover was famous for its incredibly slow moving vehicles, which were capable of extraordinary off-road feats but with little or no regard for go-fast bits or automotive styling outside of a box- literally!
All that changed in 1970, when Land Rover single-handedly wrote the book on the luxury SUV segment, with the launch of the Range Rover. Here was a luxury; soft riding 4WD wagon with similar off road talents to its purpose built and bare bones, Land Rover cousins.
The Range Rover had created the first automotive niche brand and owned that market for an impossible twenty-seven years until along came Mercedes-Benz with the M- Class in 1997 and BMW's X5 in 2001.
BMW posed the greatest threat; as the X5 was by far the better tarmac drive, behaving more like a sports car than a 2200kg 4WD wagon. The German carmakers had created a far bigger niche, the premium soft-roader.
There was no question that the Range Rover could annihilate it's competition whenever and wherever the going got rough. But on the bitumen, the Germans remained the brand of choice for the hoards of cashed up, badge conscious, SUV buyers. After all, 95% of vehicles in this segment will never see a dusty road, let alone the kind of inhospitable terrain the Range Rover is capable of conquering. Nice to know you've got it though.
Land Rover finally responded to this market shift late in 2004 with an outrageous concept called the Range Stormer.
The design was exciting and pushed the envelope with a super low roofline, twenty-inch wheels with massive rubber shoes, four integrated exhaust pipe tips and a loud orange paint job they called Vesuvius, after the most dangerous volcano in the world.
Born was the Range Rover Sport, which entered the high performance SUV battle in late 2005 with several powerplants, but the hero model was and remains, the awesome looking Range Rover Sport Supercharged.
HOW IT GOES
The Sport Supercharged is promoted as the fastest thing to ever come out of the Land Rover factory, so you can guarantee it won't be slow.
Even at idle, it's obvious some performance bent boffins in white coats back in Solihull, England have tampered with this thing. I'm not saying it's overtly loud, on the contrary, engine roar has been miraculously dialled out, but there's a distinct quick- tempo burble that warms your heart.
The best sound system money can buy comes standard in this vehicle, and its by Eaton – the guys that build the Sport's Supercharger.
When on you're on the throttle in this 2,600kg plus "Mad Max" machine, there's nothing quite like the adrenalin-inducing whine of Eaton's finest. It's absolutely addictive as it hauls the Sport along at speeds, which seem unnatural given the vehicle's architecture.
It's a shame that the whole world seems to be running with turbochargers these days, as driving the Sport Supercharged is a welcomed reminder of why we like this form of forced induction over the former. No Turbo lag!
Let's just hope Land Rover doesn't follow the BMW owned Mini Copper S, which has been robbed of its Supercharger and associated sound effects in favour of a twin scroll turbocharger. (We'll need to review the new Mini and come back to you with our thoughts).
Lifted from Jaguar's impressive performance "R" series cars is a lightweight 4.2 litre Supercharged V8 petrol engine pumping out 287kW @ 5,750rpm and not too shabby 550Nm of torque at 3,500rpm. It's quite a lot of juice, but then, this is quite a lot of car.
It's enough though, to get this leviathan leaping off the line with a relentless surge of power and torque all the way to 225km/h (speed limited) or 140mph in the old book. It feels bloody quick either way, in a vehicle of this magnitude.
Dropping the throttle will bring up 0-100km/h in around 7.4 seconds and that will see you beside Honda's Type S Integra and in front of an Alfa Romeo 166.
As macho as the Sport Supercharged is, driving this SUV is a piece of cake. Part of the reason, is Land Rover's choice of a ZF six-speed transmission with "intelligent shift" feature. It's a superb bit of gear that offers ultra- smooth shifts and distributes power to all four wheels on a full-time basis.
And if you happen to be out and about tucking this Rangie into some nice curvy tarmac, then you'll most likely appreciate the "Command Shift" feature which will hold the gear ratios (that is until you hit the redline) and automatically blip the throttle during downshifts under heavy breaking. This ensures you are in the optimum gear for a fast exit out of a corner. And the sound of this auto-downshift is just as intoxicating as the Supercharger's wailing. As transmissions go – they don't come any sweeter.
HOW IT HANDLES
I'm not sure "Sport" properly describes the breadth of talent built into this astonishing vehicle. The 'word' is just too tame a term these days, reserved mostly for econo-model cars with a spoiler and a set of alloys thrown on.
The Supercharged Sport is absurdly quick and beautifully balanced through corners. It's a little unnerving at first, given you're up so high, in a vehicle this large, pushing hard from bend to bend with a pulse rate going north fast, and yet there is no discernable body roll.
It's a remarkable feat, engineering a large off-road machine to perform better than many purpose built Sports cars.
What helps keep this monster planted are some massive 20-inch alloys shod with similarly massive 275/40 low profile rubber. But that's only part of the story. The real genius lies in the Air spring suspension and Dynamic response system, which if so tuned, can utterly and completely dial out body roll.
Gone are conventional steel springs which have been replaced by electronically controlled air springs which react to cornering forces and speed and become firmer or softer depending on terrain and driving style.
And something else you won't find on too many cars these days, even high end high performance rides is an active anti-roll control. They banned active suspension systems on Formula One cars back in 1994, due to the velocity at which the cars were going into corners.
This is the real wizardry on the Supercharged Sport and ensures almost flat cornering as hydraulic motors act on the anti roll bars moments before computers calculate potential lean angles. Amazing stuff.
The steering feels nicely weighted allowing for quick and accurate cornering, that is - until you really put the boot in, and then it's simply too light with too much assistance. It seems to be a consistent trait of speed sensitive power steering units in general, which in my opinion are rarely calibrated to get the best performance out of the vehicle.
Range Rovers have always had decent brakes so its no surprise to see some great big discs up front wearing Brembo (they supply Ferrari and their F1 cars) 4-piston callipers, which provide phenomenal stopping power with little or no brake fade.
OFF ROAD ABILITY
It's an awesome site watching a Range Rover, more at home in front of Buckingham Palace, proving its worth in impossible terrain which you would think only a tank would get through. It's the stuff legends are made of, and its what distinguishes the Land Rover Marque from every other brand of SUV (Hummers are not SUVs).
I've got to admit, the Sport Supercharged looks no more at home in the rough stuff than the other performance soft-roaders in this segment. But looks can be deceiving. This 4X4 SUV is the real deal with bona fide off-road DNA running through its chassis.
The Sport Supercharged is a trimmed down Range Rover on a slightly shorter Land Rover Discovery 3 body, which is incredibly strong and designed to protect vulnerable components and systems, which are housed within the framework. It's part of the reason why you can have your cake and eat it too, with this vehicle!
Like all fair dinkum 4WD vehicles, the Range Rover Sport Supercharged comes locked and loaded with a full array of "go anywhere" systems. The twin-speed transfer box with high and low range is via a tricky electronic shift and can be made on the move. A far cry from the Land Rovers of yesterday.
Along with an electronic differential lock for severe off-road conditions, the Sport is equipped more Land Rover wizardry called the Terrain Response System. This is simple to use technology which provides you with five different terrain settings which when selected, maps all relevant electronic systems including (I need to list all the systems affected, just to show how serious this rig is) Engine management, Electronic Gearbox control, Air suspension ride height, Dynamic Stability Control, Electronic Traction Control and Anti-lock brakes, Hill Decent Control and Electronic centre and rear diffs.
The most remarkable thing is though; you can drive through atrocious terrain in the Sport Supercharged in luxury car smooth comfort.
Still not convinced! Watch the Sport Supercharged take on the Challenger 2 Tank – off road.
BEHIND THE WHEEL
Don't expect a Range Rover makeover inside the Sport (although that would be nice) because in actual fact, this SUV is more closely related to the Discovery 3 than the full-blown Range Rover.
That said, while the Sport Supercharged is brimming with luxury appointments such as leather, wood and metal accents, the fact that this is a high performance SUV, has not been forgotten.
The perforated sports leather seats are comfortable but it's not like your kicking back in your favourite lounge chair. These pews have been designed with plenty of side bolster for lateral support, not unlike those in high-end sports cars.
All large SUV's these days offer that 'above the traffic' driving position. However, none come close to the feeling you get behind the wheel of a Range Rover (that includes the Sport). Land Rover call it "Command driving position" and it's a special place to be with outstanding vision and easy access to switchgear.
If you haven't been in a Range Rover for some time, the Sport feels just as large, with that massive centre console and bespoke gear shifter although, it's more of an enclosed cockpit with greater focus towards the driver.
INTERIOR COMFORT
Don't get me wrong, inside the Range Rover Sport Supercharged is a salubrious environment but its no Range Rover.
The fact that the Sport is built on the Discovery 3 body frame is probably part of the reason why this model doesn't get the superbly styled interior of the larger Range Rover.
I'm not impressed with the faux metal accents used extensively throughout the cabin. This is not the stuff that should be found in a vehicle wearing Range Rover badging. Even the diminutive Hyundai Getz is blessed with real brushed metal accents around the dash and door handles, so there really isn't any excuse.
While the switchgear is neat and functional, a little patience is required when sorting out which button/knob does what, aside from the large Climate Control dials.
On a more positive note, the Sport Supercharged comes with all the luxuries and techno goodies that you would expect in an SUV with this bloodline. The list is extensive but a couple of standouts are the harmon/kardon sound system and the Premium Navigation system.
US based harmon kardon has been the preferred choice for Range Rovers for years and for one good reason. They sound better than 95% of all other systems, no matter what brand you bring on.
The standard fit in the Sport Supercharged is the Hi ICE system with 8 speakers, subwoofer and Amplifier, with an in dash 6 CD changer. Although the fidelity is excellent, it's not a patch on the optional Premium ICE unit, running 13 speakers, Active Subwoofer and DSP Amplifier. This system must be heard to be believed. Whether you're listening to Snoop Dog or Miles Davis – it's all good.
The standard touch screen Satellite Navigation system (same as Jaguar) is dead easy to use and requires little if any need to consult the manual.
As far as in-car Sat Nav systems go, you can pretty much live by the rule "if it's not touch screen-don't touch it"
THE LOOK
BMW, Mercedes-Benz, Audi, Volkswagen and Porsche have all produced decent looking SUVs, but their styling lacks the distinctiveness of the Sport Supercharged, and that's where this hooligan shines. It may not as quick as some of the German lads, but the feel good factor behind the wheel of this "Public School" bad boy is ten out of ten.
Easily the most aggressive looking contender in the performance SUV ring with its massive brick-like body, accentuated by it's twenty-inch wheel and tyre combo and customised-like lowrider stance, the Sport Supercharged presents an imposing figure on the road.
Other clues to its position statement, include the sports meshed gills on both front guards, the drilled aluminium look grille, front spoiler and twin pipes (perhaps quad pipes on the next iteration would be more fitting)
SPACE, STORAGE AND PRACTICALITY
Rear cargo space with rear seats upright is a considerable 958 litres and a substantial 2,013 litres with the rear seats folded flat. It's more than enough room for a family of four to five to holiday or as a small removalist vehicle.
Cargo entry is via a one-piece liftgate with separate-opening glass window. I'd like to see this power operated in the future as per several competitors.
While front seats offer plenty of leg and head room (even with sunroof) the rear seat accommodation is not so generous.
While there's room for 3 adults, there are only two full-size contoured seats back there. I suspect a third adult passenger would find the going uncomfortable for anything other than short trips. Rear leg and headroom is good though, for all three passengers, especially as the floor is flat.
Small item storage space is no problem as there are heaps of clever storage bins throughout including a dual-tier glovebox.
While front door entry/exit is easy, again rear passengers get short changed a little, due to the relatively small aperture of the door openings.
SAFETY FEATURES
Long gone are days when families would be charging over the local sand dunes in their 4X4's having a great old time. It didn't seem to matter that everyone was literally bouncing around the largely metal interior without so much as a seatbelt on.
It's good that things have moved forward with safety in 4WD vehicles. The Range Rover Sport range is fitted with driver and passenger front, side, and head curtain airbags, while rear seat passengers have the benefit of head curtain airbags only. Rear passenger side airbags would be a welcomed addition.
Active safety systems include; Four-channel all terrain ABS, Electronic Brake Assist, Dynamic Stability Control and Active Roll Mitigation which senses when the vehicle is light on one side and applies braking to stabilise and reduce the risk of rollover.
COST OF OWNERSHIP
At $136,900 the Ranger Rover Sport Supercharged is at the high end of the scale when it comes to performance SUV's of this calibre. Porsche's Cayenne S and BMW's X5 4.8i come in a few grand cheaper, while Audi's Q7 4.2, Volkswagen's Touareg V8 4.2 and Volvo's XC90 4.4 V8 are substantially less expensive.
I'm not sure fuel consumption is worth mentioning when it comes to any of the above mentioned vehicles, except perhaps the XC90 4.4, which isn't too bad. At the end of the day, if you're in the market for a high performance SUV, fuel consumption is probably not on your mind.
"With killer looks, awesome on road/off road performance and truck loads of street cred, the Range Rover Sport Supercharged is a natural anti-depressant"
Anthony Crawford
2007 Range Rover Sport Supercharged Road Test