Specifications for the Lexus IS300h sedan have been revealed ahead of its Australian debut later this year.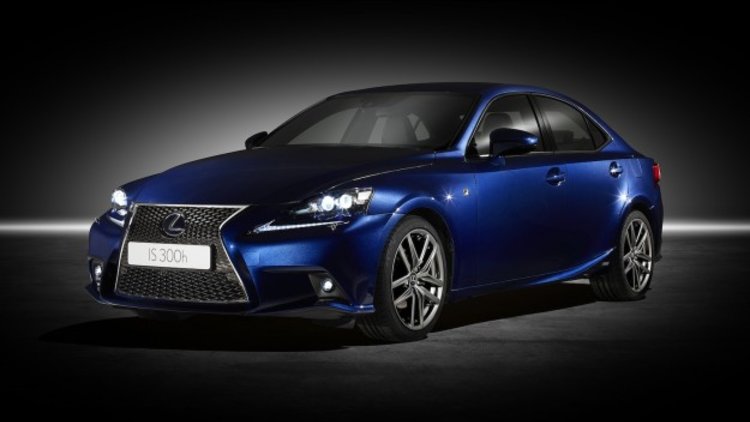 Its 2.5-litre Atkinson Cycle four-cylinder engine produces 133kW of power at 6000rpm, and 221Nm of torque from 4200-5400rpm. The electric motor adds a 105kW/300Nm boost from idle speed. Both combine to make 164kW as a "maximum system output" and drive through to the rear wheels via a continuously variable transmission (CVT).
Lexus
2 
A first for a Lexus hybrid, the IS300h gets a 60:40 split-fold rear seat, matching the petrol IS250 and IS350 models for total boot volume. The hybrid battery pack has been positioned beneath the boot floor, with Lexus claiming this improves not only packaging, but lowers the centre of gravity to improve handling response.
The Lexus IS300h will compete with the cohort of diesel mid-sized sedans from Germany when it arrives here in October, priced from around $60,000.
BMW 318d
Audi A4
2
2
2
Where its German rivals only get four stars from the Australian Government Green Vehicle Guide (GVG) due to their far higher air pollution (NOx) emissions, the Lexus scores five, emitting around 10 times less particles that affect respiratory health and create urban smog. The 318d and A4 2.0TDI score only six out of 10 for air pollution, according to the GVG.
The IS300h will arrive in two trim levels – Luxury and F Sport – which both feature a five-mode drivetrain system, incorporating EV (petrol engine off), ECO (optimal fuel efficiency), Normal, and Sport (aggressive throttle and transmission response) modes. The F Sport will add adaptive variable suspension and electro-mechanical power steering, with an additional Sport+ mode.
2