The petrol- and gas-powered Audi A3 Sportback g-tron has been revealed ahead of its launch at the end of the year.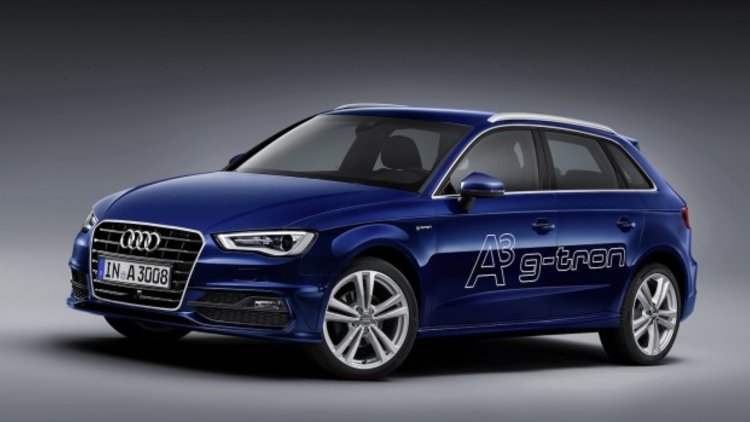 The dual-fuel Audi A3 Sportback g-tron can be powered by unleaded petrol as well as a new CO2-neutral fuel called Audi e-gas that will be produced in a German-based power-to-gas plant.
The carbon-neutral compressed natural gas (CNG) is stored in two tanks under the floor of the Audi A3 Sportback's luggage compartment, with each able to hold seven kilograms of CNG at 200 bar pressure. Once the gas fuel source is depleted to a point where the pressure in the tank drops below ten bar, the engine management system automatically switches over to run the car with conventional petrol.
Employing a new engine based on Audi's 1.4-litre TFSI unit, changes to the cylinder head, turbocharger, injection system and catalytic converter combine to produce 81kW and 200Nm, enough go to give the Audi A3 Sportback g-tron a top speed of 190km/h and a 0-100km/h sprint time of 11.0 seconds.
2
According to the German manufacturer, the g-tron will have a range of around 400km running on CNG alone, with petrol providing another 900km. Two displays in the instrument cluster provide drivers with fuel level indicators for each of the individual tanks while the car's two filler necks are placed side-by-side under the one fuel flap.
Audi says after refuelling and in colder temperatures the g-tron engine will initially start-up using petrol before automatically switching over to natural gas as quickly as possible.
2
In the coming years, the Audi A3 Sportback g-tron will be joined by the all-electric Audi A3 e-tron, adding to Audi's existing line-up of petrol- and diesel-powered A3 models.