2009 Nissan Murano First Steer
Given the emphasis placed on the design of the Murano by Nissan it could well be said that the all-new luxury four-wheel-drive is a case of form exceeding function.
Design it seems if pretty much what the all-new Murano is all about and Nissan was keen at the media launch of the vehicle to emphasis just how stylish and cutting-edge it believes the vehicle is.
Named for an island that's part of Italy's ultra-stylish water-borne city of Venice, the Murano is certainly different, even if this second iteration is somewhat toned down from the very in-your-face first version.
The Murano hasn't exactly set the Australian automotive scene on fire since launching here in 2005 and about 5500 have found homes in Australia, that's despite Nissan originally predicting it would sell about 350 a month.
General manager of Marketing Ross Booth now predicts a more modest 180-200 a month for sales of the 2009 Murano and says that Nissan will be happy to grab 3.5 per cent of the now hotly contested medium SUV market.
Of those sales he predicts that about 60 per cent will be the range topping Ti model which boasts a very luxurious spec for a reasonably competitive price of $55,890, a reduction of $1100 on the price of the same version of the previous model.
The 2009 Murano is pretty much a brand new car. Based on Nissan's new D platform, which it currently shares with nothing else, the new Murano boasts an all new bodyshell claimed to being 45 per cent stiffer than its predecessor, a new interior, and improvements to the 3.5-litre V6 powerplant and its CVT transmission.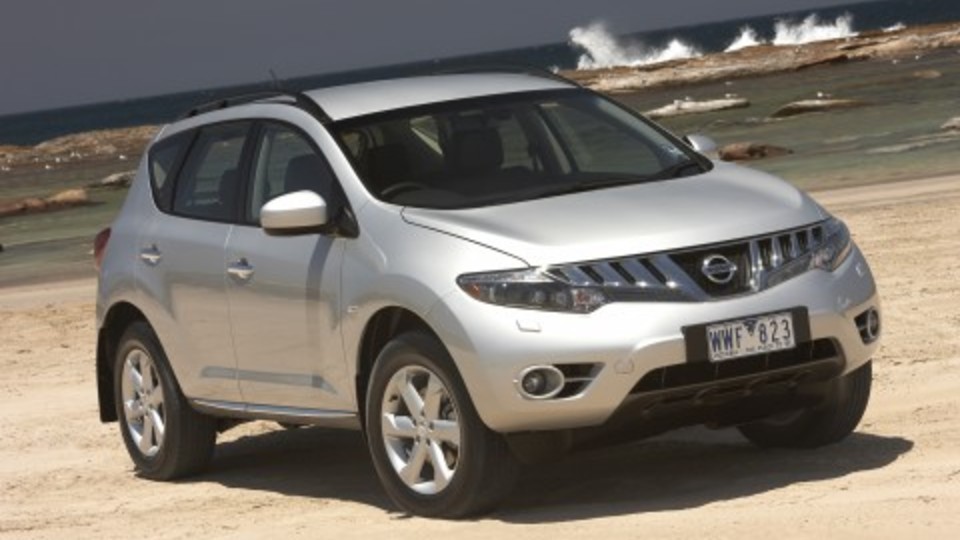 At the same time an all new interior is loaded down with a standard specification boasting more toys than you can shake a stick at.
Of particular note in the Ti is a flash Bose stereo, satellite-navigation, a somewhat slow power-operated tailgate which beeps quietly but annoyingly to ensure it doesn't hit anyone and rear seatback one-pull release handles in the boot walls, plus a power-lift function that takes eight seconds to whirr the back seats upright again.
We spent our road time in an ST model which gets most of the flash but not the Sat/Nav, which means there 's a great big screen in the dash with some forlorn look info about the radio station you are listening to on it, nor the Bose system but still is a rather sumptuous place to be.
All this for a cost of $45,990, which is a substantial $6000 down on the price of the previous ST. It remains to be seen how long Nissan can hold these very competitive prices given the current exchange rate between the Australian dollar and the Yen.
The 3.5-litre V6 has been breathed on to increase power by 19kW to 191kW and torque to 336Nm, whilst reducing fuel consumption by 12 per cent to 10.9 litres per 100 kilometres. The benchmark zero to 100km/h comes up in a respectable 8.9 seconds.
All this would be a good thing were this admirable powerplant, a version of that found in the iconic 350Z sports car, still not attached to a Continuously Variable Transmission that does its best to prevent the engine from revving freely.
Put your foot down on the highway, or anywhere for that matter, and there is a period of time while the CVT consults, well who knows what it consults, and then it eventually decides to opt for a ratio that will allow you to accelerate.
The whole system just seems very lazy, especially given the ability of the engine to rev and the power and torque on hand.
We found that no matter how you played with the CVT, let it do its own thing or use the five-step 'phantom' gear ratios it just would not be hurried.
The Murano uses the 4WD system from the latest X-Trail, but our limited experience with it showed it's not designed for serious off-roading.
Instead, it's most at home on smooth, straight roads and you'll be far less impressed when the road turns twisty, because there's a lot of body lean, and the soft suspension isn't as forgiving as you might expect over bumps.
The steering is also rather numb, which also disappoints, although the car at least grips well.
And then there was the sand driving, as part of the launch drive Nissan took us to what little remains of the sand dunes at Sydney's Kurnell beach and we presented the Murano to a modest dune.
As soon as the wheels bit into the loose sand the Murano's CVT transmission seemed to get hot and bothered and put the engine into limp mode and we were going nowhere.
Several attempts produced the same effect and when we demonstrated it to a couple of Nissan technicians, who were on hand, they were left scratching their heads.
Our verdict, stick to hard packed beach sand or a bit of snow and the Murano will be fine in 4WD mode but don't expect this soft-roader to be crossing the Simpson Desert any time soon.
Refinement is impressive and aside from a touch of wind noise at highway speeds, the Murano is impressive. The only sounds from the engine are the sort you'd want to hear when you put your foot down, and road noise is shut out effectively. The CVT is also effectively muffled, operating without the usual slurred automatic sounds that can be so off-putting with a CVT.
Mr Booth was keen to see the new Murano caste against some of the more prestigious competitors in the market, such as those from BMW, and while it makes a much better cost argument, and indeed offers a level of interior refinement that close the overall impression is that this vehicle will still somewhat struggle to find a large number of supporters.
It's out there, while still being a bit ordinary in some of its aspects, and it most certainly isn't a 4WD that we would want to take too far from the bitumen, but it will prove satisfying to those who want a stylist vehicle that stands out from the crowd and can take them some way off road.
2009 Nissan Murano First Steer