Panasonic Toyota Racing has launched its 2009 Formula One car, dubbed TF109.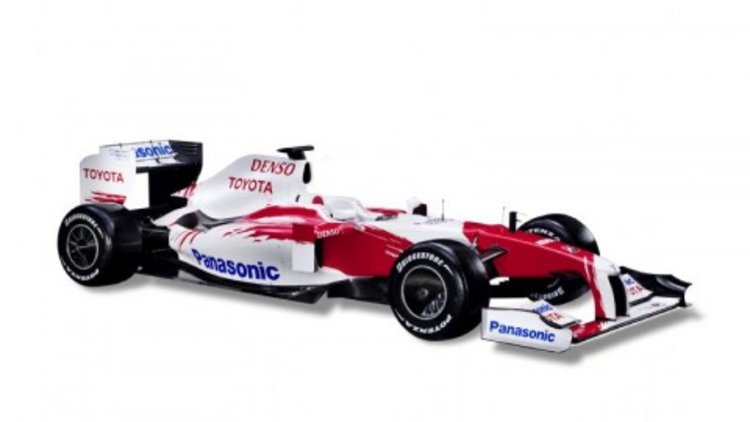 The team heads into the new season full of confidence following a much improved performance last season and believes it can record its first win this year since joining the sport in 2002.
The TF109 is a radical departure from its predecessor as it conforms to the sport's new aerodynamic regulations that aim to increase overtaking and reduce speeds In accordance with the new rules, the car sports a significantly narrower rear wing, wider front wing and bodywork with little aerodynamic sculpting.
"We have gained a huge amount of knowledge and improved considerably," said Panasonic Toyota Racing team president, John Howett. "There are many elements of our team which are at the very highest level so the challenge now is to fill any gaps and ensure the entire organisation is performing at the very top. Then we must put all the elements together and deliver the success we are all fighting so hard for."
Toyota undertakes the 2009 season with the same driver line-up as last year, with 13-season veteran Jarno Trulli again joined by Timo Glock, while Kamui Kobayashi returns as third driver.
Trulli believes the TF109 will allow the team to reach its potential and the main aim for Toyota's longest serving F1 driver is to secure the team's maiden victory.
"I still have plenty I want to achieve in Formula 1, but my dream now is to win the first race for Toyota," said the 34 year-old Italian. "It has been a long journey and we have had ups and downs, but we have never given up or lost faith. It was fantastic to be back on the podium last year, as well as leading several races, and my target is to enjoy more of those moments."
Team-mate Glock finished 10th in the drivers' standings last year as well as equalling the team's best finish with a second place in his first full season, and believes he will adjust quickly to the new regulations.
"If you look back at the cars I have been racing for the last five years they have all been quite different - the 2004 Jordan, then Champ Car, GP2 and the Toyota TF108 - and I have been competitive in each of them," said the 26 year-old German. "That shows how quickly I can adapt to a different car so I don't have any concerns at all about adjusting to the 2009-style Formula 1 cars."
Apart from the visual and aerodynamic differences, the car is also fitted with Bridgestone slick tyres, which make a popular return for the first time in 12 years. The only other significant change has been to extend engine life from two to at least three Grand Prix weekends, with each driver now having a limit of just eight engines during the racing season.