Audi took care of both ends of the automotive spectrum at the 2009 North American International Auto Show with two new cars that highlight the pinnacle of power and prestige, as well as the epitome of economy.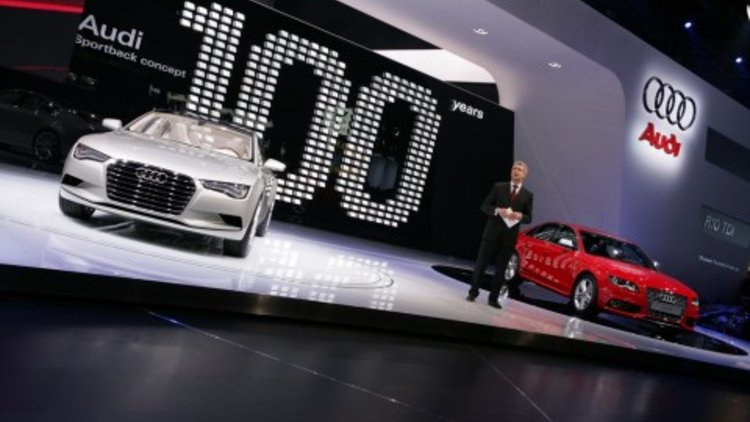 The world debut of the R8 5.2 FSI Quattro delivers the most powerful engine yet for the new Audi supercar that's earned almost universal acclaim. The heart of the matter is the fitment of a 5.2-litre V10 that uses direct injection fueling to help generate a stupendous 385kW and a 313km/h top speed.
The R8 5.2 FSI Quattro is the "next step in bringing our racing experience to the street," said Rupert Stadler, Audi's chairman of the board of management.
The R8's V10 pushes the car from 0-100km/h in under four seconds when equipped with the R-tronic automated manual transmission, one of two transmission options for the R8 5.2 FSI Quattro. The other available transmission is a conventional six-speed manual.
Audi's other world debut at the 2009 North American International Auto Show is the Sportback concept, a sleek full-size five-door sedan incorporating a hatchback that Audi said "offers a glimpse at Audi's future design vocabulary."
The car furthers Audi's commitment to its sportback design, which it first brought to production with the A3 sportback; the company said it has become more popular than the A3's two-door hatchback body style.
"The Sportback concept takes Audi's design language to a new level," said Michael Lindt, Audi board member for technical development, "The sportback body style will be a cornerstone of our future growth."
Meanwhile, almost diametrically opposed to the volcanic power of the R8 5.2 FSI Quattro, Audi confirmed it will offer a 2.0-litre diesel engine in its compact A3 model later this year. The A3 2.0 TDI will be a "catalyst for change in America," said Johan de Nysschen, president of Audi of America.
"Consumers will easily see 40-plus miles per gallon from the A3 2.0 TDI," said de Nysschen of the car that Audi will pit against US high-mileage icons such as the hybrid-electric Toyota Prius and Honda Insight.
"The A3 2.0 TDI can be all other efficiency technologies on the market", said Audi's Rupert Stadler.
NAIAS - Audi R8 5.2FSI Quattro and Sportback Concept