Volkswagen Chairman Martin Winterkorn introduced the company's Bluesport Roadster concept car today at the 2009 North American International Auto Show here, saying that the clean-diesel, 135kW, mid-engine sprite will set "a new benchmark for affordability and sustainability" for VW products.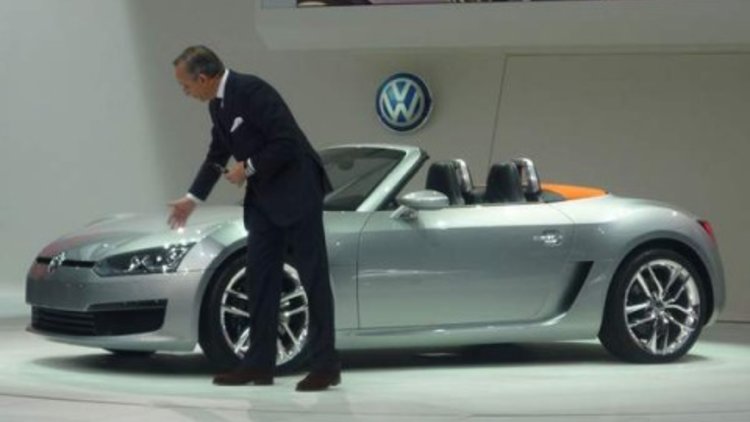 Almost without peer across the industry, Volkswagen's top executive also was able to note that his company's worldwide sales grew by 0.6 percent in 2008 – not much of an increase, but a better fate than nearly every other major carmaker worldwide.
Volkswagen's US sales of more than 223,000 units in 2008 improved its share of sales in this market even as the company invested in its future in North America by proceeding on construction of a new US$1 billion plant in Chattanooga, Tennessee that will directly employ about 2000 people to assemble a mid-size sedan for the US market that will hit the road in early 2011, the chairman said.
"It's a powerful sign of our commitment," Mr Winterkorn said. "Why [do it]? … The automobile will always be an essential part of the American way of life."
A huge portion of VW's bet on the US market and globally is its clean-diesel technology.
"Strategy has positioned us for growth in this market, and we won't budge an inch from it." said Stefan Jacoby, president of Volkswagen of America, "The environmental technology in our products will make us a major player in the US market."
Volkswagen's Jetta TDI has performed well with American consumers as the first significant manifestation of clean diesel here. Sales have "exceeded expectations," Mr Jacoby said. Jetta TDI was a finalist for the NAIAS Car of the Year award and was named the most environmentally friendly car of the show.
New, clean-diesel TDI versions of the Touareg SUV and Rabbit (Golf) subcompact also will be arriving in the American market, Mr Jacoby noted.
Globally, Mr Winterkorn noted, VW has "the youngest and greenest portfolio" of products "in our history." He said that across the company, Volkswagen will be investing up to eight billion Euros a year in future products and technology.
Mr Winterkorn said that Bluesport expressed emotionality and VW's "clear and strong" design.
"Minimum consumption [of fuel] and maximum fun to drive" is a fit description for the vehicle, he said.
Bluesport is designed to go from 0-100km/h in just over six seconds. Features include bi-xenon headlights, 19-inch alloy rims and, on the show version at least, a bright-orange soft-top
NAIAS - Volkswagen Bluesport Roadster Concept