A high-performance hybrid variant and a number of new technology features headline the updates to the 2013 BMW 7 Series range, which is now on sale in Australia.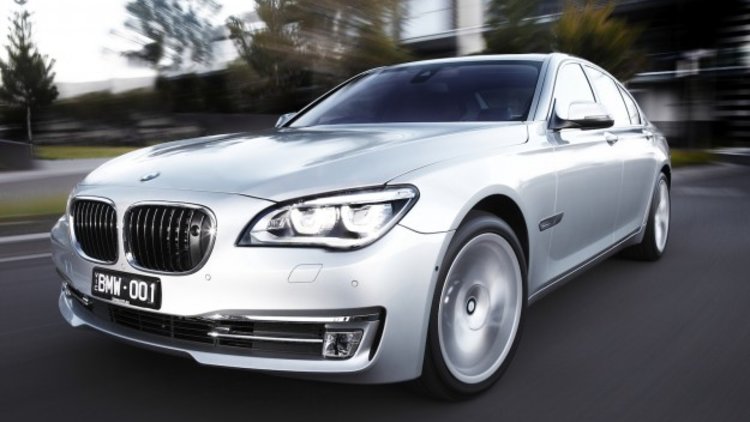 The BMW ActiveHybrid 7 will become the third petrol-electric model in BMW Australia's line-up – following 3 Series and 5 Series ActiveHybrid variants – when it reaches our shores around the end of December, and joins an upgraded 7 Series family that is now up to 25 per cent more fuel efficient than the one it replaces.
Priced from $222,000 ($237,000 in long-wheelbase form), the BMW ActiveHybrid 7 costs $4100 more than its only direct hybrid competitor, the new Lexus LS600h F Sport. The green German giant trails the V8-powered Japanese limo for overall power (260kW versus 327kW) but matches it for acceleration (0-100km/h in 5.7 seconds) and easily takes the points in terms of fuel efficiency (6.8 litres per 100km versus 8.6L/100km).
With the exception of the bahn-storming 400kW/750Nm 6.0-litre V12 760Li flagship, all models in the updated 7 Series line-up benefit from the addition of efficiency enhancing measures, including auto stop-start, brake energy regeneration, Eco Pro driving mode and an engine-decoupling 'coasting' function that operates between 50-160km/h.
Contributing further to the 7 Series' efficiency gains is a ZF new eight-speed automatic transmission, which like in other BMW models replaces the old six-speed shifter.
The most frugal model in the new line-up is the entry-level BMW 730d. The 190kW/560Nm 3.0-litre six-cylinder diesel (up 10kW/20Nm) sips 5.6L/100km on the combined cycle, making it 17 per cent more economical than before, yet, at 6.1 seconds, is also more than one second quicker to triple figures.
The 750i benefits most from the efficiency enhancements. The twin-turbocharged 4.4-litre V8 produces an extra 30kW and 50Nm for a total of 330kW/650Nm, but while the old model skolled 11.4L/100km, the 2013 edition drinks a much tidier 8.6L/100km. The new model also shaves four-tenths off its predecessor's sprint time, stopping the clock at a Porsche 911-matching 4.8 seconds.
The 740i – tipped to be the volume model, accounting for about one-third of all 7 Series sales in Australia – gains a new 3.0-litre turbocharged inline six (the same one found in the ActiveHybrid 7). Despite power falling 5kW to 235kW compared with the old motor and torque plateauing at 450Nm, fuel consumption drops 20 per cent to 7.9L/100km and acceleration sharpens two-tenths of 5.7 seconds.
The updated luxo-saloon arrives a little under four years after the fifth-generation 'F01' BMW 7 Series debuted in local showrooms, and should be on sale for around 12 months before Mercedes-Benz crashes the party with its highly anticipated all-new S-Class.
Refreshing the styling is a redesigned kidney grille with a new nine-slat arrangement, a reshaped front bumper and lower air intake and new adaptive LED headlights.
The interior features new heated and ventilated front seats designed to optimise comfort over long distances, and the latest generation of the brand's Professional navigation system, which boasts a 10.2-inch screen, 3D graphics card, 20GB storage for audio files and images, and an upgraded Bluetooth system with enhanced phone, audio and internet functionalities.
The expanded 7 Series options list includes a new multi-function digital instrument display; a 1200-watt, 16-speaker Bang & Olufsen surround sound system; and 9.2-inch 'floating' flat screens in the rear for watching TV, DVDs, playing games or using the internet.
BMW claims to have improved cabin quietness, with extra sound-deadening materials added to the B- and C-pillars, the skirts and in the boot, while self-levelling air suspension for the rear axle is also standard in a further attempt to enhance comfort.
The 7 Series' safety credentials are bolstered by the addition of Attentiveness Assistant, which warns the driver if it detects a change in driving style caused by fatigue. BMW has also enhanced the optional active cruise control system to improve functionality in heavy traffic and upgraded the night vision system to better recognise pedestrians, cyclists and animals.
Two unique lighting systems also debut on the new 7 Series. Using a camera integrated into the rear-view mirror, High-Beam Assistant partially masks the headlights to create a dark spot around on-coming traffic, eliminating the danger of blinding drivers travelling in the opposite direction, while continuing to fully illuminate the rest of the car's surroundings.
In contrast, BMW's new Dynamic Light Spots are used to pinpoint pedestrians at night, sending out a focused, more intense beam to highlight their presence on the road. The technology has not been calibrated to track animals like kangaroos at this stage, although an upgraded version could feature this functionality as early as the end of next year.
As always, much of the technology introduced into BMW's flagship sedan range will flow down to more affordable mainstream models in the brand's line-up in time, beginning with the updated 5 Series range, which goes on sale locally in around September 2013.
2013 BMW 7 Series manufacturer's list prices:
BMW 730d – $204,600 (+$2000)
BMW 740i – $211,500 (+$4600)
BMW 740Li – $226,500 (+$4200)
BMW ActiveHybrid 7 – $222,000 (new model)
BMW ActiveHybrid 7L – $237,000 (new model)
BMW 750i – $281,100 (+$4900)
BMW 750Li – $297,800 (+$4600)
BMW 760Li – $391,500 (+$3300)
2013 BMW 7 Series: pricing and specifications